Product Description
1)Type
roller chain
2)Materials
A class steel 
3)Chain No.
525/525h
4)Warranty
30000 KMs
5)Process
Sand blasting,
heat treatment, 
High speed impact,
Four sides riveting, 
Pre-stretching and running, 
Lubricate with grease.
6)MOQ
1000Pcs
7)Supply Ability
100000 Meter/Meters per year
8)Tensile Strength
standard or above
9)Delivery Time
within 30 days after receiving your 30% deposits
10)Payment Terms
30%deposit and balanced by L/C,T/T
11)Packing
chains packing in polybag and color box, also can packing as your requirement
Our Services
Pre-sales:
1. OEM &ODM service
2. Any of your kind inquiry would be replied within 24 hours.
3. Complete product information will be offered
4. Free sample will be sent if you need .
5. Any other reasonable requirements as per requested
 
During production ,we provide:
1. Schedule of production
2. Mass production picture will offered
3. Any other reasonable requirements as per requested
 
Finish production:
1. Courier tracking number
2. Documents you need 
3. Protection of your sales area, ideas of design and all your private information.
FAQ:
Q1: Do you inspect the finished products?
A: Yes, each step of production and finished products will be carried out inspection by QC departing before shipping.
Q2: What's the warranty of your products?
A: Usually we guarantee 1 year after delivery date, but depending on the specified product.
Q3: Are you manufacturer or Trade Company?
A: Both we are. We have been in motorcycle parts for nearly 20 years.
Q4: How to visit factory?
A: Leave us a message, and we will pick you up by car for free.
Q5: Can you do custom logo on the chain?
A: Yes,we can do custom logos by molding. Need your Authorization Letter.
please contact with me  at any time
 
 
| | |
| --- | --- |
| Type: | Chain |
| Material: | Steel |
| Certification: | ISO9001:2001 |
| Number of Row: | Single Row |
| Surface Treatment: | Sand Blasting, Oiling |
| Transport Package: | Polybag + Color Box + Carton |
Samples:

US$ 0/Piece

1 Piece(Min.Order)

|
Request Sample
Customization:

Available

|

Customized Request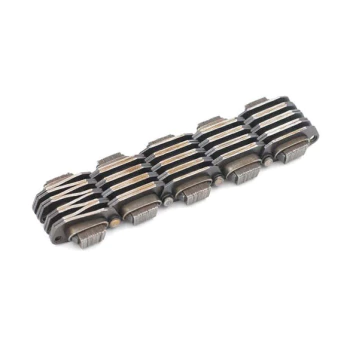 What are the benefits of using a corrosion-resistant coating on a drive chain?
A corrosion-resistant coating provides several benefits when applied to a drive chain. Here is a detailed explanation:
Drive chains used in various applications are often exposed to harsh environments that can lead to corrosion, including moisture, chemicals, contaminants, or high humidity. Applying a corrosion-resistant coating to the chain offers the following advantages:
Protection against Corrosion: The primary benefit of a corrosion-resistant coating is its ability to protect the chain from corrosive elements. The coating acts as a barrier, preventing moisture, chemicals, and other corrosive agents from reaching the chain's surface. This helps to inhibit or slow down the corrosion process, extending the chain's lifespan and reducing the risk of premature failure.
Enhanced Durability: By adding a corrosion-resistant coating, the drive chain's durability is significantly improved. The coating helps to prevent rust, oxidation, and degradation, thereby maintaining the chain's structural integrity and preserving its mechanical properties. This results in a longer service life and reduces the need for frequent chain replacements.
Reduced Maintenance Requirements: A corrosion-resistant coating reduces the maintenance efforts required to keep the chain in optimal condition. Since the coating provides a protective layer, there is less need for frequent lubrication or cleaning to combat corrosion. This leads to reduced maintenance costs and downtime, contributing to improved operational efficiency.
Compatibility with Harsh Environments: In applications where the chain is exposed to aggressive chemicals, high humidity, saltwater, or other corrosive substances, a corrosion-resistant coating is essential. The coating ensures the chain's reliability and performance even in demanding and challenging environments, such as marine, chemical processing, or outdoor applications.
Promotion of Cleanliness and Hygiene: Some corrosion-resistant coatings are designed to be smooth and easy to clean. This promotes cleanliness and hygiene in applications where cleanliness is critical, such as food processing, pharmaceuticals, or cleanroom environments. The coating prevents the accumulation of contaminants, making the chain easier to clean and maintain compliance with industry regulations.
Improved Aesthetics: A corrosion-resistant coating can enhance the visual appeal of the chain. It provides a clean and professional appearance, which is particularly important in applications where the chain is visible, such as in architectural designs or decorative installations.
It is important to note that the selection of a suitable corrosion-resistant coating should consider the specific application requirements, environmental conditions, and the compatibility of the coating with the chain material.
Regular inspection and proper maintenance practices, including periodic cleaning and lubrication, are still recommended to ensure the optimal performance and longevity of the drive chain, even with a corrosion-resistant coating.
By using a corrosion-resistant coating on a drive chain, operators can benefit from corrosion protection, enhanced durability, reduced maintenance requirements, compatibility with harsh environments, cleanliness, improved aesthetics, and ultimately, reliable and long-lasting chain performance.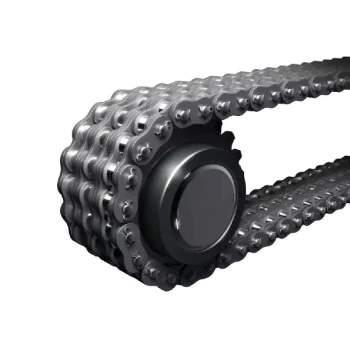 What are the factors that affect the lifespan of a drive chain?
The lifespan of a drive chain can vary depending on several factors. Here is a detailed explanation of the factors that can affect the lifespan of a drive chain:
Maintenance: Regular and proper maintenance is crucial for maximizing the lifespan of a drive chain. This includes routine inspection, cleaning, lubrication, and tension adjustment. Neglecting maintenance can lead to accelerated wear, corrosion, and potential chain failure.
Lubrication: Proper lubrication is essential for reducing friction, wear, and corrosion within the chain. Inadequate or improper lubrication can cause premature wear, increased friction, and accelerated chain elongation, decreasing the lifespan of the chain.
Environmental Conditions: The operating environment can significantly impact the lifespan of a drive chain. Factors such as dust, dirt, moisture, temperature extremes, and exposure to chemicals or corrosive substances can contribute to accelerated wear and corrosion. Implementing appropriate measures to protect the chain and ensuring it is suitable for the specific environment can help prolong its lifespan.
Load and Tension: Operating a chain beyond its recommended load capacity or having improper tension can put excessive stress on the chain, leading to accelerated wear, fatigue, and potential failure. Maintaining the chain within the manufacturer's specified load and tension limits is important for extending its lifespan.
Alignment and Sprocket Condition: Misalignment between the sprockets and improper sprocket condition can cause uneven chain wear, increased friction, and premature failure. Ensuring proper alignment and regularly inspecting and maintaining the sprockets are essential for maximizing chain lifespan.
Chain Type and Quality: The type and quality of the chain can affect its lifespan. High-quality chains made from durable materials and designed for specific applications tend to have a longer lifespan compared to lower-quality or generic chains.
By addressing these factors and implementing proper maintenance practices, it is possible to extend the lifespan of a drive chain and ensure reliable and efficient power transmission in various applications.



editor by CX 2023-09-04