Product Description
We specialize in the chains made to customers' drawings and specification. Our advantage is reliable quality, competitive price, prompt delivery and good service.
Standard products include various transmission and conveyor chains, like Roller Chain, double pitch Conveyor Chain, Hollow Pin Chain, Leaf Chain, Table Top Chain, Side Bow Chain, Lumber Chain, Agriculture Chain, Silent Chain, PIV Chain, Stainless Steel Chain, Nickel/ Zinc plated Chain, Dacromet Chain, Engineering Chain, Steel Pintle Chain, Welded steel chain, Forged chain, Malleable Iron chain, and many other types. Different kinds of attachment are available.
Product Description
Specifications:
1) Attachments on 1 side
2) Attachments on inner plates
3) Attachments on outer plates
4) Attachments on both sides
5) Straight attachments
6) Crank attachments
7) Pin attachments
8) Other special attachments
Transmission chain is famous for its high strength and continuous antifatigue; The chain dimensions fully meet the standards of ANSI and BS.
According to varied working conditions, it may choose the chain with different coating treatment, such as zinc plating, nickel plating, chromeplating and dacromet plating ec
Product Description
25-1 to 240-1
25-2 to 240-2
25-3 to 240-3
04BB-1 to 72B-1
04B-2 to 72B-2
04B-3 to 72B-3
We supply varied kinds of roller chains, conveyor chains, transmission chains and agricultural chains etc. According drawings.
Features:
1) A series chains:
A) Simplex: 25-1 – 240-1
B) Duplex: 25-2 – 240-2
C) Triplex: 25-3 – 240-3
2) B series chains:
A) Simplex: 04B-1 – 72B-1
B) Duplex: 05B-2 – 72B-2
C) Triplex: 05B-3 – 72B-3
3) Materials: Stainless steel or carbon steel
4) Other chains available: Heavy-duty series roller chains, cottered type short pitch precision roller chains (A series), heavy duty series cottered type roller chains, other simplex roller chains, zinc plated chains, dacromet plated chains, nickel plated chains, anti-side bow chains, side bow chains for pushing windows, side bow chains, side bow chains, self-lubrication roller chains, silent chains, self-tooth forming chains (P. I. V. Chains), heavy-duty cranked-link transmission chains, steel chains for sewage disposal, oil field chains, coupling chains, motorcycle chains, O-ring motorcycle chains, engine mechanism chain (timing chains), double pitch transmission chains and double pitch transmission chain attachments.
| | |
| --- | --- |
| Material: | Stainless Steel |
| Structure: | Roller Chain |
| Surface Treatment: | Polishing |
| Chain Size: | 1/2"*11/128" |
| Feature: | Antirust, Anticorrosion |
| Apply: | Conveyor Device |
Customization:

Available

|

Customized Request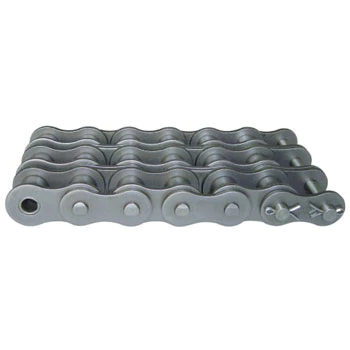 Can a drive chain be used in a chemical or petrochemical processing application?
Yes, a drive chain can be used in chemical or petrochemical processing applications where reliable power transmission is required. Here is a detailed explanation:
Chemical and petrochemical processing industries involve the handling, mixing, and processing of various substances, including corrosive chemicals, solvents, and hydrocarbons. Drive chains offer several advantages in these applications:
Corrosion Resistance: Drive chains can be selected or specially designed with materials that offer corrosion resistance. Stainless steel, high-performance alloys, or coatings can be applied to the chain components to withstand the corrosive effects of chemicals and maintain chain integrity and performance.
High Load Capacity: Chemical and petrochemical processing often involves heavy-duty operations and the movement of large loads. Drive chains are designed to handle high load capacities, providing reliable power transmission and withstanding the demanding conditions of these applications.
Precise Control: Drive chains provide precise control over the movement of equipment and processes in chemical and petrochemical plants. The interlocking design of the chain and sprockets allows for accurate positioning, speed control, and synchronization of various components and machinery.
Wide Operating Temperature Range: Drive chains can be engineered to operate in a wide temperature range, accommodating the temperature variations encountered in chemical and petrochemical processing. High-temperature materials or lubricants can be used to ensure optimal performance under extreme conditions.
Resistance to Harsh Environments: Chemical and petrochemical processing environments may involve exposure to extreme temperatures, humidity, dust, and other harsh conditions. Drive chains are designed to withstand these environments, with features such as seals, specialized coatings, or materials that offer protection against contaminants and maintain reliable operation.
Long Service Life: Drive chains, when properly selected, installed, and maintained, can provide long service life in chemical and petrochemical processing applications. Regular inspection, lubrication, and tension adjustment help optimize chain performance and minimize downtime due to chain failure.
When selecting a drive chain for chemical or petrochemical processing applications, factors such as corrosion resistance, load capacity, temperature range, speed requirements, and compatibility with industry regulations should be considered.
It is important to implement proper maintenance practices, including regular inspection, lubrication, and tension adjustment, to ensure the optimal performance and longevity of the drive chain in chemical and petrochemical processing applications.
By utilizing drive chains in chemical and petrochemical processing, operators can benefit from corrosion resistance, high load capacity, precise control, wide temperature range, resistance to harsh environments, long service life, and reliable power transmission, contributing to efficient and safe processing operations.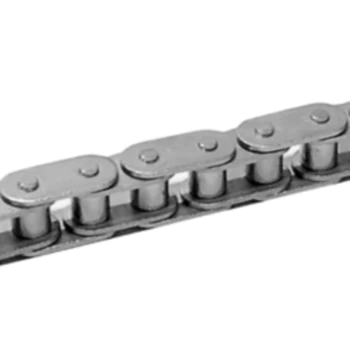 How does a drive chain handle shock loads and sudden changes in torque?
A drive chain is designed to handle shock loads and sudden changes in torque to ensure reliable power transmission. Here is a detailed explanation:
Drive chains are built to withstand varying operating conditions and handle dynamic forces effectively. When subjected to shock loads or sudden changes in torque, several factors contribute to the chain's ability to handle these situations:
Chain Strength: Drive chains are designed to have high tensile strength and load-carrying capacity. This enables them to withstand sudden increases in torque or shock loads without experiencing failure or elongation.
Material and Construction: The material and construction of the chain play a crucial role in its ability to handle shock loads. Chains made from high-quality alloy steels or specialty materials are capable of absorbing and distributing the forces generated during sudden torque changes or shock events.
Design Features: Drive chains incorporate design features that enhance their ability to handle shock loads. These features include specially shaped link plates, precision manufacturing tolerances, and surface treatments to improve fatigue resistance and reduce stress concentrations.
Tensioning and Slack Elimination: Proper tensioning of the drive chain is important to minimize the potential for slack and excessive movement during shock loads. Tensioners or tensioning systems are commonly employed to maintain proper tension and prevent chain slack, ensuring smooth power transmission.
System Damping: The overall system design and components can contribute to damping the effects of shock loads. By incorporating shock-absorbing elements, such as dampers, couplings, or flexible mounts, the impact of sudden torque changes can be mitigated, reducing the stress on the drive chain.
Regular Maintenance: Regular inspection, lubrication, and maintenance of the drive chain are crucial to identify any signs of wear, fatigue, or damage that may compromise its ability to handle shock loads. Prompt replacement of worn or damaged components is necessary to maintain the chain's performance and prevent unexpected failures.
While drive chains are designed to handle shock loads and sudden changes in torque, it is important to consider the specific application requirements and consult with experts or manufacturers to ensure proper chain selection and installation. Adhering to recommended maintenance practices will help maximize the chain's ability to handle shock loads and ensure reliable and durable power transmission.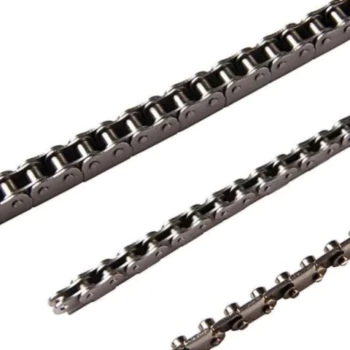 What are the different types of drive chains?
Drive chains come in various types, each designed for specific applications and operating conditions. Here are some common types of drive chains:
Roller Chains: Roller chains are the most common type of drive chain. They consist of cylindrical rollers that are held together by inner and outer plates. Roller chains are widely used in motorcycles, bicycles, industrial machinery, and automotive systems.
Double Pitch Chains: Double pitch chains have longer pitches, meaning the distance between each roller is greater compared to standard roller chains. They are often used in applications that require slower speeds and lighter loads.
Leaf Chains: Leaf chains consist of interleaved metal plates connected by pins. They are known for their high tensile strength and are commonly used in forklifts, hoists, and other heavy-duty lifting equipment.
Silent Chains: Silent chains, also known as inverted-tooth chains, have tooth-shaped plates that engage with sprockets. They are called "silent" chains because they operate with reduced noise and vibration compared to roller chains. Silent chains are used in timing drives and applications that require high-speed and high-torque transmission.
Engineered Chains: Engineered chains are designed for specific industries or applications that require specialized properties, such as corrosion resistance, high temperature tolerance, or self-lubrication. Examples include drive chains, plastic chains, and self-lubricating chains.
Each type of drive chain has its own advantages and considerations, and the choice depends on factors such as the application requirements, load capacity, speed, environmental conditions, and maintenance needs.



editor by CX 2023-10-08