Product Description
Product Description
| | |
| --- | --- |
| Product Name | Oil pump drive chain  |
| Auto  Application | Ford Transit V348  |
| MOQ | 1pc |
| Finis number | 1235939 |
| OEM number | 3S7Q 6A895 AA |
| Advantage | genuine auto part, high quality |

HangZhou HangZhou Etruck Technology Co., Ltd was founded in 2009 at HangZhou city. Where is 1 of the biggest
commercial auto manufacturing base. Jingchen is 1 of direct original CHINAMFG auto part distributor for years, with strong supply
chain in local and nearly 1200 SKU, large quantity of stock, so we can get good price from manufacturer and support fast delivery.
We main focus on CHINAMFG transit original parts. Our main market is Russia, Turkey, Dubai, and Europe, Australia, etc.
we attended the international trade show before the coronavirus disease 2019 every year, such as The Egyptian Auto Show,
Dubai Auto Show, Panama Industry Show, etc.
For the cargo safty, we use thick PP bag/ Bubble+ carton box to pack. All the boxes we pack them into the wooden
case. So that it is strong enough during transport. Area of our warehouse is about 2,000 square meter,it with more
than 1200 SKU in stock. And we use ERP system to control and check the stock status, so it is very clearly and fast to
find each item, and offer fast delivery for our clients.
We offer CHINAMFG auto part, if you don't know how to order, please send enquiry,we will follow you with best support.
Welcome to inquiry us 🙂
Important:
If you are not sure about part fitment please contact with us and tell your car, VIN/CHASSIS number.
If you can't find the parts you need in your store, feel free to contact with us. We will try our best to help you 🙂
Our oversea trade show booth:
Our warehouse:

Here is 1200 SKU items in our system. Please inquiry us for more auto part if you need 🙂
| | |
| --- | --- |
| After-sales Service: | 1 Year |
| Warranty: | 1 Year |
| Type: | Drive Chain |
| Material: | Stainless Steel |
| Standard: | Standard |
| Condition: | New |
Samples:

US$ 5/Piece

1 Piece(Min.Order)

|
Request Sample
Customization:

Available

|

Customized Request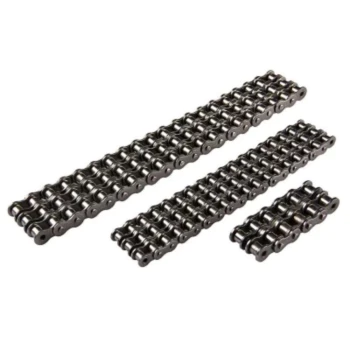 Can a drive chain be used in a printing press or bindery application?
Yes, a drive chain can be used in a printing press or bindery application where precise and reliable power transmission is required. Here is a detailed explanation:
Printing presses and bindery equipment involve complex machinery that requires the efficient transfer of power to perform various functions such as paper feeding, cutting, folding, and binding. Drive chains offer several advantages in these applications:
Precision and Synchronization: Drive chains provide accurate and synchronized power transmission, allowing precise control over the movement of the printing press or bindery equipment. The interlocking design of the chain and sprockets ensures consistent and reliable performance, enabling precise registration of paper and precise execution of operations.
High Load Capacity: Printing presses and bindery equipment often handle large volumes of paper or materials, requiring a drive system capable of handling high loads. Drive chains are designed to withstand high load capacities, ensuring reliable power transmission and the ability to handle the demanding requirements of these applications.
Smooth and Quiet Operation: Drive chains, when properly lubricated and maintained, provide smooth and quiet operation. This is crucial in printing and bindery applications where noise reduction is desired to create a comfortable working environment and minimize disturbances during operation.
Reliability and Durability: Drive chains are known for their durability and reliability. They are designed to withstand continuous operation and the demands of high-speed printing and bindery processes. With proper maintenance, including lubrication and periodic inspection, drive chains can provide long service life, reducing downtime and maintenance costs.
Compatibility with Variable Speeds: Printing presses and bindery equipment often require variable speeds to accommodate different printing or bindery processes. Drive chains can be easily integrated with variable speed drives, allowing precise control over the equipment's speed and accommodating the specific requirements of each printing or bindery task.
Compact Design: Drive chains offer a compact and space-efficient solution for power transmission in printing presses and bindery equipment. The chain's flexible design allows it to navigate around tight spaces and complex machine layouts, enabling efficient utilization of available space.
Customizability: Drive chains can be customized to meet the specific requirements of printing press and bindery applications. They can be designed with different pitches, widths, and attachments to suit the unique needs of each machine and its respective processes.
When selecting a drive chain for a printing press or bindery application, factors such as speed, load capacity, space limitations, and compatibility with the printing or bindery processes should be considered. It is essential to follow the manufacturer's recommendations regarding installation, lubrication, and maintenance to ensure optimal performance and longevity of the drive chain.
By utilizing drive chains in printing presses and bindery equipment, operators can benefit from precise power transmission, high load capacity, smooth operation, reliability, durability, compatibility with variable speeds, compact design, and customization options, contributing to efficient and high-quality printing and bindery processes.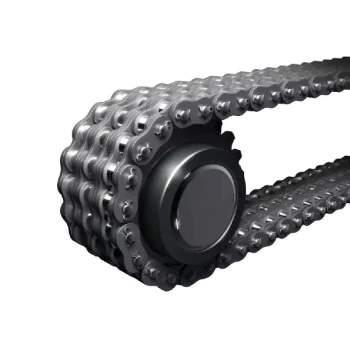 What are the factors that affect the lifespan of a drive chain?
The lifespan of a drive chain can vary depending on several factors. Here is a detailed explanation of the factors that can affect the lifespan of a drive chain:
Maintenance: Regular and proper maintenance is crucial for maximizing the lifespan of a drive chain. This includes routine inspection, cleaning, lubrication, and tension adjustment. Neglecting maintenance can lead to accelerated wear, corrosion, and potential chain failure.
Lubrication: Proper lubrication is essential for reducing friction, wear, and corrosion within the chain. Inadequate or improper lubrication can cause premature wear, increased friction, and accelerated chain elongation, decreasing the lifespan of the chain.
Environmental Conditions: The operating environment can significantly impact the lifespan of a drive chain. Factors such as dust, dirt, moisture, temperature extremes, and exposure to chemicals or corrosive substances can contribute to accelerated wear and corrosion. Implementing appropriate measures to protect the chain and ensuring it is suitable for the specific environment can help prolong its lifespan.
Load and Tension: Operating a chain beyond its recommended load capacity or having improper tension can put excessive stress on the chain, leading to accelerated wear, fatigue, and potential failure. Maintaining the chain within the manufacturer's specified load and tension limits is important for extending its lifespan.
Alignment and Sprocket Condition: Misalignment between the sprockets and improper sprocket condition can cause uneven chain wear, increased friction, and premature failure. Ensuring proper alignment and regularly inspecting and maintaining the sprockets are essential for maximizing chain lifespan.
Chain Type and Quality: The type and quality of the chain can affect its lifespan. High-quality chains made from durable materials and designed for specific applications tend to have a longer lifespan compared to lower-quality or generic chains.
By addressing these factors and implementing proper maintenance practices, it is possible to extend the lifespan of a drive chain and ensure reliable and efficient power transmission in various applications.



editor by CX 2023-10-07