Product Description
Item
Standard Transmission Roller Chains
Model
Series A, Series B, Heavy Duty
Row
Simplex/Duplex/Triplex
Application
Machinery Parts
Surface Teatment
Self-color/Sand-blasted/Shot-peening
Brand
OEM
Package
Poly bag, then box, finally poly-wooden case
Port
Any sea port or airport in China
A Series
03C,04C-1,06C-1,085-1,08A-1,10A-1,12A-1,16A-1,20A-1,24A-1,28A-1,32A-1,36A-1,40A-1,48A-1. 15,25-1,35-1,41-1,40-1,50-1,60-1,80-1,100-1,120-1,140-1,160-1,180-1,200-1,240-1.
04C-2,06C-2,085-2,08A-2,10A-2,12A-2,16A-2,20A-2,24A-2,28A-2,32A-2,36A-2,40A-2,48A-2. 15,25-2,35-2,41-2,40-2,50-2,60-2,80-2,100-2,120-2,140-2,160-2,180-2,200-2,240-2.
04C-3,06C-3,085-3,08A-3,10A-3,12A-3,16A-3,20A-3,24A-3,28A-3,32A-3,36A-3,40A-3,48A-3. 15,25-3,35-3,41-3,40-3,50-3,60-3,80-3,100-3,120-3,140-3,160-3,180-3,200-3,240-3.
B Series
05B-1,06B-1,08B-1,10B-1,12B-1,16B-1,20B-1,24B-1,28B-1,32B-1,40B-1,48B-1,56B-1,64B-1,72B-1.
05B-2,06B-2,08B-2,10B-2,12B-2,16B-2,20B-2,24B-2,28B-2,32B-2,40B-2,48B-2,56B-2,64B-2,72B-2.
05B-3,06B-3,08B-3,10B-3,12B-3,16B-3,20B-3,24B-3,28B-3,32B-3,40B-3,48B-3,56B-3,64B-3,72B-3.
Heavy Duty Type
35H-1,40H-1,50H-1,60H-1,80H-1,100H-1,120H-1,140H-1,160H-1,180H-1,200H-1,240H-1.
35H-2,40H-2,50H-2,60H-2,80H-2,100H-2,120H-2,140H-2,160H-2,180H-2,200H-2,240H-2.
35H-3,40H-3,50H-3,60H-3,80H-3,100H-3,120H-3,140H-3,160H-3,180H-3,200H-3,240H-3.
| | |
| --- | --- |
| Standard or Nonstandard: | Standard |
| Application: | Textile Machinery, Garment Machinery, Conveyer Equipment, Packaging Machinery, Motorcycle, Food Machinery, Marine, Mining Equipment, Agricultural Machinery, Car |
| Surface Treatment: | Polishing |
| Structure: | Roller Chain |
| Material: | Carbon Steel/Stainless Steel |
| Type: | Short Pitch Chain |
Samples:

US$ 5/Several Links

1 Several Links(Min.Order)

|
Request Sample
Customization:

Available

|

Customized Request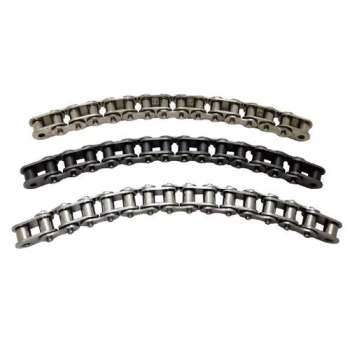 How does the lubricant selection affect the performance of a drive chain?
The selection of the proper lubricant plays a critical role in the performance and longevity of a drive chain. Here is a detailed explanation:
Lubrication is essential for maintaining the smooth operation and reducing the wear and friction between the chain's moving parts. The lubricant creates a protective film that reduces metal-to-metal contact and prevents excessive heat generation. The lubricant selection affects the drive chain's performance in the following ways:
Reduced Friction and Wear: The primary function of lubrication is to reduce friction between the chain's components. A well-chosen lubricant minimizes metal-to-metal contact, reducing wear and extending the chain's lifespan. It helps to prevent premature failure and ensures the efficient transfer of power throughout the chain.
Enhanced Load Capacity: Proper lubrication reduces the stress on the chain by creating a lubricating film that cushions the contact between the pins, bushings, and rollers. This improves the chain's load-carrying capacity, allowing it to handle heavier loads and resist elongation or deformation under high loads.
Corrosion Protection: Some lubricants are formulated with additives that provide corrosion protection. These lubricants create a barrier that shields the chain from moisture, chemicals, and environmental contaminants, reducing the risk of corrosion and extending the chain's life in harsh or corrosive environments.
Temperature Stability: Different lubricants have varying temperature ranges in which they can effectively perform. The lubricant selection should consider the operating temperatures of the application. High-temperature lubricants are designed to withstand elevated temperatures without breaking down or evaporating, ensuring proper lubrication even in hot environments.
Reduced Noise and Vibration: Proper lubrication contributes to smoother and quieter chain operation. It helps to minimize noise and vibration caused by metal-to-metal contact, resulting in a quieter working environment and improved operator comfort.
Contamination Control: Lubricants can also play a role in controlling contaminants that may enter the chain system. Some lubricants have properties that resist the accumulation of dust, dirt, or other particles, helping to keep the chain clean and preventing abrasive wear.
The lubricant selection should consider various factors, including the application's operating conditions, load requirements, temperature range, speed, and compatibility with the chain material. Manufacturers often provide lubrication recommendations based on these factors.
Regular lubrication maintenance is essential to ensure the continued performance of the drive chain. Lubrication intervals should be followed, and the lubricant should be replenished or replaced as recommended by the manufacturer or based on inspection and monitoring of the chain's condition.
By selecting the appropriate lubricant and implementing proper lubrication practices, operators can ensure optimal chain performance, reduce wear and friction, extend chain life, and minimize maintenance requirements in various industrial applications.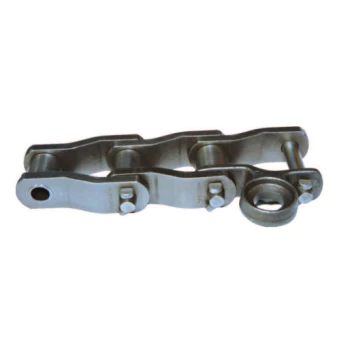 How does the cost of a drive chain compare to other power transmission systems?
The cost of a drive chain can vary depending on various factors such as the type of chain, material, size, and quality. Here is a detailed explanation of how the cost of a drive chain compares to other power transmission systems:
Initial Cost: In general, drive chains tend to have a lower initial cost compared to some other power transmission systems such as gear drives or belt drives. This is especially true for standard roller chains that are widely available and commonly used.
Installation and Maintenance Cost: The installation and maintenance cost of a drive chain is usually reasonable. Chains are relatively easy to install and maintain, requiring routine inspections, lubrication, and occasional adjustments. This simplicity can contribute to overall cost-effectiveness.
Longevity and Durability: Drive chains are known for their durability and long service life when properly maintained. Although they may require periodic replacement due to wear, the extended lifespan of a drive chain can provide cost savings over time compared to systems that require more frequent replacement or repair.
Application-Specific Costs: In some specialized applications, such as high-performance or heavy-duty applications, the cost of drive chains can be higher. This is often due to the use of specialized chains with specific features, materials, or coatings that enhance performance and durability in demanding environments.
Overall Cost-Effectiveness: Considering the initial cost, maintenance, and longevity, drive chains are generally considered cost-effective compared to other power transmission systems. Their reliability, efficiency, and suitability for a wide range of applications contribute to their value proposition.
It's important to note that the cost comparison between drive chains and other power transmission systems may vary depending on specific application requirements, environmental factors, and the desired performance characteristics. It is recommended to consider the specific needs of the application and consult with experts or suppliers to determine the most cost-effective solution.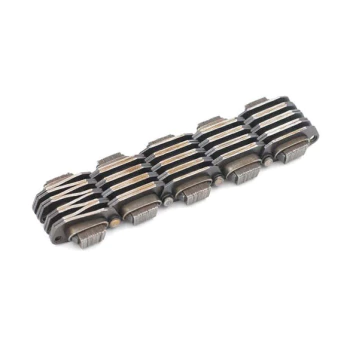 Can a drive chain be used in environments with high temperatures?
Yes, a drive chain can be used in environments with high temperatures, but there are certain considerations to keep in mind. Here's an explanation:
Drive chains can operate in high-temperature environments, but the selection of the appropriate chain and proper maintenance practices are crucial for ensuring their performance and longevity:
1. Heat-Resistant Materials: When operating in high-temperature environments, it is important to choose a drive chain made from heat-resistant materials. High-grade steel alloys or specialized heat-resistant materials may be used to ensure the chain can withstand the elevated temperatures without significant degradation.
2. Lubrication: Proper lubrication is essential to reduce friction and wear, particularly in high-temperature environments. It is crucial to select lubricants specifically designed for high-temperature applications that can withstand the heat without breaking down or evaporating too quickly. Regular lubrication and inspection are necessary to maintain the lubricant's effectiveness.
3. Heat Dissipation: Ensuring proper heat dissipation is important to prevent overheating of the chain. Adequate ventilation or cooling measures should be implemented, if necessary, to keep the chain operating within a safe temperature range.
4. Maintenance: Regular inspection and maintenance are crucial in high-temperature environments. Periodic checks for signs of wear, elongation, or damage should be performed. Proper tension adjustment and alignment should be maintained to prevent excessive stress and wear on the chain.
5. Operating Conditions: Consider other factors associated with high-temperature environments, such as exposure to chemicals, contaminants, or extreme temperature fluctuations. These factors may affect the chain's performance and longevity, and additional measures may be required to ensure optimal operation.
It is important to consult the manufacturer's guidelines and specifications to ensure that the selected drive chain is suitable for the specific high-temperature environment. By selecting the appropriate chain and implementing proper maintenance practices, a drive chain can effectively operate in high-temperature environments while maintaining performance and durability.



editor by CX 2023-08-02