Product Description
1) A Series Short-Pitch Transmission Precision Roller Chain
25-1R, 35-1R, 40-1R, 50-1R , 60-1R, 80-1R, 100-1R, 120-1R, 140-1R, 160-1R, 180-1R, 200-1R, 240-1R
Double stand, triple strand are available
2). B Serieis Short-Pitch Transmission Precision Roller Chain
05B-1R, 06B-1R, 08B-1R, 10B-1R, 12B-1R, 16B-1R, 20B-1R, 24B-1R, 28B-1R, 32B-1R, 40B-1R, 48B-1R
Double stand, triple stand are available.
3). Short-Pitch Heavy Roller Chain
40H, 50H, 60H, 80H, 100H, 120H, 140H, 160H, 200H
Our company offers variety of products which can meet your multifarious demands. We adhere to the management principles of "quality first, customer first and credit-based" since the establishment of the company and always do our best to satisfy potential needs of our customers. Our company is sincerely willing to cooperate with enterprises from all over the world in order to realize a CHINAMFG situation since the trend of economic globalization has developed with anirresistible force.
| | |
| --- | --- |
| Standard or Nonstandard: | Standard |
| Application: | Food Machinery |
| Structure: | Roller Chain |
| Material: | Stainless Steel |
| Type: | Double Pitch Chain |
| Tensile Strength: | High |
Customization:

Available

|

Customized Request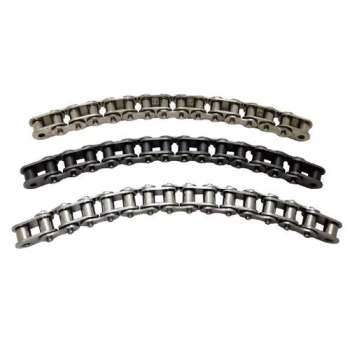 How does the lubricant selection affect the performance of a drive chain?
The selection of the proper lubricant plays a critical role in the performance and longevity of a drive chain. Here is a detailed explanation:
Lubrication is essential for maintaining the smooth operation and reducing the wear and friction between the chain's moving parts. The lubricant creates a protective film that reduces metal-to-metal contact and prevents excessive heat generation. The lubricant selection affects the drive chain's performance in the following ways:
Reduced Friction and Wear: The primary function of lubrication is to reduce friction between the chain's components. A well-chosen lubricant minimizes metal-to-metal contact, reducing wear and extending the chain's lifespan. It helps to prevent premature failure and ensures the efficient transfer of power throughout the chain.
Enhanced Load Capacity: Proper lubrication reduces the stress on the chain by creating a lubricating film that cushions the contact between the pins, bushings, and rollers. This improves the chain's load-carrying capacity, allowing it to handle heavier loads and resist elongation or deformation under high loads.
Corrosion Protection: Some lubricants are formulated with additives that provide corrosion protection. These lubricants create a barrier that shields the chain from moisture, chemicals, and environmental contaminants, reducing the risk of corrosion and extending the chain's life in harsh or corrosive environments.
Temperature Stability: Different lubricants have varying temperature ranges in which they can effectively perform. The lubricant selection should consider the operating temperatures of the application. High-temperature lubricants are designed to withstand elevated temperatures without breaking down or evaporating, ensuring proper lubrication even in hot environments.
Reduced Noise and Vibration: Proper lubrication contributes to smoother and quieter chain operation. It helps to minimize noise and vibration caused by metal-to-metal contact, resulting in a quieter working environment and improved operator comfort.
Contamination Control: Lubricants can also play a role in controlling contaminants that may enter the chain system. Some lubricants have properties that resist the accumulation of dust, dirt, or other particles, helping to keep the chain clean and preventing abrasive wear.
The lubricant selection should consider various factors, including the application's operating conditions, load requirements, temperature range, speed, and compatibility with the chain material. Manufacturers often provide lubrication recommendations based on these factors.
Regular lubrication maintenance is essential to ensure the continued performance of the drive chain. Lubrication intervals should be followed, and the lubricant should be replenished or replaced as recommended by the manufacturer or based on inspection and monitoring of the chain's condition.
By selecting the appropriate lubricant and implementing proper lubrication practices, operators can ensure optimal chain performance, reduce wear and friction, extend chain life, and minimize maintenance requirements in various industrial applications.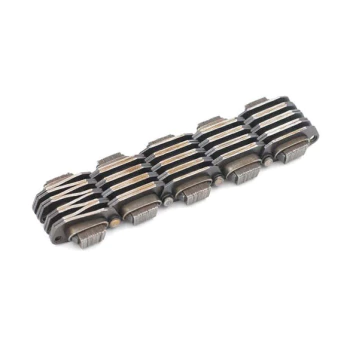 Can a drive chain be used in a woodworking or sawmill application?
Yes, a drive chain can be used in woodworking and sawmill applications, where reliable power transmission and durability are essential. Here is a detailed explanation:
In woodworking and sawmill operations, machinery and equipment such as saws, planers, jointers, and conveyors are commonly used. Drive chains offer several advantages in these applications:
High Load Capacity: Drive chains are known for their high load-carrying capacity, making them suitable for heavy-duty applications commonly found in woodworking and sawmill operations. They can handle the significant forces and loads associated with cutting, shaping, and moving timber and lumber.
Durability and Reliability: Woodworking and sawmill environments can be demanding, with conditions such as sawdust, vibrations, impacts, and variable operating temperatures. Drive chains are designed to withstand these harsh conditions and provide reliable and durable power transmission even in rugged and demanding operating environments.
Precise Power Transmission: Drive chains offer precise power transmission, ensuring accurate and synchronized movement of the machinery components involved in woodworking and sawmill operations. This allows for consistent and reliable cutting, shaping, and material handling processes.
Customization Options: Drive chains can be customized to suit specific woodworking and sawmill applications. They are available in various sizes, pitches, and materials to accommodate different loads, speeds, and environmental conditions.
Compatibility with Auxiliary Components: Drive chains can be easily integrated with auxiliary components commonly used in woodworking and sawmill machinery, such as tensioners, guides, sprockets, and bearings. This allows for efficient and reliable power transmission throughout the entire system.
Cost-Effectiveness: Drive chains offer a cost-effective solution for power transmission in woodworking and sawmill operations. They have a long service life, reduced maintenance requirements, and lower replacement costs compared to some alternative power transmission systems.
It is important to consider the specific requirements of the woodworking or sawmill application when selecting a drive chain. Factors such as load capacity, speed, environmental conditions, and maintenance considerations should be taken into account.
Regular maintenance, including inspection, lubrication, and tension adjustment, is crucial to ensure optimal performance and longevity of the drive chain in woodworking and sawmill applications.
By utilizing drive chains in woodworking and sawmill operations, operators can benefit from reliable power transmission, durability, and the ability to withstand the challenging conditions encountered in these industries, ultimately contributing to efficient and precise woodworking and lumber processing.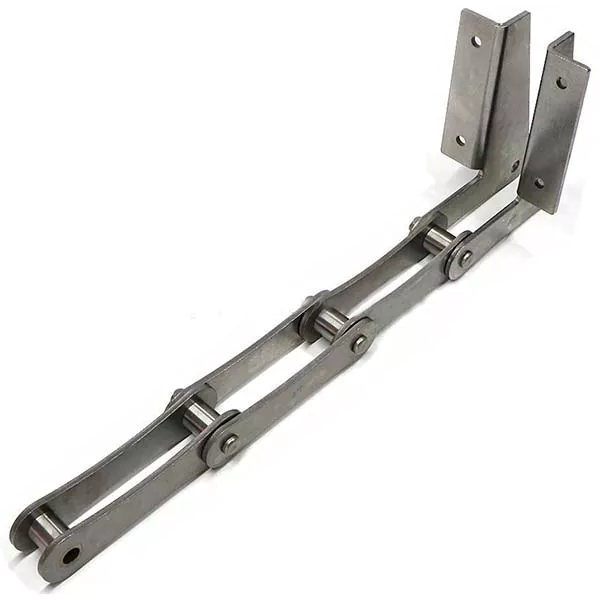 How do you choose the right drive chain for your application?
Choosing the right drive chain for your application requires careful consideration of various factors. Here are some key steps to help you make an informed decision:
Identify the Application Requirements: Determine the specific requirements of your application, including the power transmission needs, operating speed, load capacity, environmental conditions, and any special considerations.
Understand Chain Specifications: Familiarize yourself with the different specifications of drive chains, such as pitch size, roller diameter, plate thickness, and tensile strength. These specifications will directly impact the chain's performance and compatibility with your application.
Consider Chain Type: Evaluate the different types of drive chains available, such as roller chains, double pitch chains, leaf chains, silent chains, and engineered chains. Select the type that best suits your application's requirements, considering factors like load capacity, speed, noise level, and specific industry standards.
Evaluate Environmental Factors: Assess the environmental conditions in which the drive chain will operate. Consider factors like temperature, moisture, dust, chemicals, and potential exposure to corrosive substances. Choose a chain that can withstand these conditions without compromising performance or longevity.
Consult Manufacturer Guidelines: Refer to the manufacturer's guidelines and specifications for each drive chain option you are considering. Manufacturers often provide detailed information regarding performance capabilities, installation requirements, maintenance recommendations, and compatibility with specific applications.
Consider Maintenance Requirements: Evaluate the maintenance needs of the drive chain, such as lubrication requirements, tension adjustment, and periodic inspection. Choose a chain that aligns with your maintenance capabilities and operational preferences.
Seek Expert Advice: If you are unsure about which drive chain to choose, consider consulting with experts or professionals in the field. They can provide valuable insights and recommendations based on their experience and knowledge.
By carefully considering these factors and following a systematic approach, you can select the right drive chain that meets the requirements of your application, ensuring optimal performance, longevity, and reliability.



editor by CX 2023-10-30