Product Description
1)Type
roller chain
2)Materials
Mn steel
3)Chain No.
420
4)Warranty
30000 KMs
5)Process
Sand blasting,
heat treatment, 
High speed impact,
Four sides riveting, 
Pre-stretching and running, 
Lubricate with grease.
6)MOQ
1000Pcs
7)Supply Ability
100000 Meter/Meters per year
8)Tensile Strength/Hardness
standard or above
9)Delivery Time
within 30 days after receiving your 30% deposits
10)Payment Terms
30%deposit and balanced by L/C,T/T
11)Packing
chains packing in polybag and color box, also can packing as your requirement
Our Services
Pre-sales:
1. OEM &ODM service
2. Any of your kind inquiry would be replied within 24 hours.
3. Complete product information will be offered
4. Free sample will be sent if you need .
5. Any other reasonable requirements as per requested
 
During production ,we provide:
1. Schedule of production
2. Mass production picture will offered
3. Any other reasonable requirements as per requested
 
Finish production:
1. Courier tracking number
2. Documents you need 
3. Protection of your sales area, ideas of design and all your private information.
FAQ:
Q1: Do you inspect the finished products?
A: Yes, each step of production and finished products will be carried out inspection by QC departing before shipping.
Q2: What's the warranty of your products?
A: Usually we guarantee one year after delivery date, but depending on the specified product.
Q3: Are you manufacturer or Trade Company?
A: Both we are. We have been in motorcycle parts for nearly 20 years.
Q4: How to visit factory?
A: Leave us a message, and we will pick you up by car for free.
Q5: Can you do custom logo on the chain?
A: Yes,we can do custom logos by molding. Need your Authorization Letter.
| | |
| --- | --- |
| Type: | Chain |
| Material: | Steel |
| Certification: | ISO9001:2001 |
| Number of Row: | Single Row |
| Surface Treatment: | Sand Blasting, Oiling |
| Transport Package: | Polybag + Color Box + Carton |
Samples:

US$ 0/Piece

1 Piece(Min.Order)

|
Request Sample
Customization:

Available

|

Customized Request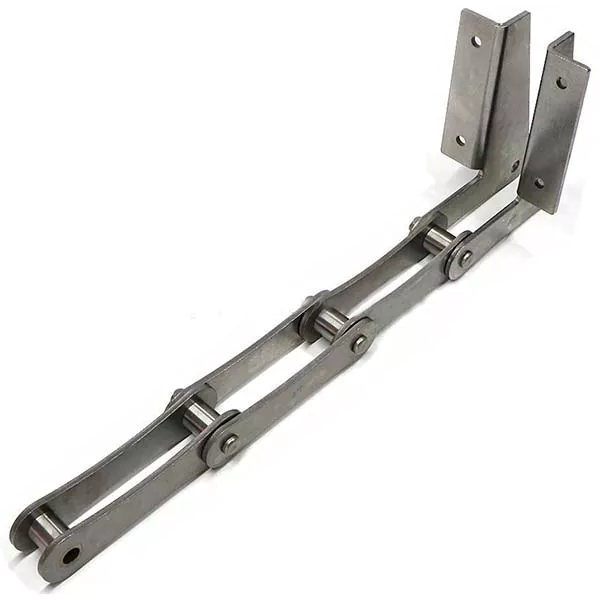 How does the design of a drive chain affect its efficiency and performance?
The design of a drive chain plays a crucial role in determining its efficiency and performance characteristics. Here is a detailed explanation:
The efficiency and performance of a drive chain are influenced by several design factors that are carefully considered during its development:
Chain Pitch and Size: The pitch and size of the chain links affect the load-carrying capacity, efficiency, and overall performance of the drive chain. A proper balance must be struck between chain size and strength to ensure optimal power transmission while minimizing friction and energy losses.
Roller Design: The shape and dimensions of the chain's rollers impact its efficiency and performance. Well-designed rollers reduce friction and wear by promoting smooth rolling motion between the chain and the sprocket teeth. They also contribute to improved power transmission and reduced noise levels.
Plate and Pin Design: The shape and material of the chain's plates and pins influence its strength, durability, and flexibility. Properly designed plates and pins ensure reliable power transmission, resistance to wear, and the ability to accommodate shock loads and varying torque conditions.
Sprocket Profile and Tooth Design: The design of the chain's sprockets is critical for efficient power transmission. Sprockets with accurately machined teeth and suitable profiles minimize friction, ensure proper engagement with the chain, and facilitate smooth chain articulation. Well-designed sprockets reduce wear, noise, and energy losses.
Lubrication Features: Drive chain design often incorporates lubrication features such as oiling holes or grooves to facilitate proper lubricant distribution along the chain's moving parts. Well-designed lubrication features ensure effective lubrication, reduce friction, prevent wear, and enhance the chain's overall efficiency and lifespan.
Material Selection: The choice of materials for the chain's components, such as the rollers, plates, pins, and bushings, significantly impacts its efficiency and performance. The selected materials must possess appropriate strength, wear resistance, and fatigue resistance to withstand the operating conditions and demands of the application.
Tensioning and Adjustment Mechanisms: Drive chain design often includes mechanisms for tensioning and adjusting the chain's tension. Properly designed tensioning systems ensure optimal chain tension throughout its operation, promoting efficient power transmission, reducing chain vibration, and extending the chain's service life.
A well-designed drive chain minimizes energy losses due to friction, reduces wear, and optimizes power transmission efficiency. It provides smooth and reliable operation, reduces noise levels, and contributes to the overall performance and longevity of the power transmission system.
It is important to note that drive chain design should consider the specific requirements and constraints of the application, including load capacity, speed, environmental conditions, and maintenance considerations. Regular inspection, lubrication, and proper tensioning are essential for maintaining the efficiency and performance of the drive chain over time.
By incorporating efficient design principles and considering the various factors that influence performance, manufacturers can produce drive chains that offer high efficiency, reliable power transmission, extended service life, and optimal performance in their intended applications.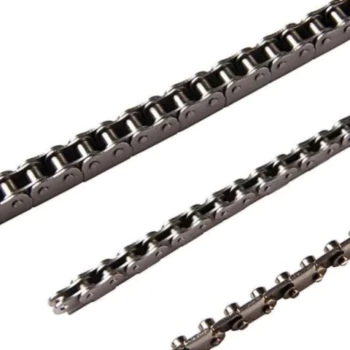 Can a drive chain be used in a power generation system?
Yes, a drive chain can be used in certain types of power generation systems as a method of power transmission. Here is a detailed explanation:
In power generation systems, the purpose is to convert a primary energy source into electrical power. While drive chains are not commonly used in large-scale power generation applications like turbines or generators, they can be employed in specific scenarios, such as:
Small-Scale Power Generation: In small-scale power generation systems, such as micro-hydropower or wind turbines, drive chains can be utilized to transmit rotational motion from the turbine or rotor to a generator. The chain connects the rotating components, ensuring efficient power transmission.
Linkage Mechanisms: Drive chains can be used in mechanical linkage mechanisms within power generation systems to transmit motion or force between various components. These mechanisms can be found in applications such as valve control systems, fuel feeders, or governor systems.
Ancillary Devices: Drive chains may also be employed in ancillary devices within power generation systems, such as tensioners, clutches, or braking mechanisms.
It's important to note that the selection and application of drive chains in power generation systems require careful consideration of factors such as load, speed, torque, and environmental conditions. Additionally, regular maintenance, including inspection, lubrication, and tension adjustment, is crucial to ensure optimal performance and longevity of the drive chain in these applications.
While drive chains have their applications in power generation systems, it is essential to consult with experts or manufacturers to determine the most suitable and efficient power transmission method for a specific power generation setup.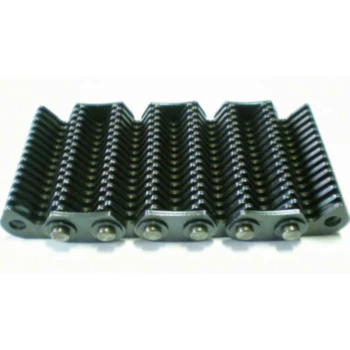 What are the signs of a worn-out drive chain?
A worn-out drive chain can significantly impact the performance and safety of a machine or system. It is important to recognize the signs of a worn-out drive chain to address the issue promptly. Here are some common signs to look out for:
1. Chain Elongation: Excessive chain elongation is a clear indication of wear. You can measure chain elongation by comparing the current chain length to its original length. If the chain has elongated beyond the manufacturer's recommended limit, it is a sign of wear and requires replacement.
2. Visible Signs of Wear: Inspect the drive chain for visible signs of wear, such as worn-out or distorted chain links, rollers, or plates. Look for signs of corrosion, pitting, or discoloration, indicating the chain's deterioration.
3. Chain Slack: Excessive chain slack, where the chain visibly sags or has too much play, is an indicator of wear. A properly tensioned chain should have a minimal amount of slack, and excessive slack suggests elongation and a need for replacement.
4. Noise and Vibration: A worn-out drive chain often produces increased noise and vibration during operation. If you notice unusual rattling, clanking, or grinding sounds, or if you feel excessive vibrations, it may be a sign of a worn chain.
5. Poor Power Transmission: A worn-out chain may struggle to efficiently transfer power, resulting in reduced performance and power loss. You may experience a decrease in acceleration, sluggishness, or difficulty maintaining consistent speed.
6. Poor Gear Shifting: In applications where the drive chain is connected to gears, a worn chain can cause difficulties in gear shifting, resulting in jerky or unreliable gear changes.
7. Increased Chain Tension: As a chain wears, it may require frequent tension adjustments to maintain proper alignment and operation. If you find yourself frequently adjusting the chain tension, it may be a sign of wear.
If you observe any of these signs, it is recommended to replace the worn-out drive chain promptly to avoid further damage and ensure the safe and efficient operation of the machinery.



editor by CX 2023-09-23