Product Description
1)Type
roller chain
2)Materials
Grade A Steel:
40Mn(Plate) 30CrMnTi(Pin) 20Mn(Bush) Mn10(Roller) 65Mn(Clip)
3)Chain No.
420
4)Warranty
30000KMs
5)Process
Sand blasting, heat treatment, High speed impact,
Four sides riveting, Pre-stretching and running, Lubricate with Grease
6)MOQ
500 Pcs
7)Supply Ability
100000 Meter/Meters per year
8)Tensile Strength/Hardness
standard or above
9)Delivery Time
within 30 days after receiving your 30% deposits
10)Payment Terms
L/C,T/T
11)Packing
chains packing in standard export carton, also can packing as your requirement
Our Services
Pre-sales:
1. OEM &ODM service
2. Any of your kind inquiry would be replied within 24 hours.
3. Complete product information will be offered
4. Free sample will be sent if you need .
5. Any other reasonable requirements as per requested
 
During production ,we provide:
1. Schedule of production
2. Mass production picture will offered
3. Any other reasonable requirements as per requested
 
Finish production:
1. Courier tracking number
2. Documents you need 
3. Protection of your sales area, ideas of design and all your private information.
FAQ:
Q1: Do you inspect the finished products?
A: Yes, each step of production and finished products will be carried out inspection by QC departing before shipping.
Q2: What's the warranty of your products?
A: Usually we guarantee one year after delivery date, but depending on the specified product.
Q3: Are you manufacturer or Trade Company?
A: Both we are. We have been in motorcycle parts for nearly 20 years.
Q4: How to visit factory?
A: Leave us a message, and we will pick you up by car for free.
Q5: Can you do custom logo on the chain?
A: Yes,we can do custom logos by molding. Need your Authorization Letter.
| | |
| --- | --- |
| Type: | Chain |
| Material: | Steel |
| Certification: | ISO9001:2001 |
| Number of Row: | Single Row |
| Surface Treatment: | Sand Blasting, Oiling |
| Transport Package: | Polybag + Color Box + Carton |
Samples:

US$ 0/Piece

1 Piece(Min.Order)

|
Request Sample
Customization:

Available

|

Customized Request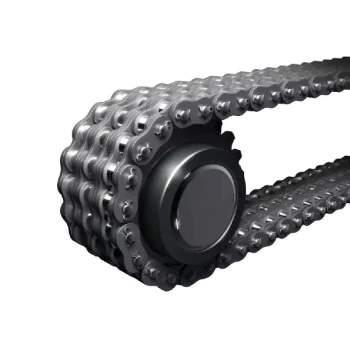 How does the material hardness of a drive chain affect its durability?
The material hardness of a drive chain plays a significant role in determining its durability and resistance to wear. Here is a detailed explanation:
Material hardness refers to the ability of a material to resist indentation, abrasion, and penetration by external forces. In the context of drive chains, the hardness of the chain's components, such as pins, bushings, and rollers, directly affects the chain's durability and lifespan.
When it comes to drive chain durability, the following factors come into play:
Resistance to Wear: A higher material hardness typically results in better resistance to wear. Drive chains with harder materials can withstand the friction and contact forces encountered during operation, minimizing the wear on critical components. This translates to extended chain life and reduced maintenance requirements.
Impact Resistance: The material hardness of a drive chain also affects its ability to resist impact forces. Chains operating in environments with frequent impacts or shock loads, such as in mining or heavy-duty applications, require high hardness materials to withstand the sudden stresses without deformation or failure.
Resistance to Deformation: Harder materials exhibit greater resistance to deformation under load. This is particularly important in drive chains where precise interlocking of chain components is necessary for efficient power transmission. Chains with higher material hardness maintain their shape and dimensional integrity, ensuring consistent performance and minimizing the risk of chain elongation or misalignment.
Corrosion Resistance: While material hardness primarily affects wear resistance, it can indirectly impact the chain's resistance to corrosion. Certain high-hardness materials, such as stainless steel or specific alloys, offer improved corrosion resistance compared to softer materials. This is especially relevant in applications where the chain is exposed to corrosive environments, such as marine or chemical industries.
It is important to note that while higher hardness generally leads to improved durability, excessive hardness can also result in brittleness and reduced impact resistance. Therefore, a balance must be struck between hardness and other mechanical properties to ensure optimal performance and durability of the drive chain.
Manufacturers typically specify the appropriate hardness level for drive chain components based on the specific application requirements. These specifications take into account factors such as load capacity, operating conditions, anticipated wear rates, and desired service life.
Regular maintenance practices, such as proper lubrication, periodic inspection, and tension adjustment, are essential for maximizing the durability and performance of the drive chain, regardless of its material hardness.
By selecting a drive chain with the appropriate material hardness and implementing proper maintenance practices, operators can ensure optimal durability, extended chain life, and reliable power transmission in various industrial applications.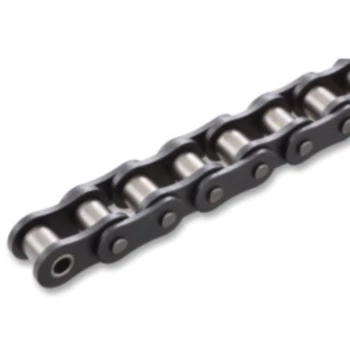 Can a drive chain be used in a marine or offshore environment?
Yes, drive chains can be used in marine or offshore environments with proper considerations and appropriate chain selection. Here is a detailed explanation:
In marine or offshore applications, where machinery and equipment operate in challenging conditions such as saltwater exposure, humidity, and corrosive environments, the use of drive chains requires specific measures:
Corrosion Resistance: When selecting a drive chain for marine or offshore environments, it is crucial to choose a chain made from corrosion-resistant materials such as stainless steel or coated chains. These materials can withstand the corrosive effects of saltwater and other harsh elements.
Sealing and Protection: Additional sealing and protection measures can be employed to safeguard the chain from water ingress and contamination. This may include the use of protective covers, seals, or enclosures to prevent direct exposure to seawater and other corrosive substances.
Lubrication: Regular and appropriate lubrication is vital to protect the chain against corrosion and ensure smooth operation. Lubricants specifically designed for marine or offshore applications should be used to withstand the demanding conditions and provide effective protection.
Maintenance: A comprehensive maintenance program is essential for maximizing the lifespan of a drive chain in marine or offshore environments. Regular inspection, cleaning, lubrication, and monitoring of the chain's condition are necessary to identify and address any signs of corrosion, wear, or damage.
Environmental Considerations: Factors such as saltwater spray, wave impact, vibration, and temperature variations should be taken into account when designing and operating the machinery and equipment. Adequate shielding, proper drainage, and suitable ventilation can help mitigate the potential detrimental effects on the drive chain.
By considering these factors and implementing appropriate measures, drive chains can be successfully utilized in marine or offshore environments, providing reliable power transmission in applications such as ship propulsion systems, offshore drilling rigs, marine winches, and more.



editor by CX 2023-09-12