Product Description
PC200-7 Crane Sprocket 20y-27-11582 Excavator Drive Sprocket chain
| | |
| --- | --- |
| Material | 40SiMnTi |
| Finish | Smooth |
| Colors | Black or yellow |
| Technique | Forging casting |
| Surface Hardness | HRC52-58 |
| Warranty time | 2000 hour |
| Certification | ISO9001-9002 |
| FOB Price | FOB HangZhou USD 200-2000/Piece |
| MOQ | 2 piece |
| Delivery Time | Within 30 days after contract established |
For ktsu
 
 
 
 
 
 
 
PC20-7
PC30
PC30-3
PC30-5
PC30-6
PC40-7
PC45
PC45-2
PC55
PC120-6
PC130
PC130-7
PC200
PC200-1
PC200-3
PC200-5
PC200-6
PC200-7
PC200-8
PC210-6
PC220-1
PC220-3
PC220-6
PC220-7
PC220-8
PC270-7
PC202B
PC220LC-6
PC220LC-8
PC240
PC300
PC300-3
PC300-5
PC300-6
PC300-7
PC300-7K
PC300LC-7
PC350-6/7
PC400
PC400-3
PC400-5
PC400-6
PC400lc-7
PC450-6
PC450-7
PC600
PC650
PC750
PC800
PC1100
PC1250
PC2000
 
 
D20 
D31
D50
D60
D61
D61PX
D65A
D65P
D64P-12
D80
D85
D155
D275
D355
 
 
 
 
For HITACHI
 
 
 
 
 
 
 
EX40-1
EX40-2
EX55
EX60
EX60-2
EX60-3
EX60-5
EX70
EX75
EX100
EX110
EX120
EX120-1
EX120-2
EX120-3
EX120-5
EX130-1
EX200-1
EX200-2
EX200-3
EX200-5
EX220-3
EX220-5
EX270
EX300
EX300-1
EX300-2
EX300-3
EX300-5
EX300A
EX330
EX370
EX400-1
EX400-2
EX400-3
EX400-5
EX450
ZAX30
ZAX55
ZAX200
ZAX200-2
ZAX330
ZAX450-1
ZAX450-3
ZAX450-5
ZX110
ZX120
ZX200
ZX200
ZX200-1
ZX200-3
ZX200-5g
ZX200LC-3
ZX210
ZX210-3
ZX210-3
ZX210-5
ZX225
ZX240
ZX250
ZX270
ZX30
ZX330
ZX330
ZX350
ZX330C
ZX450
ZX50
 
 
 
 
For CATERPILLER
 
 
 
 
 
 
 
E200B
E200-5
E320D
E215
E320DL
E324D
E324DL
E329DL
E300L
E320S
E320
E320DL
E240
E120-1
E311
E312B
E320BL
E345
E324
E140
E300B
E330C
E120
E70
E322C
E322B
E325
E325L
E330
E450
CAT225
CAT312B
CAT315
CAT320
CAT320C
CAT320BL
CAT330
CAT322
CAT245
CAT325
CAT320L
CAT973 
 
 
 
D3
D3C
D4
D4D
D4H
D5M
D5H
D6
D6D
D6M
D6R
D6T
D7
D7H
D7R
D8
D8N
D8R
D9R
D9N
D9G
D10
 
 
 
 
 
For Sumitomo
 
 
 
 
 
 
 
SH120 
SH120-3
SH200
SH210-5
SH200
SH220-3
SH220-5/7
SH290-3
SH350-5/7
SH220
SH280
SH290-7
SH260
SH300
SH300-3
SH300-5
SH350
SH60
SH430
 
 
 
 
 
 
 
 
For KOBELCO
 
 
 
 
 
 
 
SK120-6
SK120-5
SK210-8
SK210LC-8
SK220
SK220-1
SK220-3
SK220-5/6
SK200 
SK200
SK200 
SK200-3
SK200-6
SK200-8
SK200-5/6
SK60
SK290
SK100
SK230
SK250
SK250-8
SK260LC-8
SK300
SK300-2
SK300-4
SK310
SK320
SK330-8
SK330
SK350LC-8
SK235SR
SK450
SK480
SK30-6
 
 
For DAEWOO
 
 
 
 
 
 
 
DH200
DH220-3
DH220
DH220S
DH280-2
DH280-3
DH55
DH258
DH130
DH370
DH80
DH500
DH450
/DH225
 
 
 
 
For HYUNDAI
 
 
 
 
 
 
 
R60-5
R60-7
R60-7
R80-7
R200
R200-3
R210
R210
R210-9 
R210LC
R210LC-7
R225
R225-3
R225-7
R250 
R250-7
R290
R290LC
R290LC-7
R320
R360
R954
 
 
 
 
 
For KATO
 
 
 
 
 
 
 
HD512
HD1430
HD 512III
HD 820III
HD820R
HD1430III
HD700VII
HD 1250VII
HD250SE
HD400SE
HD550SE
HD1880
 
 
 
 
 
 
For DOOSAN
 
 
 
 
 
 
 
DX225 
DX225LCA
DX258
DX300
DX300LCA
DX420
DX430
 
 
For VOLVO
 
 
 
 
 
 
 
EC160C
EC160D
EC180B
EC180C
EC180D
EC210
EC210
EC210B
EC240B
EC290
EC290B
EC240
EC55
EC360
EC360B
EC380D
EC460
EC460B
EC460C
EC700
EC140
EC140B
EC160B
 
 
 
Shipping Cost:

Estimated freight per unit.





To be negotiated
| | |
| --- | --- |
| After-sales Service: | Online Service |
| Warranty: | 12 Months |
| Type: | Undercarriage Parts |
Customization:

Available

|

Customized Request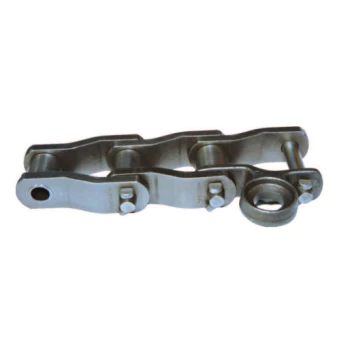 What are the benefits of using a maintenance-free drive chain?
Using a maintenance-free drive chain offers several advantages in applications where minimal maintenance and high reliability are desired. Here is a detailed explanation:
A maintenance-free drive chain, also known as a self-lubricating chain, is designed to operate without the need for regular lubrication or maintenance. The benefits of using such a chain include:
Reduced Downtime: Maintenance-free drive chains eliminate the need for regular lubrication and associated maintenance tasks. This saves time and reduces the frequency of equipment shutdowns for lubrication and maintenance, resulting in increased productivity and reduced downtime.
Lower Maintenance Costs: Maintenance-free chains require less maintenance, which leads to cost savings. There is no need for purchasing lubricants, scheduling routine maintenance, or performing frequent lubrication tasks. This can result in significant cost savings over the life of the chain.
Increased Reliability: Maintenance-free chains are designed to provide reliable and consistent performance over extended periods without the need for lubrication. They are constructed using self-lubricating materials or have built-in lubrication systems, ensuring optimal chain operation and minimizing the risk of chain failure due to inadequate lubrication.
Extended Service Life: Maintenance-free chains are often engineered with materials that exhibit excellent wear resistance and self-lubricating properties. This extends the chain's service life by reducing wear, elongation, and the need for frequent replacements. The chains maintain their performance characteristics even in demanding environments.
Cleaner Operation: Maintenance-free chains do not require external lubrication, which eliminates the risk of lubricant splatter or contamination. This is particularly beneficial in applications where cleanliness is essential, such as food processing, pharmaceuticals, or cleanroom environments. The absence of lubrication also reduces the attraction of dust or debris, contributing to cleaner and more reliable operation.
Environmentally Friendly: Maintenance-free chains can contribute to environmental sustainability. The elimination of routine lubrication reduces the consumption of lubricants and minimizes the release of lubricants into the environment. This aligns with eco-friendly practices and reduces the overall environmental impact of the equipment.
Application Versatility: Maintenance-free chains can be used in various industries and applications where minimal maintenance is desired or where lubrication is challenging or not feasible. They find applications in industries such as food processing, packaging, automation, automotive, and many others.
It is important to note that while maintenance-free chains offer many benefits, they still require regular inspection and occasional cleaning to ensure optimal performance and detect any abnormal wear or damage.
When selecting a maintenance-free chain, it is crucial to consider factors such as load capacity, speed, environmental conditions, and compatibility with the specific application requirements.
By utilizing maintenance-free drive chains, operators can benefit from reduced downtime, lower maintenance costs, increased reliability, extended service life, cleaner operation, environmental friendliness, and application versatility.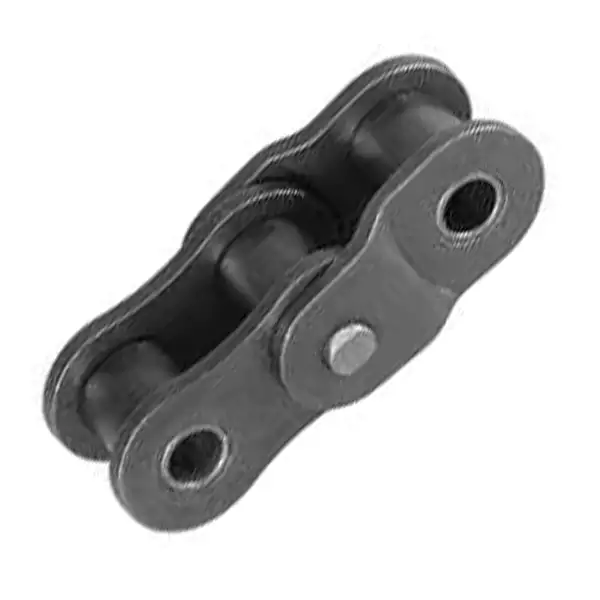 Can a drive chain be used in an escalator or elevator system?
Yes, a drive chain can be used in certain types of escalator or elevator systems as a method of power transmission. Here is a detailed explanation:
In escalator and elevator systems, the purpose of the drive chain is to transmit power from the motor to the moving steps or elevator car. While other power transmission methods, such as belts or gears, are commonly used in modern escalators and elevators, drive chains can still be found in certain applications:
Escalator Systems: In older or traditional escalator systems, drive chains are commonly used to transmit power from the main drive motor to the step chains. The step chains engage with the steps, causing them to move in a continuous loop. The drive chain ensures synchronized movement and reliable power transmission.
Elevator Systems: In some elevator systems, particularly older hydraulic or traction types, drive chains can be used as part of the power transmission mechanism. These chains transmit power from the motor to the elevator car or counterweight, enabling vertical movement.
It is important to note that the design and configuration of escalators and elevators can vary depending on factors such as capacity, speed, height, and building regulations. Modern escalators and elevators often employ more advanced and efficient power transmission methods, such as belts or gears, which offer advantages in terms of noise, efficiency, and maintenance. However, in certain cases, drive chains may still be used, especially in older systems or specific applications.
It is essential to consult with escalator or elevator manufacturers, experts, or maintenance technicians to determine the appropriate power transmission method for a particular escalator or elevator system. They can provide guidance on chain selection, maintenance requirements, and compliance with safety standards to ensure optimal performance and reliability.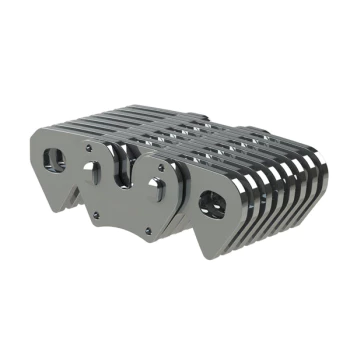 Can a drive chain be used in high-speed applications?
Yes, a drive chain can be used in high-speed applications, but there are certain considerations to keep in mind. Here's an explanation:
A drive chain's suitability for high-speed applications depends on several factors:
1. Type of Drive Chain: Not all types of drive chains are suitable for high-speed applications. Roller chains, especially those designed for high-speed use, are more commonly used in such scenarios. These chains are designed with precision manufacturing techniques, tighter tolerances, and specialized lubrication requirements to handle the demands of high-speed operation.
2. Quality and Design: The quality and design of the drive chain play a crucial role in its ability to handle high speeds. High-quality drive chains manufactured by reputable companies are engineered to minimize vibration, noise, and wear, enabling them to operate at higher speeds with greater efficiency and reliability.
3. Lubrication and Maintenance: Proper lubrication is critical for high-speed drive chains to minimize friction and reduce wear. Specialized lubricants designed for high-speed applications may be recommended. Regular maintenance, including lubrication and tension adjustment, is necessary to ensure optimal performance and longevity.
4. Alignment and Tension: Accurate alignment and appropriate tension are crucial for high-speed drive chains. Misalignment or improper tension can lead to increased wear, vibration, noise, and reduced performance. Regular inspection and adjustment are necessary to maintain proper alignment and tension.
5. Operating Conditions: The operating conditions, such as temperature, load, and environmental factors, should be taken into account. High-speed applications may generate additional heat and place higher demands on the chain. Ensuring suitable operating conditions and proper chain selection is important to prevent overheating, premature wear, and potential failure.
Ultimately, when considering a drive chain for high-speed applications, it is essential to consult the manufacturer's guidelines and select a chain specifically designed and rated for the desired speed range. Adhering to recommended maintenance practices and ensuring suitable operating conditions will help ensure safe and reliable performance of the drive chain in high-speed applications.



editor by CX 2023-08-16