Product Description
Sushi Chain Plate Crescent-shaped Chain Plate Chain Buffet Drinking Rotisserie Conveyor Belt Food Grade Conveyor Belt
Product Paramenter
POM Plastic Sushi Rotary Chain Plate 140mm Width Sushi Rotary Chain Plate Small Hot Pot Chain Plate is mainly suitable for 360° rotary conveying in catering and hot pot buffet assembly lines.
CC610 small hot pot chain plate The small hot pot chain plate is mainly suitable for 360° rotating conveying in catering and hot pot buffet assembly lines. 
It is white, the pin shaft is stainless steel Packing: 13 pieces/m Width: 178mm Small hot pot chain plate Speed: 50m/min Lubricant, 25m/min Desiccant Working load: 4800N, * Conveying length: 15m min
Hot pot chain plate material: POM, the color is white, the pin shaft is stainless steel Packaging: 13 pieces/m Width: 178mm. Small hot pot chain plate speed: 50m/min Lubricant, 25m/min Desiccant Working load: 4800N, conveying length: 15m Plastic chain plate material pom; pitch 38.1mm, suitable for chain plate conveying line, industrial automation assembly line and food and beverage conveying industry; 
plastic chain model: RS60P RS50P RS40P RS35P And scraper plastic chain and double tooth plastic chain
Other styles contact customer service for customization
| | |
| --- | --- |
| Sushi Chain Material | POM/UPE or other materials |
| Sushi chain Color |  red,yellow,green,blue,gret or custom color with big quantity |
| Sushi chain process | Moulding injection |
| Sushi chain Features |  Ready mold , for Food contact , easy assembly and disassembly |
| Sushi chain Function | convey sushi food dishes in Sush store |
| Sushi chain Density |  1.5g/cm3 |
| Sushi chain Size |  13 pcs per meter |
| Sushi chain life |  8 – 10 years |
| Sushi chain packing | see order quantity in different size of cartons |
| Payment | 50% T/T in advance, 50% T/T before delivery |
| Place of origin | GuangZhou, China (Mainland) |
| Delivery | According to the orders, usually 5-15 days |
Hot uhmwpe manual sushi maker
1.Description:
UHMW-PE(Ultra high Molecular Weight Polyethylene)is a thermoplastic engineering plastic with the average
molecular weight more than 9.2 million (100% Virgin UHMW-PE Raw Material). This kind of material with 5 top performance of high-wear-resistance, good-chemical resistance, low-temperature resistance, self-lubrication and high-impact resistance, which is regarded as a "surprised" engineering plastic of excellent comprehensive capacity and competitive price. HangZhou Engineering Plastics Industries (Group) Company has studied and applied this material in many industries for many years. And we know that it has the following main characteristics:
2.Characteristics:
1. Very high-wear resistance, 7 times wear resistance than steel, 4 times than PTFE
2. Very high anti-impact resistance, 2 times impact resistance than PC, 5 times than ABS.
3. Good self-lubrication, the same as PTFE, better than steel and brass appended lubricating oil.
4. Good anti-corrosion resistance, it has very stable chemicals property and can endure the corrosion of all kinds of corrosive medium and organic solvent in certain rang of temperature and humidity.
5. Very high-inadhesion resistance, the surface of product hardly affixes other material.
6. Very high-impact resistance, 10 times impact resistance than PA66, 8 times than PTFE.
7. Good low temperature resistance, in liquefied nitrogen (- 196ºC), it still has the prolongation.
  few other materials can reach to this performance.
8. Non-toxic and clean property, UHMW-PE material that made by HangZhou Engineering Plastics Industries (Group) Company, which meets the Food and Drug Administration (FDA) and United States Department of Agriculture (ASDA) permit to apply in food and medicine fields.
The parameter list of uhmwpe manual sushi maker 
Model                  
uhmwpe manual sushi maker
Material
Uhmwpe,Polycarbonate,etc
Thickness
5-100mm or customized
Length
2M or customized 
Color
Black,White or customized
OEM & ODM
Yes
Certification
ISO9001,SGS,FDA,RoHS,Test Report,ect.
Free Sample
Yes
Density
0.98g/ cm3
Shape
sheet, rod, tube, gear, pulley, guide rail……or according to your demand
Packing
Plastic bags,Cartons,Wodden case,Pallet,Container,ect.
Advantage
1.One stop procurement
2. professional free design
3. OEM&ODM suport
4. low MOQ
5. fast delivery
6. free sample 
The Main Properties of UHMW-PE 
Property
 Item No.
Unit
Value
Mechanical Properties
1
Density
g/cm3
0.94-0.96
2
average molecular weight
g/mol
 9.2X106
3
Tensile strength (23ºC in air)
MPa
22
4
Breaking strength
MPa
42
5
Tensile strain at break
%
600
6
Charpy impact strength (notched)
mJ/mm2
No break
7
Ball indentation hardness
N/mm2
42
8
Shore D hardness
—
D65
9
Abrading(sand slurry experiment)
            —
100
 
10
Coefficient of Friction
             —
0.09~0.1
General application
1. Suitable for transportation and filling of hot pot restaurants, beverages, food, cosmetics, etc.
We strictly check in terms of product quality, each part or machine has been well tested by our QC department to make sure it can work well before packing.
1.Our Sushi chain are made of highperformance plastic POM materials,it is durable,food grade and wear resistance,using in sushi store all over the world,we provide Sushi transmission whole set solution 2. We supply different plastic chain conveyor systems for pallet systems (single and twin track). All are easily assembled with regular hand tools to quickly get your chosen conveyor system up and running.
3. The conveyor systems are based on a close- fitting, multiflex plastic chain conveyor that gives a straight,horizontal and vertical running capability. Tight horizontal bends allow routing close to
machines,saving floor space. The conveying systems have tight vertical bends to save floor space  by enabling multilevel transportation and make access easy for operators.
We can also customize toothed keel chains
Toothed chains have a complete range, mainly used in the transportation of various foods, beverages and various items. The material of the toothed chain: POM, the color is white, the pin of the toothed chain is stainless steel. Maximum speed of toothed chain: 80 m/min lubricant, 50 m/min desiccant
Operating ambient temperature of the toothed chain: -40-90°C
Toothed chain working load: 2100N
The maximum conveying length of the toothed chain: 12 meters
The minimum radius R of 63/83 toothed chain is 150mm, and the minimum turning radius R of 103/146 toothed chain is 250mm
The advantage of engineering plastic chain plate is that it has a high friction coefficient, high mechanical strength, strong impact resistance, and self-lubricating performance. In the long-term operation of the chain plate conveyor, even if there is no lubricating oil , It can also perform good operation, which brings great convenience to the maintenance of the chain conveyor. It is often made into special chain plates for Tetra Pak bags and sushi chains, etc. Engineering plastic chain plates are widely used in the subsequent packaging production lines of pharmaceutical processing, food processing, dairy production, beverage production, etc., and the specific width of engineering plastic chain plates is determined according to the volume and conveying width of the packaged products. design. According to the different space layout requirements of the production enterprise, the design of straight plate chain and turning pull chain is often used to adapt to the utilization efficiency of the production enterprise for the working space.
Can be customized according to your requirements of various conveyor chain plate
1.We can provide customization in different structure, size,logo and package so long as you provide design.
   We also can provide ODM service
2.We can customize all kinds of Engineering plastics products according to customers'drawings or samples.
Application
We have a professional engineer team to design custom parts for your needs , we also have ready-made standard moulds that can save your cost and time . We offer ODM/OEM service, Production Design and Mould Design base on your requirement . Providing the sample before mass production , ensure all is OK for you .
If you have any problems or want to get the quoted price of any plastics or machined components, please feel free to contact us. Our engineers will reply to you as soon as possible.
A wide range of injection mold options
Our products cover auto parts mold, electrical appliances injection mold, medical machinery and so on. We provide products and services to more than 60 countries and regions in the world, including Europe, the United States and Southeast Asia.
Our Factory
Our factory has 100 sets of precision processing equipment, welcome to visit our factory!
The factory covers an area of 10,000 square CHINAMFG Production equipment has the original American imported Haas CNC machining center, wire-electrode cutting, electrical discharge machine,Perforating machine, injection molding machine, CNC milling machine,CNC hobbing machine, CNC lathe, CNC milling machine, CNC lathe, CNC milling machine, grinding machine and other machinery and equipment.
One-stop Service
OEM, ODM, Customization service,Reasonable and competitive price,Design for Manufacturability (DFM) analysis with every quote,Short Delivery Time.
Reliable mold expert 15+ years' experience, Cooperated with many world famous brands for many years, Specialize in large and complex injection mold making, One-stop service from design to production.
Certification
Companies strictly enforce the ISO9001(2008)international quality certification system, the product quality conforms to the eu RoHS standard.
Professional team
Our company is developing in the mode of quality for survival, brand for development and customer's demand, welcome new and old customers to visit our factory for guidance.
Client Witness
Our Exhibition & CCTV Interview
Buying Instructions
Q1. Can samples be produced?
A1. Yes
Q2. What is the accuracy of the products processed by the drawings?
A2. Different equipment has different accuracy, generally between 0.05-0.1
Q3. What craftsmanship do you have for processing accessories?
A3. According to different products, different processes are used, such as machining, extrusion, injection molding, etc.
Q4. What are your processing equipment?
A4. CNC machining center, CNC lathe, milling machine, engraving machine, injection molding machine, extruder, molding
machine
Q5. Can you help assembling the product after it is made?
A5. It's okay
Q6. What certifications or qualifications does your company have?
A6. Our company's certificates are: ISO, ROHS, product patent certificates, etc.
Q7. Can injection products be surface treated? What are the surface treatments?
A7. It is ok. Surface treatment: spray paint, silk screen, electroplating, etc. 
| | |
| --- | --- |
| Material: | PE |
| Application: | Food and Beverage Light Industry, etc |
| Certification: | ISO9001: 2008, Test Report, RoHS, etc |
| Free Sample: | Available |
| Warranty: | Yes |
| Other Service: | Semi-Finished |
Customization:

Available

|

Customized Request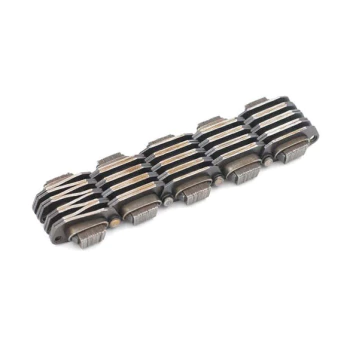 What are the benefits of using a corrosion-resistant coating on a drive chain?
A corrosion-resistant coating provides several benefits when applied to a drive chain. Here is a detailed explanation:
Drive chains used in various applications are often exposed to harsh environments that can lead to corrosion, including moisture, chemicals, contaminants, or high humidity. Applying a corrosion-resistant coating to the chain offers the following advantages:
Protection against Corrosion: The primary benefit of a corrosion-resistant coating is its ability to protect the chain from corrosive elements. The coating acts as a barrier, preventing moisture, chemicals, and other corrosive agents from reaching the chain's surface. This helps to inhibit or slow down the corrosion process, extending the chain's lifespan and reducing the risk of premature failure.
Enhanced Durability: By adding a corrosion-resistant coating, the drive chain's durability is significantly improved. The coating helps to prevent rust, oxidation, and degradation, thereby maintaining the chain's structural integrity and preserving its mechanical properties. This results in a longer service life and reduces the need for frequent chain replacements.
Reduced Maintenance Requirements: A corrosion-resistant coating reduces the maintenance efforts required to keep the chain in optimal condition. Since the coating provides a protective layer, there is less need for frequent lubrication or cleaning to combat corrosion. This leads to reduced maintenance costs and downtime, contributing to improved operational efficiency.
Compatibility with Harsh Environments: In applications where the chain is exposed to aggressive chemicals, high humidity, saltwater, or other corrosive substances, a corrosion-resistant coating is essential. The coating ensures the chain's reliability and performance even in demanding and challenging environments, such as marine, chemical processing, or outdoor applications.
Promotion of Cleanliness and Hygiene: Some corrosion-resistant coatings are designed to be smooth and easy to clean. This promotes cleanliness and hygiene in applications where cleanliness is critical, such as food processing, pharmaceuticals, or cleanroom environments. The coating prevents the accumulation of contaminants, making the chain easier to clean and maintain compliance with industry regulations.
Improved Aesthetics: A corrosion-resistant coating can enhance the visual appeal of the chain. It provides a clean and professional appearance, which is particularly important in applications where the chain is visible, such as in architectural designs or decorative installations.
It is important to note that the selection of a suitable corrosion-resistant coating should consider the specific application requirements, environmental conditions, and the compatibility of the coating with the chain material.
Regular inspection and proper maintenance practices, including periodic cleaning and lubrication, are still recommended to ensure the optimal performance and longevity of the drive chain, even with a corrosion-resistant coating.
By using a corrosion-resistant coating on a drive chain, operators can benefit from corrosion protection, enhanced durability, reduced maintenance requirements, compatibility with harsh environments, cleanliness, improved aesthetics, and ultimately, reliable and long-lasting chain performance.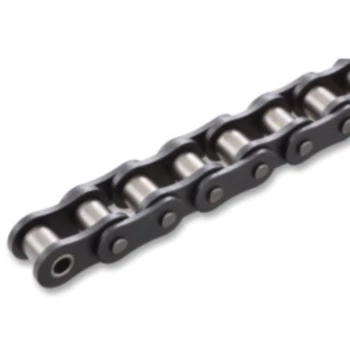 How does the backlash or play in a drive chain affect its performance?
The presence of backlash or play in a drive chain can have a significant impact on its performance and overall operation. Here is a detailed explanation:
Backlash or play refers to the small amount of free movement or clearance between the engaged components of a drive chain, typically between the chain and the sprockets. This clearance can lead to several performance-related issues:
Reduced Accuracy: Backlash can cause a loss of accuracy and precision in the positioning and movement of the driven components. The presence of free play can result in inconsistent positioning, leading to inaccuracies in machine operations or product quality.
Loss of Power and Efficiency: Backlash causes a loss of power transmission efficiency. As the chain engages with the sprockets, any free movement or clearance reduces the effective transfer of power, resulting in decreased efficiency and potential energy loss.
Vibration and Noise: Backlash can lead to vibration and noise during operation. The free movement of the chain can cause rattling, knocking, or banging sounds, as well as vibration, which can affect the overall system performance and operator comfort.
Potential for Chain Skipping or Jumping: Excessive backlash can cause the chain to skip or jump on the sprockets, leading to interrupted or irregular power transmission. This can result in sudden jerks, misalignment, or even chain derailment, affecting the overall system performance and potentially causing damage to the chain or other components.
Decreased System Response: Backlash affects the responsiveness of the system. When there is excessive play, the system may not respond quickly or accurately to changes in input or commands. This can be problematic in applications requiring precise and immediate movement or control.
To mitigate the negative effects of backlash, it is important to minimize or control the clearance within the drive chain system. This can be achieved through proper chain tensioning, sprocket alignment, and the use of anti-backlash devices or mechanisms.
Regular inspection and maintenance are crucial to identify and address any excessive backlash in the drive chain. Maintaining proper tension, lubrication, and periodically checking and adjusting the sprocket alignment can help minimize the backlash and ensure optimal chain performance.
It is essential to consult with the manufacturer's guidelines and recommendations for the specific drive chain system to determine the acceptable levels of backlash and the appropriate measures to reduce its impact on performance.
By minimizing backlash or play in a drive chain, operators can ensure accurate power transmission, improved efficiency, reduced noise, and vibration, ultimately leading to better overall system performance and productivity.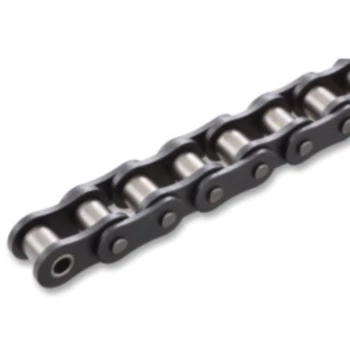 How do you properly tension a drive chain?
Tensioning a drive chain properly is important to ensure optimal performance, minimize wear, and prevent premature failure. Here are the steps to properly tension a drive chain:
Identify the Tensioning Method: Determine the type of tensioning system used for your specific drive chain. Common tensioning methods include manual adjustment, automatic tensioners, or tensioning devices incorporated into the chain drive system.
Refer to Manufacturer's Guidelines: Consult the manufacturer's guidelines or specifications for the recommended tensioning range and procedure specific to your drive chain. Manufacturers often provide specific instructions regarding the appropriate tensioning method and the acceptable slack or sag limits.
Measure the Initial Tension: Measure the initial tension of the drive chain. This can be done using a tension gauge or by applying manual force to the chain at a specific point and measuring the deflection or sag. Ensure that the initial tension is within the recommended range specified by the manufacturer.
Adjust Tension: If the initial tension is outside the recommended range, adjust the tension accordingly. For manual tensioning systems, typically a tensioning device, such as an adjusting bolt or eccentric cam, is used to increase or decrease the tension. Follow the manufacturer's instructions for the specific adjustment mechanism.
Check Alignment: While tensioning the chain, ensure that it remains properly aligned on the sprockets. Misalignment can cause uneven wear and premature failure. Make any necessary alignment adjustments as per the manufacturer's recommendations.
Recheck Tension: After tension adjustment and alignment, recheck the tension to ensure it falls within the recommended range. Use a tension gauge or follow the manufacturer's guidelines for measuring the tension. Repeat the adjustment process if necessary.
Verify Operation: After tensioning, operate the machinery or system with the tensioned chain and observe its performance. Check for any abnormal noise, vibration, or unusual wear patterns. If any issues persist, reevaluate the tensioning and alignment.
It is important to note that proper tensioning may require periodic rechecks and adjustments over time as the chain elongates or wears. Regular maintenance and inspections will help ensure the drive chain remains properly tensioned and aligned for optimal performance and longevity.



editor by CX 2023-10-17