Product Description
—————————————————————————————————-
YOG is 1 of the earliest and most famous companies, which is specialized in manufacturing and selling parts of motorcycles.
Our products are in great variety, and we have got the intellectual property rights in the trademark YOG, which is CHINAMFG all over the nation and even the world.
After 20 years'experience of new products'research and development, quality control, and corporate management, the trademark CHINAMFG is supported by our powerful technology and its quality is firmly assured.
At the same time, the series products of our company have become the representation of optimum quality compared with our competitors.
The annual sales keep growing and our company has been designated as the original equipment manufacturer by many motorcycle manufacture corporations.
We have always pursued a policy of steady quality and excellent after-sell service and we have set up a good reputation in motorcycle parts market.
We will supply the best products to our customer domestic and oversea with low price but high spead.
The company will serve all the customers through innovative research and development.
We will take customers's satisfactions as our objective for operation development, so as to enable our series of products to be sold throughout the world.
Full range of motorcycle parts:
Honda, YAMAHA, SUZUKI, BAJAJ, TVS, SHINERAY, XIHU (WEST LAKE) DIS., HAOJUE, XIHU (WEST LAKE) DIS.,SUKIDA, SENKE, ZS, GENESIS…
Honda
C50, C70, CD70, DAX70, C90, CD90, H100, C100, C110, C100-BIZ, CB100, CD100, CD DELUXE, CD DAWN,  MB100, XL100, S110, CB125, CB150, CB200, CD125, CG125, CG150, CG200, CG250, CHINAMFG 99, CHINAMFG 2000, CHINAMFG 150, NX125, XL125, XL125R, XLR125, GL145, GL150, CGL125, CGL150, CBX150, NXR125 BROS, NXR150 BROS, NXR200 BROS, CBX200, NX200, TRX200, XL200, XL200R,XR200,XR250, CB250, XL250, CBR250, NX250, CBX250, XL250, NX250, TRX350, CB400, CBR400, 
Suzuki
A80, A100, AX100, AX4, AX115, AG100,  GP100, TS100Z, TS125, TS185, TS185ER,  AX115, FD115, EN125, GN125, GN125H, GP125, GS125, TR125, SMASH, EN125-2A
Yamaha
V80, YB80, DT100, DX100, RS100, RX100, RX115, RX125, RX135, RXK, YB100, DT125, DT125T, DT125K, DT125R, RD125, RS125, SR125, TZR125, YB125, XT125, YBR125, RX135, RXZ135, DT150, SR150, DT175, DT180, SR250, XT250, DT175K 6H, DT175K 
Others
BAJAJ:
BAJAJ BOXER BM, BAJAJ BOXER CT, BAJAJ BOXER BM150, CT100, BAJAJ DISCOVER 100, DISCOVER 125, DISCOVER 135.
PULSAR 135, PULSAR 150, PULSAR 180, PULSAR 200, PULSAR 220,
ITALIKA:
DS150, GS150, GTS175, XS125, DS125, WS150, WS175, FT110, FT125, FT150, AT110, XT110, DM150, RT180, RT200,
AKT:
AK110, AKT110, AK125, AKT125, AKT 125 SPORT, AKT 125 TT, AK200, AKT200 SM.
GENESIS:
GXT200, XM150GY, XM200GY, ZX150, HJ125-7, HJ125-7 SPORTS, GX110, GX150, HJ125-7A, HJ125-2D,
HJ125-2, QINGQI200,
SHINERAY:
XY200GY-1, XY200GY-2, XY200GY-3, XY200GY-4, XY200GY-5, XY200GY-6, XY200GY-7, XY200GY-8,
XY200GY-9, XY200GY-10, 
OTHERS:
MT110, JH110, JS110, GY6 125, GY6 150, GY6 80, GY6 60, ENDURO 150, ENDURO 200, HORSE, HORSE II, JAGUAR, OWEN, LEON, TX200, ARSEN, ARSEN II, GY200, HAOJUE, XIHU (WEST LAKE) DIS.,SENKO, SUKIDA, SENCO, TVS STAR, TVS STAR SPORTS, SPEED 200, MATRIX 150
Please contact us for more details.
—————————————————————————————————-
| | |
| --- | --- |
| After-sales Service: | Any Quality Problem Please Contact Us |
| Type: | Chain |
| Material: | Steel |
| Certification: | ISO9001:2001 |
| Number of Row: | Double Row |
| Surface Treatment: | Gold Coated, Copper Coated |
Customization:

Available

|

Customized Request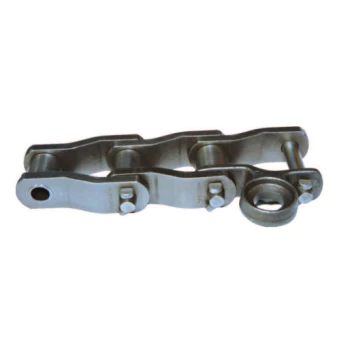 What are the benefits of using a maintenance-free drive chain?
Using a maintenance-free drive chain offers several advantages in applications where minimal maintenance and high reliability are desired. Here is a detailed explanation:
A maintenance-free drive chain, also known as a self-lubricating chain, is designed to operate without the need for regular lubrication or maintenance. The benefits of using such a chain include:
Reduced Downtime: Maintenance-free drive chains eliminate the need for regular lubrication and associated maintenance tasks. This saves time and reduces the frequency of equipment shutdowns for lubrication and maintenance, resulting in increased productivity and reduced downtime.
Lower Maintenance Costs: Maintenance-free chains require less maintenance, which leads to cost savings. There is no need for purchasing lubricants, scheduling routine maintenance, or performing frequent lubrication tasks. This can result in significant cost savings over the life of the chain.
Increased Reliability: Maintenance-free chains are designed to provide reliable and consistent performance over extended periods without the need for lubrication. They are constructed using self-lubricating materials or have built-in lubrication systems, ensuring optimal chain operation and minimizing the risk of chain failure due to inadequate lubrication.
Extended Service Life: Maintenance-free chains are often engineered with materials that exhibit excellent wear resistance and self-lubricating properties. This extends the chain's service life by reducing wear, elongation, and the need for frequent replacements. The chains maintain their performance characteristics even in demanding environments.
Cleaner Operation: Maintenance-free chains do not require external lubrication, which eliminates the risk of lubricant splatter or contamination. This is particularly beneficial in applications where cleanliness is essential, such as food processing, pharmaceuticals, or cleanroom environments. The absence of lubrication also reduces the attraction of dust or debris, contributing to cleaner and more reliable operation.
Environmentally Friendly: Maintenance-free chains can contribute to environmental sustainability. The elimination of routine lubrication reduces the consumption of lubricants and minimizes the release of lubricants into the environment. This aligns with eco-friendly practices and reduces the overall environmental impact of the equipment.
Application Versatility: Maintenance-free chains can be used in various industries and applications where minimal maintenance is desired or where lubrication is challenging or not feasible. They find applications in industries such as food processing, packaging, automation, automotive, and many others.
It is important to note that while maintenance-free chains offer many benefits, they still require regular inspection and occasional cleaning to ensure optimal performance and detect any abnormal wear or damage.
When selecting a maintenance-free chain, it is crucial to consider factors such as load capacity, speed, environmental conditions, and compatibility with the specific application requirements.
By utilizing maintenance-free drive chains, operators can benefit from reduced downtime, lower maintenance costs, increased reliability, extended service life, cleaner operation, environmental friendliness, and application versatility.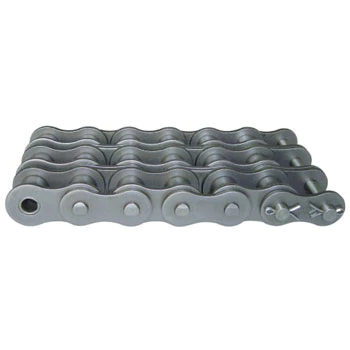 Can a drive chain be used in a robotics or automation application?
Yes, drive chains can be used in robotics or automation applications as a reliable and efficient method of power transmission. Here is a detailed explanation:
In robotics and automation, where precise and controlled movement is essential, drive chains offer several advantages:
Precision and Accuracy: Drive chains can provide accurate and repeatable positioning, making them suitable for applications that require precise movement and control.
High Torque Transfer: Drive chains are capable of handling high torque loads, allowing them to transmit power effectively in robotic and automation systems.
Efficient Power Transmission: Drive chains offer high efficiency in power transmission, minimizing energy loss during transfer and ensuring that the maximum amount of power is delivered to the intended components.
Flexibility and Customization: Drive chains provide flexibility in terms of design and customization. They can be adapted to various robotic and automation applications, accommodating different load requirements, configurations, and space constraints.
Compact Design: Drive chains have a compact design, which is beneficial in applications where space is limited. They can transmit power in tight or confined areas without compromising performance.
Reliability and Durability: Drive chains are known for their durability and ability to withstand demanding operating conditions. They are designed to endure continuous operation, shock loads, and varying environmental factors.
It's important to select the appropriate drive chain type, size, and material for the specific robotics or automation application. Additionally, regular maintenance, including inspection, lubrication, and tension adjustment, is crucial to ensure optimal performance and longevity of the drive chain in these applications.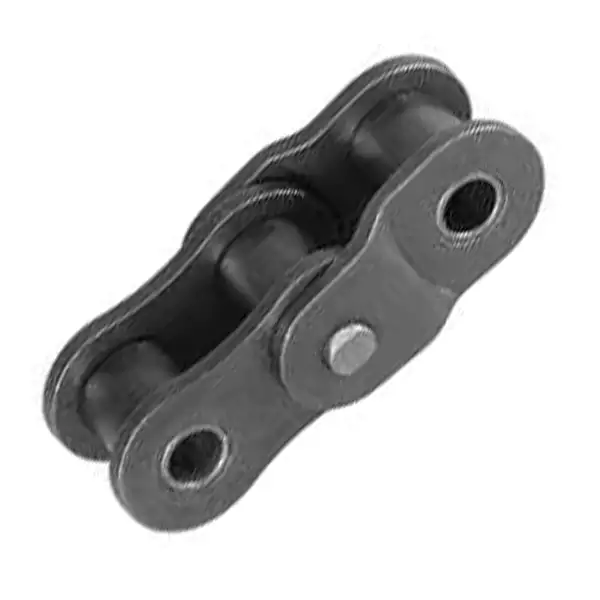 Can a drive chain be used in a conveyor system?
Yes, a drive chain can be used in a conveyor system as a reliable and efficient method of power transmission. Here is a detailed explanation:
In conveyor systems, the drive chain plays a critical role in moving materials along the conveyor belt. Drive chains are commonly used in conveyor systems due to the following reasons:
High Load Capacity: Drive chains are designed to handle heavy loads, making them suitable for conveying bulk materials or heavy objects.
Robust and Durable: Drive chains are built to withstand the demanding conditions of conveyor applications, including the presence of dust, debris, and harsh environments.
Efficient Power Transmission: Drive chains provide efficient power transfer from the motor or drive unit to the conveyor belt, ensuring smooth and reliable operation.
Variable Speed Control: By using different-sized sprockets and variable speed drive systems, the speed of the conveyor belt can be easily controlled to match the specific application requirements.
Flexibility and Adaptability: Drive chains come in various sizes, configurations, and materials, allowing them to be customized to fit different conveyor designs and applications.
Ease of Maintenance: Drive chains are relatively easy to maintain. Regular inspection, lubrication, and tension adjustment can help prolong chain life and prevent unexpected downtime.
Proper selection, installation, and maintenance of the drive chain are essential in conveyor systems to ensure optimal performance, longevity, and efficient material handling operations.



editor by CX 2023-10-16