Product Description
ISO16949: 2009 Approved Industrial Chain 
Why Choose Us? 
1. HangZhou Xihu (West Lake) Dis.hua Chain Group Co., Ltd established in 1991, we have 5 subsidiaries in china and have 6 subsidiaries abroad;
2. we covering a production area of 200,100 square meters, have more than 1,800 sets of advanced equipment and over 3,100 highly skilled employees, the annual production capacity has exceeded 20,000,000meters;
3. we specialized in producing all kinds of standard chains and special chains, such as A or B series chains, driving chains, conveyor chains, hoisting chains, agricultural chains, sprockets, industrial chains, sprockets, gears, wheels and so on;
4. we have obtained ISO9001, ISO14001, ISO16969, AAA and API certificates.
5. Our partners among world top enterprises, such as JOHNDEERE, NEW HOLLAND, CLAAS, HONDA, KUBOTA, YANMAR, etc.
 
1. Industrial Chain Parts

2. Production flow chart
1. Incoming material
2. Inspection
3. Production of chain board (cold roll steel/punch/heat treatment/shot blasting/cleaning)
4. Production of roller(burr wiping & smear/heat treatment/wiping grinding/cleaning)
5. Production of quill(burr wiping & smear/centerless cylindrical grinding/heat treatment/shining)
6. Production of shaft(cutting/chamfering/heat treatment/ centerless cylindrical grinding/cleaning)
7. Assembling
8. Final inspection
9. Packing
3. Certificate

4. Company Information
HangZhou Xihu (West Lake) Dis.hua Chain Group Co., Ltd was founded in 1 9 9 1, and now it has five wholly owned subsidiaries, one in ZheJiang  province, other four in HangZhou, ZHangZhoug province, it is a professional manufacturer of chains, sprockets, tooth gears and various power transmission products.
The group has XIHU (WEST LAKE) DIS.HUA, ZIQIANG brands, is focused on producing all variety of standard roller chains and special chains, such as conveyor chain, stainless steel chain, agricultural chain. With Xihu (West Lake) Dis.hua brand registered in more than 70 countries like America, Europe, Japan, it is building long term cooperation with these world top enterprises, such as JOHNDEERE, NEW HOLLAND, CLAAS, HONDA, KUBOTA, YANMAR. 
There is a technical center of province level, Xihu (West Lake) Dis.hua academician working station, experiment station for Xihu (West Lake) Dis.hua post doctors, and national hundreds of program set up in Xihu (West Lake) Dis.hua group. With these platforms and strong technical ability, the more than hundreds of Engineers and technicians have developed all variety of special high precise and high strength products, conducted mold programs for key components in the car and national industry revitalizing program. 
Great attention has been paid on environmental protection and energy saving. The product well displays environmental protection and energy saving. In the year of 2 0 0 0, Xihu (West Lake) Dis.hua took the lead in gaining I S O 1 4 0 0 1 environment management certificate and thereafter passed the inspection of clean production and recycling economy, winning the title of "ZHangZhoug Green Enterprise".
"We are always serving our customers with our best products."
| | |
| --- | --- |
| Usage: | Conveyor Chain |
| Material: | Alloy/Carbon Steel |
| Surface Treatment: | Electroplating |
| Feature: | Heat Resistant |
| Chain Size: | 1/2"*11/128" |
| Structure: | Roller Chain |
Customization:

Available

|

Customized Request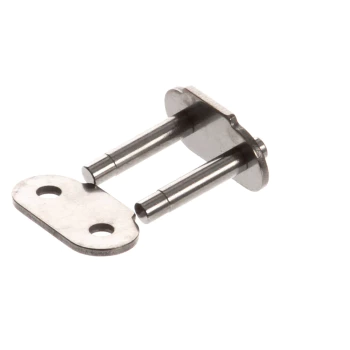 How does the lubrication method affect the performance of a drive chain?
The lubrication method used for a drive chain has a significant impact on its performance and longevity. Here is a detailed explanation:
Proper lubrication is essential for ensuring the smooth and efficient operation of a drive chain. It reduces friction, minimizes wear, and prevents corrosion between the chain's moving parts. The lubrication method chosen can affect the performance of the drive chain in the following ways:
Reduced Friction and Wear: Adequate lubrication forms a protective layer between the chain's moving parts, reducing metal-to-metal contact and minimizing friction. This helps to prevent excessive wear, elongation, and premature failure of the chain. The lubricant acts as a barrier, allowing the chain to operate with reduced resistance and improved efficiency.
Heat Dissipation: Proper lubrication helps dissipate heat generated by the friction between the chain's components during operation. This prevents overheating and the potential degradation of the lubricant, ensuring the chain can operate within its designed temperature range. Effective heat dissipation contributes to the longevity and optimal performance of the drive chain.
Protection against Corrosion: Lubrication provides a protective coating on the chain, safeguarding it against moisture, contaminants, and corrosive substances. This is particularly important in environments where the chain is exposed to water, chemicals, or harsh operating conditions. The lubricant prevents rust and corrosion, preserving the integrity of the chain and extending its service life.
Reduction of Noise and Vibration: Proper lubrication helps to reduce noise and vibration generated by the drive chain during operation. It acts as a damping agent, absorbing and minimizing the transmission of vibrations, resulting in smoother and quieter chain operation. This contributes to a more comfortable and productive working environment.
Selection of Lubricant: The choice of lubricant depends on various factors, including the application, operating conditions, temperature, speed, and load requirements. Different lubricants, such as oils, greases, or solid lubricants, may be suitable for different applications. The lubricant must be compatible with the chain material and should possess the necessary viscosity, temperature resistance, and lubricating properties to meet the specific demands of the drive chain.
Appropriate Lubrication Frequency: The lubrication method also includes determining the appropriate frequency for lubrication. Regular lubrication intervals must be established based on the chain's operating conditions and the manufacturer's recommendations. Insufficient lubrication or over-lubrication can both lead to performance issues, such as increased friction, poor lubricant distribution, or accelerated contamination buildup.
It is crucial to follow the manufacturer's guidelines and recommendations regarding lubrication methods, lubricant types, and lubrication intervals for the specific drive chain. Regular inspection and maintenance should be conducted to monitor the lubrication effectiveness and ensure proper lubricant replenishment.
By selecting the appropriate lubrication method and maintaining proper lubrication, operators can optimize the performance, reliability, and lifespan of the drive chain, contributing to smoother operation, reduced wear, and improved overall efficiency.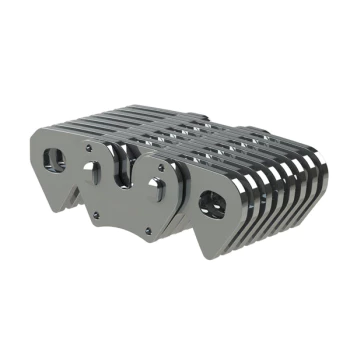 Can a drive chain be used in heavy-duty industrial applications?
Yes, drive chains are commonly used in heavy-duty industrial applications due to their ability to handle high loads, endure harsh environments, and provide reliable power transmission. Here is a detailed explanation:
In heavy-duty industrial applications, where large machinery and equipment are involved, drive chains offer several advantages:
Load Capacity: Drive chains are designed to handle heavy loads, making them suitable for industrial applications that require the transmission of substantial power and torque.
Durability: Drive chains are known for their durability and ability to withstand demanding conditions. They are designed to resist wear, fatigue, and shock loads, providing reliable performance over extended periods.
Harsh Environment Resistance: Industrial environments can expose machinery to extreme temperatures, dust, dirt, moisture, and chemicals. Drive chains are designed to withstand these harsh conditions, ensuring reliable operation and minimizing the risk of failure.
Flexibility and Adaptability: Drive chains offer flexibility in terms of design and customization. They can be adapted to various industrial applications, including conveyors, heavy machinery, material handling systems, and more.
Cost-Effective Solution: Drive chains are generally cost-effective compared to other power transmission systems. They provide reliable performance at a competitive price point, making them a preferred choice for heavy-duty industrial applications.
It is important to select the appropriate drive chain type, size, and material for the specific heavy-duty industrial application. Additionally, proper maintenance, including regular inspection, lubrication, and tension adjustment, is essential to ensure optimal performance and longevity of the drive chain in heavy-duty industrial environments.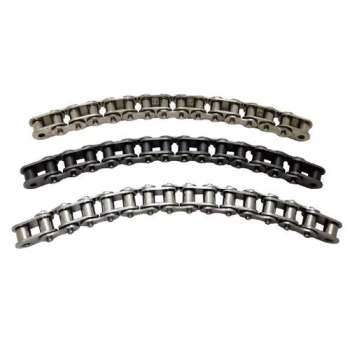 Are there different standards or certifications for drive chains?
Yes, there are different standards and certifications that apply to drive chains to ensure their quality, performance, and compatibility with specific industries or applications. Here's an explanation:
Drive chains may adhere to various standards and certifications, depending on the region and specific requirements. Some common standards and certifications for drive chains include:
1. ISO Standards: The International Organization for Standardization (ISO) has developed several standards related to drive chains. ISO 606 specifies the dimensions and mechanical requirements for roller chains, while ISO 10823 provides guidelines for determining the fatigue strength of roller chains.
2. ANSI Standards: The American National Standards Institute (ANSI) has established standards for drive chains, such as ANSI B29.1 for roller chains and ANSI B29.2 for double pitch roller chains. These standards cover dimensions, design, and performance requirements for various types and sizes of chains.
3. DIN Standards: The Deutsches Institut für Normung (DIN) has developed standards for drive chains commonly used in Germany and European markets. DIN 8187 covers roller chains, while DIN 8181 specifies leaf chains.
4. JIS Standards: The Japanese Industrial Standards (JIS) have their own set of standards for drive chains. JIS B1801 covers roller chains, JIS B1802 specifies leaf chains, and JIS B1803 provides guidelines for silent chains.
5. Industry-Specific Standards: Certain industries, such as automotive or agricultural, may have specific standards or certifications for drive chains. For example, the Automotive Industry Action Group (AIAG) in the automotive sector may have guidelines or requirements for drive chains used in automobiles.
When selecting a drive chain, it is important to consider the relevant standards and certifications that apply to your industry or application. Adhering to these standards ensures that the drive chain meets the required quality, performance, and safety standards for the intended use.



editor by CX 2023-07-20