Product Description
PROFESSIONAL ELEVATOR AND ESCALATOR ROLLERS SUPPLIER
Finding the best solutions for our customers is a major part of what we do. After providing us with some basic information, we will promptly prepare a proposal based on your specific requirements. Whether you need rollers or other plastic parts, you can rest assured that we will only provide you with proven quality products.
Once you have submitted the form, our experts will prepare a tailored product proposal for you.
GAA20401B601 Escalator Main Drive Chain Sprocket

 
What we need to know:
_ Outer diameter (D)
_ Inner diameter (d)
_ Width (B)
_ Ball bearing
_ Quantity
_ Indoor / Outdoor use
| | |
| --- | --- |
| Outer diameter | D |
| Inner diameter | d |
| Width | B |
| Part number | If have |
| Bearing type | like 6204 or others |
ORIGINAL EQUIPMENT MANUFACTURER QUALITY
THE BEST MATERIALS FOR THE OPTIMAL SOLUTION
PROVIDE ALL KINDS OF ESCALATOR AND ELEVATOR ROLLERS
We cooperation with the munufacturer that have many years of experience in manufacturing products for numerous major escalator manufacturers. So we know virtually everything there is to know about the product and quality requirements of the industry. Our experience and expertise are reflected in the products in our standard range.
The various different parts in escalators are constantly exposed to a variety of environmental influences such as humidity, oils, detergents and solvents, rainwater, dirt and salt water. This is why we only provide you with tested and approved quality in accordance with our cooperation factory standard.
You can count on our know-how. We will make sure you have the right solution to meet your specific requirements – because we know how crucial
reliability and longevity are.
| | |
| --- | --- |
| After-sales Service: | Replacement Within The Warranty Period |
| Warranty: | 12 Months |
| Type: | Heavy |
| Load Capacity: | 4500 Persons/H |
| Use of Occasions: | Public Traffic |
| Speed: | 0.5M/S |
Customization:

Available

|

Customized Request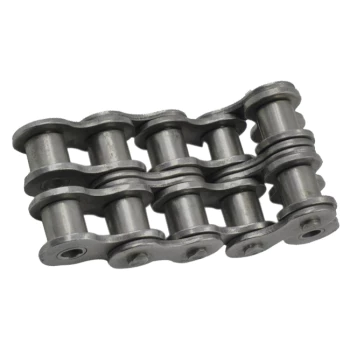 What are the benefits of using a heat-resistant drive chain?
Using a heat-resistant drive chain offers several advantages in applications where high temperatures are present. Here is a detailed explanation:
A heat-resistant drive chain is specifically designed to withstand elevated temperatures without compromising its performance. The benefits of using such a chain include:
Enhanced Temperature Resistance: Heat-resistant drive chains are engineered to withstand high operating temperatures, typically ranging from several hundred degrees Celsius to over a thousand degrees Celsius. They are constructed using materials that can withstand thermal expansion, resist deformation, and maintain their mechanical properties at elevated temperatures.
Reliable Power Transmission: Heat-resistant drive chains provide reliable power transmission even in high-temperature environments. They maintain their integrity, strength, and dimensional stability, ensuring consistent and efficient power transfer from the driver to the driven machinery or equipment.
Reduced Downtime: The ability of a heat-resistant chain to withstand high temperatures reduces the risk of chain failure or premature wear. This results in reduced downtime for maintenance, replacement, and repair, leading to improved productivity and cost savings.
Extended Service Life: Heat-resistant drive chains are designed to have a prolonged service life even in hot and demanding environments. They exhibit excellent wear resistance, minimizing chain elongation and reducing the need for frequent replacements. This extends the chain's lifespan and reduces overall maintenance costs.
Resistance to Corrosion and Oxidation: Heat-resistant chains are often manufactured using materials that exhibit good resistance to corrosion and oxidation at high temperatures. This prevents the formation of rust, scale, or other detrimental surface deposits, ensuring the chain's optimal performance and longevity.
Compatibility with Lubricants: Heat-resistant chains are designed to work effectively with high-temperature lubricants. The materials used in their construction are compatible with these lubricants, allowing for proper lubrication even under extreme heat. This ensures smooth operation, reduces friction, and prevents premature wear and chain failure.
Application Versatility: Heat-resistant drive chains can be used in various industries and applications where high temperatures are present. They find applications in industries such as steel manufacturing, glass production, ceramics processing, foundries, and heat treatment facilities.
When selecting a heat-resistant drive chain, it is important to consider the specific requirements of the application, including temperature range, load capacity, speed, and environmental conditions.
Regular inspection, lubrication, and proper maintenance are essential to ensure the optimal performance and longevity of heat-resistant drive chains in high-temperature environments.
By utilizing heat-resistant drive chains, operators can benefit from reliable power transmission, extended service life, reduced downtime, and enhanced performance in applications where high temperatures are a critical factor.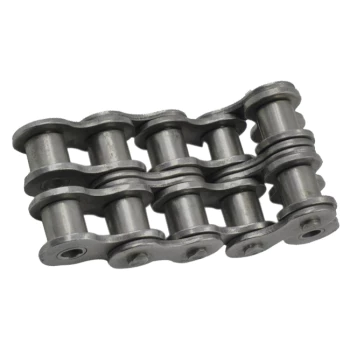 Can a drive chain be used in a printing or paper industry application?
Yes, a drive chain can be used in various applications within the printing and paper industry. Here is a detailed explanation:
The printing and paper industry requires reliable and precise power transmission solutions to operate machinery for tasks such as printing, cutting, folding, and conveying. Drive chains offer several advantages in these applications:
Precision and Accuracy: Drive chains provide accurate and repeatable power transmission, ensuring precise movement and control required in printing and paper industry applications.
High Load Capacity: Drive chains have high load-carrying capacity, making them suitable for conveying heavy rolls of paper, moving printing plates, or driving cutting and folding mechanisms.
Compact Design: Drive chains have a compact design, allowing them to fit in tight spaces and transmit power efficiently in confined areas commonly found in printing and paper machinery.
Reliability and Durability: Drive chains are known for their reliability and durability. They can withstand continuous operation, shock loads, and varying environmental conditions typically encountered in the printing and paper industry.
Customization and Adaptability: Drive chains offer flexibility and customization options to meet the specific needs of different printing and paper applications. They can be tailored in terms of size, pitch, attachments, and materials to accommodate various requirements.
Compatibility with Ancillary Devices: Drive chains can be easily integrated with other components commonly used in the printing and paper industry, such as tensioners, guides, sprockets, and bearings, to ensure optimal performance and reliability.
It is important to select the appropriate drive chain type, size, and material based on the specific requirements of the printing and paper application. Additionally, regular maintenance, including inspection, lubrication, and tension adjustment, is crucial to ensure optimal performance and longevity of the drive chain in these applications.
By leveraging the advantages of drive chains, the printing and paper industry can achieve efficient and reliable power transmission, enabling smooth operation and high-quality production.



editor by CX 2023-08-08