Product Description
Professional 415 415H 420 420H 428 428H motorcycle drive chain For Motorcycle Spare Parts
We also supply motorcycle chain 25, 25H, 06B, 415, 415H, 420, 420H, 428, 428H, 520, 520H, 525, 525H, 530, 530H, 630, O ring and X ring chain and so on, our chains are both excellent in quality and reasonable in price
1.Good quality and reasonable price
2.Has taken measure to better antirust
3.Long-life duration and high strength
4.Pre-stretching and running for each motor chain before delivery
5.Riveting: Two sides riveting or 4 sides riveting
6.All parts are heat treatment (quenching and tempering) and controlled in a reasonable tolerance range
7.We can also produce as your sample or drawing
8.Packing: According to your demand to design
 Specifications are as follows:
Chain No.

Pitch

Roller diameter

Width between inner plates

Pin diameter

Pin length

Inner plate depth

Plate thickness

Ultimate tensile strength

Average tensile strength

Fatigue

p

d1 max

b1 min

Ld2 max

max

Lc max

h2 max

T1

Q min

Q0

amx

mm

mm

mm

mm

mm

mm

mm

mm

kn

kn

kgf

06B

9.525

6.35

5.72

3.28

13.2

14.2

8.2

1.3

9

10

 

415

12.7

7.75

4.88

3.96

12.5

13.9

10.4

1.3

11.6

12.5

380

415H

12.7

7.75

4.88

3.96

13.1

14.5

11.5

1.5

15.6

16.1

380

420

12.7

7.77

6.35

3.96

14.5

16.1

12

1.5

16

16.5

380

420H

12.7

7.77

6.35

3.96

15.7

17.4

12

1.8

17

17.5

380

428

12.7

8.51

7.75

4.45

16.5

18.05

12

1.6

17.8

18.5

380

428H

12.7

8.51

7.75

4.45

18.3

19.08

12

2.03

20.6

21.1

450

428HG

12.7

8.51

7.75

4.51

18.9

20.1

12.3

2

20.6

21.5

450

520

15.875

10.16

6.35

5.08

17.7

19

15

2

26.5

29.5

650

520H

15.875

10.16

6.35

5.24

18.9

20.5

15

2.42

30

31

700

525

15.875

10.16

7.94

5.08

18.8

20.5

15

2.03

26.6

29

650

525H

15.875

10.16

7.74

5.24

20.4

22.2

15

2.42

30

31

700

530

15.875

10.16

9.4

5.08

20.9

22.2

15

2

26.5

29.7

650

530H

15.875

10.16

9.4

5.08

21.9

24.2

15

2.42

30

31.5

700

630

19.05

11.91

9.4

5.94

22.2

24

18

2.4

35

37

800
HangZhou CHINAMFG Industry Co., Ltd. is a specialized supplier of a full range of chains, sprockets, gears, gear racks, v belt pulley, timing pulley, V-belts, couplings, machined parts and so on.
 Due to our CHINAMFG in offering best service to our clients, understanding of your needs and overriding sense of responsibility toward filling ordering requirements, we have obtained the trust of buyers worldwide. Having accumulated precious experience in cooperating with foreign customers, our products are selling well in the American, European, South American and Asian markets.Our products are manufactured by modern computerized machinery and equipment. Meanwhile, our products are manufactured according to high quality standards, and complying with the international advanced standard criteria.
 With many years' experience in this line, we will be trusted by our advantages in competitive price, one-time delivery, prompt response, on-hand engineering support and good after-sales services.
Additionally, all our production procedures are in compliance with ISO9001 standards. We also can design and make non-standard products to meet customers' special requirements. Quality and credit are the bases that make a corporation alive. We will provide best services and high quality products with all sincerity. If you need any information or samples, please contact us and you will have our soon reply.
| | |
| --- | --- |
| Surface: | Golden, Black, Blue, Grey |
| Surface Treatment: | Zinc Plated, Sand Blasting, Dull Polish |
| Structure (for Chain): | Motorcycle Chain |
| Process: | Assemble |
| Module: | 415 415h 420 420h 428 428h |
| Certification: | ISO9001:2001 |
Customization:

Available

|

Customized Request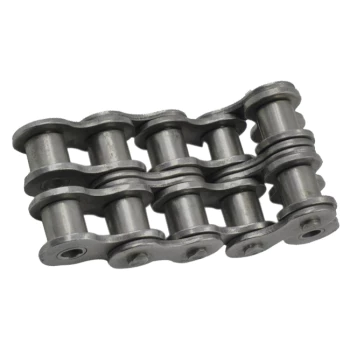 What are the benefits of using a heat-resistant drive chain?
Using a heat-resistant drive chain offers several advantages in applications where high temperatures are present. Here is a detailed explanation:
A heat-resistant drive chain is specifically designed to withstand elevated temperatures without compromising its performance. The benefits of using such a chain include:
Enhanced Temperature Resistance: Heat-resistant drive chains are engineered to withstand high operating temperatures, typically ranging from several hundred degrees Celsius to over a thousand degrees Celsius. They are constructed using materials that can withstand thermal expansion, resist deformation, and maintain their mechanical properties at elevated temperatures.
Reliable Power Transmission: Heat-resistant drive chains provide reliable power transmission even in high-temperature environments. They maintain their integrity, strength, and dimensional stability, ensuring consistent and efficient power transfer from the driver to the driven machinery or equipment.
Reduced Downtime: The ability of a heat-resistant chain to withstand high temperatures reduces the risk of chain failure or premature wear. This results in reduced downtime for maintenance, replacement, and repair, leading to improved productivity and cost savings.
Extended Service Life: Heat-resistant drive chains are designed to have a prolonged service life even in hot and demanding environments. They exhibit excellent wear resistance, minimizing chain elongation and reducing the need for frequent replacements. This extends the chain's lifespan and reduces overall maintenance costs.
Resistance to Corrosion and Oxidation: Heat-resistant chains are often manufactured using materials that exhibit good resistance to corrosion and oxidation at high temperatures. This prevents the formation of rust, scale, or other detrimental surface deposits, ensuring the chain's optimal performance and longevity.
Compatibility with Lubricants: Heat-resistant chains are designed to work effectively with high-temperature lubricants. The materials used in their construction are compatible with these lubricants, allowing for proper lubrication even under extreme heat. This ensures smooth operation, reduces friction, and prevents premature wear and chain failure.
Application Versatility: Heat-resistant drive chains can be used in various industries and applications where high temperatures are present. They find applications in industries such as steel manufacturing, glass production, ceramics processing, foundries, and heat treatment facilities.
When selecting a heat-resistant drive chain, it is important to consider the specific requirements of the application, including temperature range, load capacity, speed, and environmental conditions.
Regular inspection, lubrication, and proper maintenance are essential to ensure the optimal performance and longevity of heat-resistant drive chains in high-temperature environments.
By utilizing heat-resistant drive chains, operators can benefit from reliable power transmission, extended service life, reduced downtime, and enhanced performance in applications where high temperatures are a critical factor.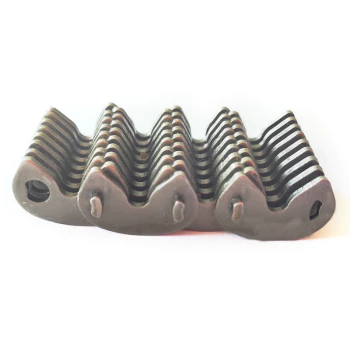 How does the elongation of a drive chain affect its performance?
The elongation of a drive chain can have a significant impact on its performance and overall operation. Here is a detailed explanation:
Drive chains are subject to wear and elongation over time due to factors such as load, speed, tension, lubrication, and maintenance. Elongation refers to the increase in the chain's pitch length, which can lead to several performance-related issues:
Loss of Tension: As a chain elongates, it loses tension and becomes slack. This results in a loss of power transmission efficiency and can lead to skipping or jumping of the chain on the sprockets. A slack chain may also cause a loss of accuracy and synchronization in driven systems.
Poor Performance: Elongation can affect the overall performance of the drive system. It can lead to increased backlash, reduced precision, and the potential for chain derailment or disengagement from the sprockets. These issues can result in decreased efficiency, unreliable operation, and increased risk of damage to the chain or other components.
Increased Wear: Elongation causes increased wear between the chain links, pins, and bushings. This wear can accelerate the elongation process and further decrease the chain's performance and service life. It can also lead to increased friction, heat generation, and the potential for chain failure if not addressed promptly.
Reduced Load-Carrying Capacity: Elongation reduces the effective pitch length of the chain, resulting in a decreased load-carrying capacity. This can limit the chain's ability to handle heavy loads, potentially leading to premature failure or inadequate performance in applications where high loads are involved.
Increased Noise and Vibration: Elongation can cause increased noise and vibration during chain operation. The slack chain may produce rattling or banging sounds, and the vibration can negatively affect the overall system performance and operator comfort.
Regular inspection and maintenance are essential to monitor chain elongation and address it promptly. Measuring elongation using specialized tools and following the manufacturer's recommended elongation limits can help determine when a chain requires replacement or adjustment.
Proper chain tension, lubrication, and regular maintenance practices, including periodic tension adjustment and lubrication replenishment, can help minimize elongation and ensure optimal chain performance. It is important to follow the manufacturer's guidelines and consult with experts or technicians to establish appropriate maintenance schedules and procedures for the specific drive chain and application.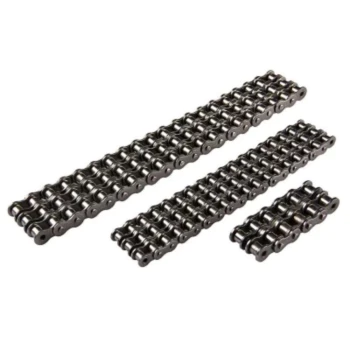 What are the noise and vibration levels associated with a drive chain?
The noise and vibration levels associated with a drive chain can vary depending on several factors, including the type of chain, operating conditions, and maintenance practices. Here's an explanation:
Noise Levels:
Drive chains, especially roller chains, can generate noise during operation. The noise level depends on various factors, such as the chain's design, speed, tension, lubrication, and the condition of the sprockets.
Proper lubrication helps reduce friction and noise generation, while inadequate or dry lubrication can increase noise levels.
Other factors, such as misalignment, worn-out components, or loose fittings, can contribute to increased noise levels. Regular inspections and maintenance help identify and address sources of excessive noise.
Vibration Levels:
Drive chains can produce vibrations during operation, especially if there are issues such as misalignment, improper tension, or worn-out components.
Proper tensioning, alignment, and maintenance practices help minimize vibrations and ensure smooth operation.
Excessive vibrations can lead to accelerated wear, reduced chain life, and potential damage to other components.
It's worth noting that advancements in chain design and manufacturing techniques have resulted in quieter and smoother-running chains. Manufacturers may also offer specialized low-noise or low-vibration chains for applications where noise or vibration reduction is a priority.
To maintain acceptable noise and vibration levels associated with a drive chain, it is important to follow proper maintenance practices, including regular lubrication, tension adjustment, and alignment checks. Additionally, addressing any sources of excessive noise or vibration promptly can help ensure the smooth and efficient operation of the drive chain.



editor by CX 2023-10-20