Product Description
1)Type
roller chain
2)Materials
A class steel 
3)Chain No.
525/525h
4)Warranty
30000 KMs
5)Process
Sand blasting,
heat treatment, 
High speed impact,
Four sides riveting, 
Pre-stretching and running, 
Lubricate with grease.
6)MOQ
1000Pcs
7)Supply Ability
100000 Meter/Meters per year
8)Tensile Strength
standard or above
9)Delivery Time
within 30 days after receiving your 30% deposits
10)Payment Terms
30%deposit and balanced by L/C,T/T
11)Packing
chains packing in polybag and color box, also can packing as your requirement
Our Services
Pre-sales:
1. OEM &ODM service
2. Any of your kind inquiry would be replied within 24 hours.
3. Complete product information will be offered
4. Free sample will be sent if you need .
5. Any other reasonable requirements as per requested
 
During production ,we provide:
1. Schedule of production
2. Mass production picture will offered
3. Any other reasonable requirements as per requested
 
Finish production:
1. Courier tracking number
2. Documents you need 
3. Protection of your sales area, ideas of design and all your private information.
FAQ:
Q1: Do you inspect the finished products?
A: Yes, each step of production and finished products will be carried out inspection by QC departing before shipping.
Q2: What's the warranty of your products?
A: Usually we guarantee 1 year after delivery date, but depending on the specified product.
Q3: Are you manufacturer or Trade Company?
A: Both we are. We have been in motorcycle parts for nearly 20 years.
Q4: How to visit factory?
A: Leave us a message, and we will pick you up by car for free.
Q5: Can you do custom logo on the chain?
A: Yes,we can do custom logos by molding. Need your Authorization Letter.
please contact with me  at any time
 
 
| | |
| --- | --- |
| Type: | Chain |
| Material: | Steel |
| Certification: | ISO9001:2001 |
| Number of Row: | Single Row |
| Surface Treatment: | Sand Blasting, Oiling |
| Transport Package: | Polybag + Color Box + Carton |
Samples:

US$ 0/Piece

1 Piece(Min.Order)

|
Request Sample
Customization:

Available

|

Customized Request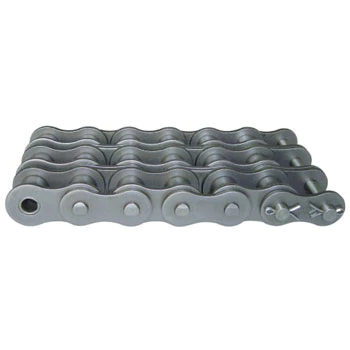 Can a drive chain be used in a chemical or petrochemical processing application?
Yes, a drive chain can be used in chemical or petrochemical processing applications where reliable power transmission is required. Here is a detailed explanation:
Chemical and petrochemical processing industries involve the handling, mixing, and processing of various substances, including corrosive chemicals, solvents, and hydrocarbons. Drive chains offer several advantages in these applications:
Corrosion Resistance: Drive chains can be selected or specially designed with materials that offer corrosion resistance. Stainless steel, high-performance alloys, or coatings can be applied to the chain components to withstand the corrosive effects of chemicals and maintain chain integrity and performance.
High Load Capacity: Chemical and petrochemical processing often involves heavy-duty operations and the movement of large loads. Drive chains are designed to handle high load capacities, providing reliable power transmission and withstanding the demanding conditions of these applications.
Precise Control: Drive chains provide precise control over the movement of equipment and processes in chemical and petrochemical plants. The interlocking design of the chain and sprockets allows for accurate positioning, speed control, and synchronization of various components and machinery.
Wide Operating Temperature Range: Drive chains can be engineered to operate in a wide temperature range, accommodating the temperature variations encountered in chemical and petrochemical processing. High-temperature materials or lubricants can be used to ensure optimal performance under extreme conditions.
Resistance to Harsh Environments: Chemical and petrochemical processing environments may involve exposure to extreme temperatures, humidity, dust, and other harsh conditions. Drive chains are designed to withstand these environments, with features such as seals, specialized coatings, or materials that offer protection against contaminants and maintain reliable operation.
Long Service Life: Drive chains, when properly selected, installed, and maintained, can provide long service life in chemical and petrochemical processing applications. Regular inspection, lubrication, and tension adjustment help optimize chain performance and minimize downtime due to chain failure.
When selecting a drive chain for chemical or petrochemical processing applications, factors such as corrosion resistance, load capacity, temperature range, speed requirements, and compatibility with industry regulations should be considered.
It is important to implement proper maintenance practices, including regular inspection, lubrication, and tension adjustment, to ensure the optimal performance and longevity of the drive chain in chemical and petrochemical processing applications.
By utilizing drive chains in chemical and petrochemical processing, operators can benefit from corrosion resistance, high load capacity, precise control, wide temperature range, resistance to harsh environments, long service life, and reliable power transmission, contributing to efficient and safe processing operations.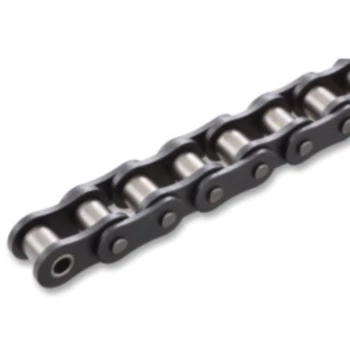 How does the backlash or play in a drive chain affect its performance?
The presence of backlash or play in a drive chain can have a significant impact on its performance and overall operation. Here is a detailed explanation:
Backlash or play refers to the small amount of free movement or clearance between the engaged components of a drive chain, typically between the chain and the sprockets. This clearance can lead to several performance-related issues:
Reduced Accuracy: Backlash can cause a loss of accuracy and precision in the positioning and movement of the driven components. The presence of free play can result in inconsistent positioning, leading to inaccuracies in machine operations or product quality.
Loss of Power and Efficiency: Backlash causes a loss of power transmission efficiency. As the chain engages with the sprockets, any free movement or clearance reduces the effective transfer of power, resulting in decreased efficiency and potential energy loss.
Vibration and Noise: Backlash can lead to vibration and noise during operation. The free movement of the chain can cause rattling, knocking, or banging sounds, as well as vibration, which can affect the overall system performance and operator comfort.
Potential for Chain Skipping or Jumping: Excessive backlash can cause the chain to skip or jump on the sprockets, leading to interrupted or irregular power transmission. This can result in sudden jerks, misalignment, or even chain derailment, affecting the overall system performance and potentially causing damage to the chain or other components.
Decreased System Response: Backlash affects the responsiveness of the system. When there is excessive play, the system may not respond quickly or accurately to changes in input or commands. This can be problematic in applications requiring precise and immediate movement or control.
To mitigate the negative effects of backlash, it is important to minimize or control the clearance within the drive chain system. This can be achieved through proper chain tensioning, sprocket alignment, and the use of anti-backlash devices or mechanisms.
Regular inspection and maintenance are crucial to identify and address any excessive backlash in the drive chain. Maintaining proper tension, lubrication, and periodically checking and adjusting the sprocket alignment can help minimize the backlash and ensure optimal chain performance.
It is essential to consult with the manufacturer's guidelines and recommendations for the specific drive chain system to determine the acceptable levels of backlash and the appropriate measures to reduce its impact on performance.
By minimizing backlash or play in a drive chain, operators can ensure accurate power transmission, improved efficiency, reduced noise, and vibration, ultimately leading to better overall system performance and productivity.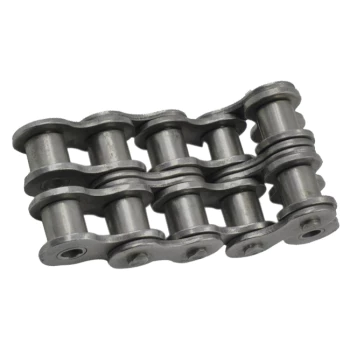 Can a drive chain be used in a motorcycle or bicycle?
Yes, a drive chain can be used in both motorcycles and bicycles as a means of power transmission from the engine or pedals to the wheels.
In motorcycles and bicycles, the drive chain is an essential component that transfers power generated by the engine (in the case of motorcycles) or the rider's pedaling (in the case of bicycles) to the rear wheel. Drive chains are commonly used in these vehicles due to the following reasons:
Efficient Power Transfer: Drive chains provide efficient power transfer, minimizing energy loss during transmission and allowing the rider to effectively utilize the available power.
High Torque Handling: Motorcycles and bicycles often require high torque to accelerate or climb hills. Drive chains are capable of handling the high torque requirements, making them suitable for these applications.
Compact and Lightweight: Drive chains are relatively lightweight and compact, allowing for efficient power transmission without adding excessive weight to the vehicle.
Variable Gear Ratios: By using different-sized sprockets on the drive chain, motorcycles and bicycles can achieve variable gear ratios, providing the rider with a range of speed options to adapt to different road or terrain conditions.
Customization Options: Drive chains offer flexibility in terms of customization. Riders can select different chain lengths, sprocket sizes, and chain types to suit their specific riding preferences and requirements.
Proper maintenance of the drive chain is important in motorcycles and bicycles to ensure optimal performance and longevity. This includes regular cleaning, lubrication, tension adjustment, and periodic replacement when the chain becomes worn or damaged.



editor by CX 2023-07-24