Product Description
CZPT rollers enhance rotation on the bushing while reducing impact loads on the sprocket tooth during operation.
All components are heat treated to achieve maximum strength.
Pre-loaded during the manufacturing process to minimize initial elongation.
Hot dipped lubrication ensures 100% lubrication of all chain components to extend wear life and reduce maintenance costs.
ANSI
NO.
PITCH 
ROLLER
LINK
WIDTH
ROLLER
DIA
PIN
PLATE
BLOCK
MIN. TENSILE
STRENGTH
AVG. TENSILE
STRENGTH
MAX. ALLOWABLE
LOAD
P
W
D
d
L
H
C
G
mm
mm
mm
mm
mm
mm
mm
mm
kgf
kgf
kgf
CAT
50.80
31.75
28.58
14.29
68.35
48.23
53.85
15.88
22,700
30,000
5,400
160/348
CAT
50.80
31.75
28.58
14.29
68.35
48.23
60.20
25.40
22,700
30,000
5,400
160/458
CAT
50.80
31.75
28.58
14.29
68.35
48.23
77.98
32.00
22,700
30,000
5,400
160/678
| | |
| --- | --- |
| Usage: | Transmission Chain, Drag Chain, Conveyor Chain, Roller Chain |
| Material: | Alloy/Carbon Steel |
| Surface Treatment: | Polishing |
| Feature: | Heat Resistant |
| Chain Size: | 2" |
| Structure: | Roller Chain |
Samples:

US$ 10/Meter

1 Meter(Min.Order)

|
Request Sample
Customization:

Available

|

Customized Request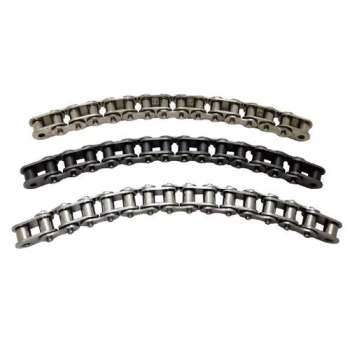 How does the lubricant selection affect the performance of a drive chain?
The selection of the proper lubricant plays a critical role in the performance and longevity of a drive chain. Here is a detailed explanation:
Lubrication is essential for maintaining the smooth operation and reducing the wear and friction between the chain's moving parts. The lubricant creates a protective film that reduces metal-to-metal contact and prevents excessive heat generation. The lubricant selection affects the drive chain's performance in the following ways:
Reduced Friction and Wear: The primary function of lubrication is to reduce friction between the chain's components. A well-chosen lubricant minimizes metal-to-metal contact, reducing wear and extending the chain's lifespan. It helps to prevent premature failure and ensures the efficient transfer of power throughout the chain.
Enhanced Load Capacity: Proper lubrication reduces the stress on the chain by creating a lubricating film that cushions the contact between the pins, bushings, and rollers. This improves the chain's load-carrying capacity, allowing it to handle heavier loads and resist elongation or deformation under high loads.
Corrosion Protection: Some lubricants are formulated with additives that provide corrosion protection. These lubricants create a barrier that shields the chain from moisture, chemicals, and environmental contaminants, reducing the risk of corrosion and extending the chain's life in harsh or corrosive environments.
Temperature Stability: Different lubricants have varying temperature ranges in which they can effectively perform. The lubricant selection should consider the operating temperatures of the application. High-temperature lubricants are designed to withstand elevated temperatures without breaking down or evaporating, ensuring proper lubrication even in hot environments.
Reduced Noise and Vibration: Proper lubrication contributes to smoother and quieter chain operation. It helps to minimize noise and vibration caused by metal-to-metal contact, resulting in a quieter working environment and improved operator comfort.
Contamination Control: Lubricants can also play a role in controlling contaminants that may enter the chain system. Some lubricants have properties that resist the accumulation of dust, dirt, or other particles, helping to keep the chain clean and preventing abrasive wear.
The lubricant selection should consider various factors, including the application's operating conditions, load requirements, temperature range, speed, and compatibility with the chain material. Manufacturers often provide lubrication recommendations based on these factors.
Regular lubrication maintenance is essential to ensure the continued performance of the drive chain. Lubrication intervals should be followed, and the lubricant should be replenished or replaced as recommended by the manufacturer or based on inspection and monitoring of the chain's condition.
By selecting the appropriate lubricant and implementing proper lubrication practices, operators can ensure optimal chain performance, reduce wear and friction, extend chain life, and minimize maintenance requirements in various industrial applications.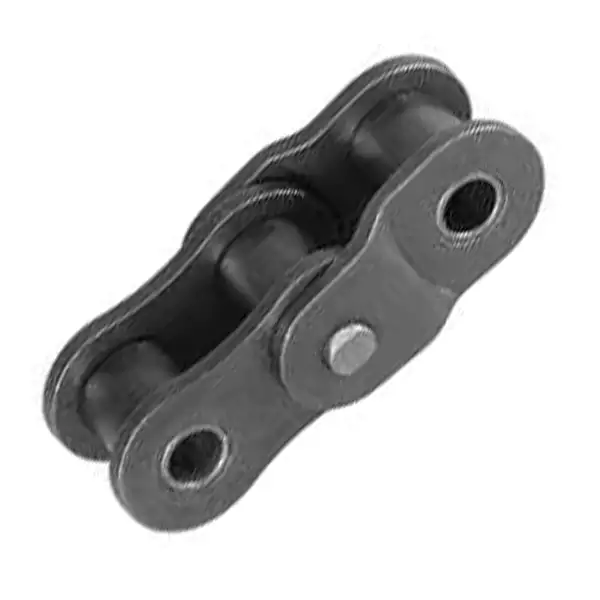 Can a drive chain be used in an escalator or elevator system?
Yes, a drive chain can be used in certain types of escalator or elevator systems as a method of power transmission. Here is a detailed explanation:
In escalator and elevator systems, the purpose of the drive chain is to transmit power from the motor to the moving steps or elevator car. While other power transmission methods, such as belts or gears, are commonly used in modern escalators and elevators, drive chains can still be found in certain applications:
Escalator Systems: In older or traditional escalator systems, drive chains are commonly used to transmit power from the main drive motor to the step chains. The step chains engage with the steps, causing them to move in a continuous loop. The drive chain ensures synchronized movement and reliable power transmission.
Elevator Systems: In some elevator systems, particularly older hydraulic or traction types, drive chains can be used as part of the power transmission mechanism. These chains transmit power from the motor to the elevator car or counterweight, enabling vertical movement.
It is important to note that the design and configuration of escalators and elevators can vary depending on factors such as capacity, speed, height, and building regulations. Modern escalators and elevators often employ more advanced and efficient power transmission methods, such as belts or gears, which offer advantages in terms of noise, efficiency, and maintenance. However, in certain cases, drive chains may still be used, especially in older systems or specific applications.
It is essential to consult with escalator or elevator manufacturers, experts, or maintenance technicians to determine the appropriate power transmission method for a particular escalator or elevator system. They can provide guidance on chain selection, maintenance requirements, and compliance with safety standards to ensure optimal performance and reliability.



editor by CX 2023-09-11