Product Description
OEM:MD75716 MD738550 MR477432 S5A1-17-945 Transfer Output Shaft Drive Chain
Using high-grade raw materials, with long service life, lighter weight, more stable, low noise, high tensile strength, high safety performance. At present, it is mainly used for transfer case of jeep, Mitsubishi, Mazda, BMW, CHINAMFG and other related models.
See the below our  transfer case chain OEM code for confirm, if any need, please do not hesitate to contact with us.
4728159/HV-034/S-5748/50-0657
813 0571 /H-014
23RH304-70AHM/23RH304-60AM/1084260006/13506-78001-71
12532-00H00/23RH304-68AHM/12352-FU400/33152-01J00/H-108
3430142-31000/C448858
36293-28571/F08A-201
50117945/HV-059/HV-087/HV-088/HV-086
5166001AA/HV-069/HV-082/HV-091/5012322AB/HV071
MB886422/MB886386/MB936280/MD3571/MD738550/MB738550/HV113
29225-84A00/36293-87507/36293-97501/29225-55C00
33152-30C00/M501-17-945/33152-33G01
MD75716/8122392/8122392DN/HV007/HV007X/S-5951
3220A003/3220A005/36293-34571/36293-35030
36293-35040/36293-35050/MR477432
S5A1-17-945/3220A002/3220A006/MR367818/MR430303
47356-49200/47356-H1000/HV-076/HV-077/AA/AA
8134471/3L5Z7A571AA/HV571/8355716
15581813/8355715/4638890/47356-4B000/HV571/HV571
HangZhou CHINAMFG Industry Co., Ltd. is a specialized supplier of a full range of chains, sprockets, gears, gear racks, v belt pulley, timing pulley, V-belts, couplings, machined parts and so on.
Due to our CHINAMFG in offering best service to our clients, understanding of your needs and overriding sense of responsibility toward filling ordering requirements, we have obtained the trust of buyers worldwide. Having accumulated precious experience in cooperating with foreign customers, our products are selling well in the American, European, South American and Asian markets.Our products are manufactured by modern computerized machinery and equipment. Meanwhile, our products are manufactured according to high quality standards, and complying with the international advanced standard criteria.
With many years' experience in this line, we will be trusted by our advantages in competitive price, one-time delivery, prompt response, on-hand engineering support and good after-sales services.
Additionally, all our production procedures are in compliance with ISO9001 standards. We also can design and make non-standard products to meet customers' special requirements. Quality and credit are the bases that make a corporation alive. We will provide best services and high quality products with all sincerity. If you need any information or samples, please contact us and you will have our soon reply.
| | |
| --- | --- |
| Condition: | New |
| Standard: | Standard |
| Product Name: | Transfer Chain |
| Type: | Transfer Case |
| Certification: | Ce |
| Automatic: | Automatic |
Customization:

Available

|

Customized Request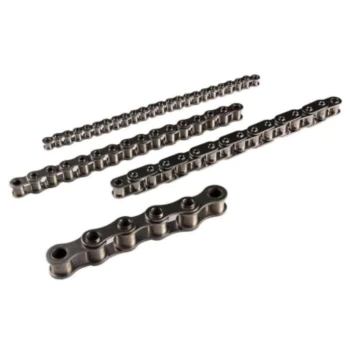 Can a drive chain be used in a renewable energy or solar power application?
Yes, a drive chain can be used in certain renewable energy or solar power applications where reliable and efficient power transmission is required. Here is a detailed explanation:
In renewable energy and solar power systems, various components need to be precisely controlled and aligned to harness and transmit energy efficiently. Drive chains offer several advantages in these applications:
Precision Power Transmission: Drive chains provide accurate and reliable power transmission, ensuring the precise movement and synchronization of components in renewable energy systems. They can be used to transmit power from the source, such as solar panels or wind turbines, to generators, converters, or other equipment involved in energy conversion and distribution.
Adaptability to Variable Loads: Renewable energy systems often experience variable loads and conditions. Drive chains can accommodate these changes and adjust to the varying power requirements, allowing for efficient power transmission and distribution. They offer flexibility in handling different load profiles and variations, ensuring optimal performance and energy conversion.
Robustness and Durability: Drive chains are known for their robustness and durability, making them suitable for renewable energy applications that may involve challenging operating conditions, such as outdoor environments or remote locations. They can withstand environmental factors, temperature variations, and exposure to dust, moisture, or corrosive elements, ensuring reliable operation and long service life.
Efficient Power Conversion: Drive chains contribute to efficient power conversion and transmission in renewable energy systems. They minimize energy losses through their high power transmission efficiency, enabling maximum utilization of the generated energy. This results in optimized energy conversion and enhanced overall system efficiency.
Versatility in System Design: Drive chains offer flexibility in system design and configuration, allowing for the precise alignment and interconnection of components in renewable energy systems. They can be integrated into various types of machinery and equipment, such as solar tracking systems, wind turbines, or hydroelectric generators, enabling customized solutions for different renewable energy applications.
Maintenance and Serviceability: Drive chains are relatively easy to maintain and service compared to some alternative power transmission systems. Regular inspection, lubrication, and tension adjustment can ensure optimal performance and extend the service life of the chain in renewable energy applications. This contributes to reduced downtime and enhanced system availability.
It is important to consider the specific requirements and constraints of the renewable energy or solar power application when selecting a drive chain. Factors such as load capacity, speed capabilities, environmental conditions, and maintenance considerations should be taken into account.
By utilizing drive chains in renewable energy and solar power applications, operators can benefit from precise power transmission, adaptability to variable loads, robustness, efficient power conversion, versatile system design, and ease of maintenance, contributing to reliable and efficient utilization of renewable energy sources.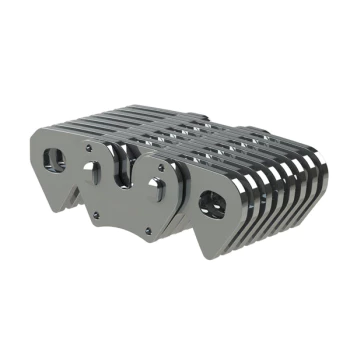 What are the benefits of using a corrosion-resistant drive chain?
Using a corrosion-resistant drive chain offers several benefits compared to standard chains when operating in corrosive environments. Here is a detailed explanation:
Corrosion-resistant drive chains are specifically designed and constructed to withstand the effects of corrosion, which can occur due to exposure to moisture, chemicals, saltwater, or other corrosive substances. The benefits of using such chains include:
Enhanced Durability: Corrosion-resistant drive chains are made from materials that have superior corrosion resistance, such as stainless steel or special coatings. These materials protect the chain from rust, oxidation, and other forms of corrosion, ensuring its durability and extending its service life.
Reliable Performance: In corrosive environments, standard chains can deteriorate quickly, leading to reduced performance, chain elongation, or even chain failure. Corrosion-resistant chains, on the other hand, maintain their structural integrity, allowing for reliable power transmission and consistent performance even in harsh conditions.
Reduced Downtime and Maintenance Costs: Using corrosion-resistant chains can reduce downtime and maintenance costs associated with chain replacement or repair. These chains are less prone to corrosion-related damage, reducing the frequency of maintenance tasks and the need for premature chain replacements.
Improved Safety: Corrosion-resistant chains provide increased safety in environments where standard chains might fail due to corrosion-related weaknesses. The risk of chain failure, sudden breakage, or accidents caused by chain-related issues is minimized, ensuring safer operation for both personnel and equipment.
Compatibility with Corrosive Environments: Corrosion-resistant chains are designed to withstand exposure to various corrosive substances and environments, including marine, chemical, or industrial settings. They are engineered to resist the damaging effects of moisture, chemicals, acids, or saltwater, making them suitable for applications where standard chains would be quickly compromised.
Application Versatility: Corrosion-resistant chains can be utilized in a wide range of industries and applications that require resistance to corrosion. These can include marine equipment, food processing machinery, chemical processing plants, wastewater treatment facilities, or outdoor equipment exposed to the elements.
It is important to note that while corrosion-resistant chains offer superior protection against corrosion, regular inspection and maintenance are still necessary to ensure optimal performance. Routine cleaning, lubrication, and monitoring for any signs of corrosion or damage are essential for maximizing the lifespan and performance of the chain.
By using corrosion-resistant drive chains, operators can benefit from increased durability, reliable performance, reduced maintenance costs, improved safety, and the ability to operate in corrosive environments without compromising the chain's integrity.



editor by CX 2023-09-18