Product Description
HangZhou Terry Machinery supply all linear guideway ,linear guides, ball screw,kinds of bearings,
chain and sprocket,fitness parts ,outboard engine and so on.
We can also supply chain as below:
1. Roller chains with straight side plate (A series) ;08A to 48A
2. Roller chains with straight side plate (B series) :04B to 48B
3. Short pitch conveyor chain with attachments : O8A to 16B with attachment
4. Conveyor chain with special attachments (A series) : C08A-1 to C32A-3
5. Conveyor chain with special attachments (B series) : C08B-1 to C32B-3
6. Conveyor chain with special attachments : A1,K1,WK1,WK2,WA1,WA2
7. Short pitch conveyor chain with extended pins
8.Conveyor chain with special extended pins
9.Double pitch conveyor chains 10. Double pitch conveyor chain with attachments
11.Double pitch conveyor chain with special attachments
12.Double pitch conveyor chain with extended pins 13. Double plus chains
14. Lumber conveyor chain & attachments 15. Sharp top chains
16. Roller chain with vulcanised elastomer profiles 17.Roller chain with U type attachments
18.Roller chain with plastic attachments 19. Plastic chains 20. Roller chain with plastic rollers
21.Various conveyor chains 22. Conveyor chains(M series) 23. Conveyor chain with attachments(M series)
24. Conveyor chains(MT series) 25. Hollow pin conveyor chains(MC series) 26. Conveyor chains(FV series)
27. Conveyor chain with attachments(FV series) 28. Conveyor chains(FVT series)
29. Hollow pin conveyor chains(FVC series) 30. Non-standard hollow pin conveyor chains
31. Conveyor chains(Z series) 32. Conveyor chain with attachments(Z series)
33. Conveyor chains(ZE series) 34. Hollow pin conveyor chains(ZC series)
35. Conveyor chains 36. Conveyor chain with attachments
37.Steel chains for sewage disposal 38. Special conveyor chains
39. Universal movement conveyor chains 40.Conveyor chains for hoisting
41.Welded conveyor chains 42. Roller chains for textile machinery
43.Roller chains for folio transport(Gripper)
44. Support chains 45. 78PF1 conveyor chains 46. Conveyor chains for paper mill
47. Conveyor chains for metal decorating system 48.To top chain-curved movement 49.Double flex chains
50. Hollow pin chains 51. Engineering bush chains 52.Engineering bush chain with attachments
53. Escalator step-chains 54. Conveyor chains for steel mill 55. Scraper conveyor chains
56. Welded steel chains 57.Welded steel chain with attachments 58. Steel pintle chain
59. Steel pintle chain with attachments 60. Conveyor chains for fibreboard equipment
61. Conveyor chains for crawler asphalt paver 62. Palm oil chains 63. Sugar chains 64. Flat-top conveyor chains
Original brand and favorable price to you. Welcome to your inquiry~
    PACKAGEHangZhou Terry Machinery Co.Ltd is a leading supplier of bearings, Outboard engine&parts,Linear
motion system for CNC , Ball transfer Unit and transmission component .the growing industrial and
Favorable policy of HangZhou benefit the development of Terry Machinery .Our products are utilized
in industrial, motorcycle, vehicle and Automation applications. Now we are exporting to 46 countries.
including USA, GBR , Germany , Spain, Poland ,Turkey ect .The Goal of Terry Machinery to provide
out customers with widest range of products at competitive prices, backed with the best Service.
OUR ADVANTAGE Products Our major products & Supplied:Meet all the international standards and
ISO9001 -TS1694 Certificate Big volume in Stock, No MOQ required Personnel Our salespersons
are well trained to accommodate your requests and speak English for your conveniences.
Our technicians and engineers Experience in the Industry area exceeds 23 years Service &Quality
control ,We supply detailed drawings and offer when ever necessary,We help all customers promote
and improve their sales.We inspect every piece of products by ourselves before delivery.
| | |
| --- | --- |
| Standard or Nonstandard: | Standard |
| Application: | Textile Machinery, Conveyer Equipment, Packaging Machinery, Motorcycle, Food Machinery, Mining Equipment, Agricultural Machinery, transportation |
| Surface Treatment: | Shot Blasting |
| Structure: | Roller Chain |
| Material: | Carbon Steel ,Stainless Steel,45# Steel |
| Type: | Short Pitch Chain |
Samples:

US$ 2/Piece

1 Piece(Min.Order)

|
Request Sample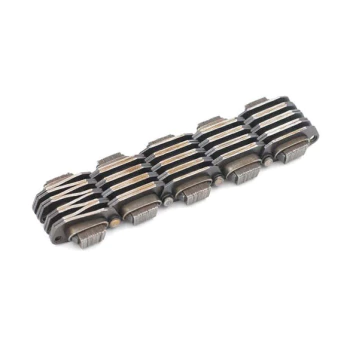 What are the benefits of using a corrosion-resistant coating on a drive chain?
A corrosion-resistant coating provides several benefits when applied to a drive chain. Here is a detailed explanation:
Drive chains used in various applications are often exposed to harsh environments that can lead to corrosion, including moisture, chemicals, contaminants, or high humidity. Applying a corrosion-resistant coating to the chain offers the following advantages:
Protection against Corrosion: The primary benefit of a corrosion-resistant coating is its ability to protect the chain from corrosive elements. The coating acts as a barrier, preventing moisture, chemicals, and other corrosive agents from reaching the chain's surface. This helps to inhibit or slow down the corrosion process, extending the chain's lifespan and reducing the risk of premature failure.
Enhanced Durability: By adding a corrosion-resistant coating, the drive chain's durability is significantly improved. The coating helps to prevent rust, oxidation, and degradation, thereby maintaining the chain's structural integrity and preserving its mechanical properties. This results in a longer service life and reduces the need for frequent chain replacements.
Reduced Maintenance Requirements: A corrosion-resistant coating reduces the maintenance efforts required to keep the chain in optimal condition. Since the coating provides a protective layer, there is less need for frequent lubrication or cleaning to combat corrosion. This leads to reduced maintenance costs and downtime, contributing to improved operational efficiency.
Compatibility with Harsh Environments: In applications where the chain is exposed to aggressive chemicals, high humidity, saltwater, or other corrosive substances, a corrosion-resistant coating is essential. The coating ensures the chain's reliability and performance even in demanding and challenging environments, such as marine, chemical processing, or outdoor applications.
Promotion of Cleanliness and Hygiene: Some corrosion-resistant coatings are designed to be smooth and easy to clean. This promotes cleanliness and hygiene in applications where cleanliness is critical, such as food processing, pharmaceuticals, or cleanroom environments. The coating prevents the accumulation of contaminants, making the chain easier to clean and maintain compliance with industry regulations.
Improved Aesthetics: A corrosion-resistant coating can enhance the visual appeal of the chain. It provides a clean and professional appearance, which is particularly important in applications where the chain is visible, such as in architectural designs or decorative installations.
It is important to note that the selection of a suitable corrosion-resistant coating should consider the specific application requirements, environmental conditions, and the compatibility of the coating with the chain material.
Regular inspection and proper maintenance practices, including periodic cleaning and lubrication, are still recommended to ensure the optimal performance and longevity of the drive chain, even with a corrosion-resistant coating.
By using a corrosion-resistant coating on a drive chain, operators can benefit from corrosion protection, enhanced durability, reduced maintenance requirements, compatibility with harsh environments, cleanliness, improved aesthetics, and ultimately, reliable and long-lasting chain performance.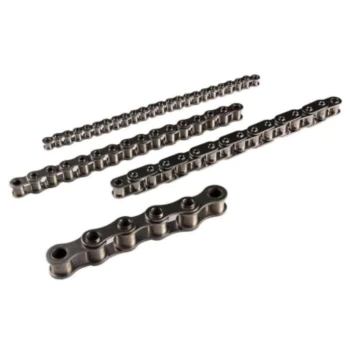 What are the benefits of using a silent drive chain?
Using a silent drive chain, also known as a noise-reduced or low-noise chain, offers several benefits compared to standard drive chains. Here is a detailed explanation of the benefits of using a silent drive chain:
Noise Reduction: The primary benefit of a silent drive chain is its ability to reduce noise during operation. Silent chains are designed with specialized features that minimize vibration and noise generation, resulting in quieter operation compared to standard chains. This is particularly advantageous in applications where noise reduction is critical, such as in residential areas, offices, or noise-sensitive environments.
Smooth Operation: Silent drive chains are engineered to provide smoother operation with reduced friction and vibration. This results in improved overall system performance, reduced wear on components, and enhanced efficiency.
Improved Performance: By reducing noise, vibration, and chain backlash, silent drive chains can help improve the performance and accuracy of the driven system. They minimize the risk of unwanted oscillations or inaccuracies, ensuring precise and reliable power transmission.
Extended Service Life: The reduced friction and vibration in a silent drive chain contribute to less wear and stress on the chain and associated components. This can result in an extended service life compared to standard chains, reducing the frequency of replacements and maintenance requirements.
High-Speed Capability: Silent drive chains are designed to operate at high speeds without compromising performance or generating excessive noise. This makes them suitable for applications that require high-speed power transmission, such as machinery, conveyors, or automation systems.
Reliability: Silent drive chains maintain the same reliability and durability as standard chains. They are designed to withstand demanding operating conditions, provide high load-carrying capacity, and resist wear, fatigue, and corrosion.
The use of silent drive chains is particularly beneficial in applications where noise reduction, smooth operation, precise control, and extended service life are important considerations. It is important to select the appropriate silent chain type, size, and material based on the specific application requirements for optimal performance and noise reduction.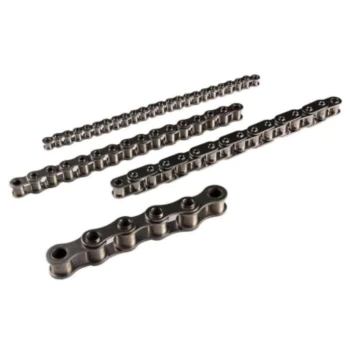 How do you inspect and maintain a drive chain?
To inspect and maintain a drive chain, follow these steps:
Regularly inspect the chain for signs of wear, damage, or elongation. Look for worn-out links, damaged rollers or plates, and signs of corrosion.
Clean the chain to remove dirt, debris, and any built-up lubricant. Use a suitable cleaning agent and a brush to carefully clean the chain, and ensure it is thoroughly dried before lubrication.
Check the tension of the chain to ensure it falls within the manufacturer's specified range. Adjust the tension if necessary, following the manufacturer's guidelines.
Inspect the alignment of the chain on the sprockets. Misalignment can cause uneven wear and decreased performance. Adjust the alignment if necessary, following the manufacturer's instructions.
Apply the recommended lubricant to the chain as per the manufacturer's guidelines. Proper lubrication reduces friction, minimizes wear, and prevents corrosion.
Periodically recheck the chain for any signs of wear, damage, or inadequate lubrication. Address any issues promptly through repairs or replacement of damaged components.
Monitor the chain's overall condition during operation. Pay attention to any unusual noise, vibrations, or changes in performance, as these can indicate potential issues with the chain.
Inspect the sprockets for signs of wear, such as worn teeth or excessive tooth profile deviation. Worn sprockets can accelerate chain wear and reduce overall performance.
Check the chain for proper lubrication. Ensure that the lubricant is evenly distributed along the entire length of the chain and that there are no dry or excessively lubricated areas.
Measure the chain's elongation using a chain wear gauge or by comparing its length to a new chain of the same pitch. Excessive elongation can lead to poor performance and should be addressed by replacing the chain.
Inspect the chain tensioners, guides, or tensioning systems (if applicable) for proper function and wear. These components help maintain proper tension and alignment of the chain.
Keep the chain free from dirt, debris, and contaminants that can accelerate wear and cause damage. Regularly clean the chain and its surrounding components using appropriate cleaning agents and methods.
Follow the manufacturer's recommended maintenance schedule for the specific chain type and application. This may include periodic lubrication, tension adjustment, and component replacement.
Keep accurate records of maintenance activities, including inspection dates, lubrication intervals, and any maintenance or repair actions taken. This helps track the chain's history and ensures proper maintenance over its lifespan.
Consult the manufacturer's guidelines and specifications for specific maintenance requirements and recommendations for the particular drive chain model and application.
By following these inspection and maintenance practices, you can ensure that the drive chain remains in good condition, performs optimally, and has an extended service life.



editor by CX 2023-09-23