Product Description
Factory direct supply high quality bicycle accessories
bicycle chain mountain bike chain
OEM Parts:
1. Product Color
Only send us your WeChat or WhatsApp No. we can match the colors here exactly.
2. Product Logo/Sticker
Send us the files in 'AI' or 'PDF' files. We can work out easily.
3.Product Package(color box/Carton)
Give us your packing design, we will pack it as your required.
4. Product Specification
Provide us exact date request,we can revised it professionally.
Any OEM / ODM order is welcomed .
Trade terms:
1. Delivery time:
    -7-10 days after the payment.(sample order)
    -25-35 days after receiving the payment of 30% deposit.(bulk order)
2. Payment:
  – T/T
  -30% T/T in advance and 70% balance against copy of B/L
3. Packing:
     -One set per standard export carton
     -According to customer's request
4. Loading port:
     -ZheJiang , 
5. Warranty:
    -All our products have 1 year warranty.
Quality Control:
1. All the products will be strictly checked before packaged.
2. All the products will be well packaged before shipping. 
3. we will make photos for the ready products for your reference.
4. All our products have 1 year warranty.
Why choose us:
1. A professional manufacturer for bicycle, various kinds of Bicycle Accessories , also welcome OEM.
 2. We can provide certificates such  as CE,CCC,SGS.
 3. We can accept both sample order and mixed bulk orders.
 4. High quality, good package, reasonable and competitive price, fast delivery time-reliable supplier.
 5. Any Inquiries will be replied within 12 hours.
| | |
| --- | --- |
| Condition: | New |
| Certification: | CE |
| Customized: | Customized |
| Application: | Kids Bike, Road Bike, Mountain Bike, Ordinary Bicycle |
| Size: | 1/2 X 3/32 |
| Type of Chain Wheel: | Three Chain Wheel |
Samples:

US$ 1/Piece

1 Piece(Min.Order)

|
Request Sample
Customization:

Available

|

Customized Request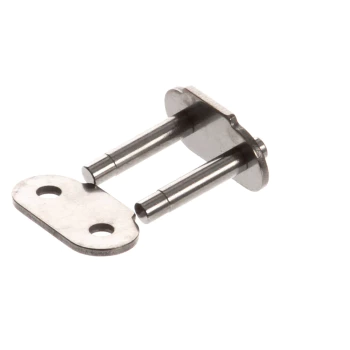 How does the lubrication method affect the performance of a drive chain?
The lubrication method used for a drive chain has a significant impact on its performance and longevity. Here is a detailed explanation:
Proper lubrication is essential for ensuring the smooth and efficient operation of a drive chain. It reduces friction, minimizes wear, and prevents corrosion between the chain's moving parts. The lubrication method chosen can affect the performance of the drive chain in the following ways:
Reduced Friction and Wear: Adequate lubrication forms a protective layer between the chain's moving parts, reducing metal-to-metal contact and minimizing friction. This helps to prevent excessive wear, elongation, and premature failure of the chain. The lubricant acts as a barrier, allowing the chain to operate with reduced resistance and improved efficiency.
Heat Dissipation: Proper lubrication helps dissipate heat generated by the friction between the chain's components during operation. This prevents overheating and the potential degradation of the lubricant, ensuring the chain can operate within its designed temperature range. Effective heat dissipation contributes to the longevity and optimal performance of the drive chain.
Protection against Corrosion: Lubrication provides a protective coating on the chain, safeguarding it against moisture, contaminants, and corrosive substances. This is particularly important in environments where the chain is exposed to water, chemicals, or harsh operating conditions. The lubricant prevents rust and corrosion, preserving the integrity of the chain and extending its service life.
Reduction of Noise and Vibration: Proper lubrication helps to reduce noise and vibration generated by the drive chain during operation. It acts as a damping agent, absorbing and minimizing the transmission of vibrations, resulting in smoother and quieter chain operation. This contributes to a more comfortable and productive working environment.
Selection of Lubricant: The choice of lubricant depends on various factors, including the application, operating conditions, temperature, speed, and load requirements. Different lubricants, such as oils, greases, or solid lubricants, may be suitable for different applications. The lubricant must be compatible with the chain material and should possess the necessary viscosity, temperature resistance, and lubricating properties to meet the specific demands of the drive chain.
Appropriate Lubrication Frequency: The lubrication method also includes determining the appropriate frequency for lubrication. Regular lubrication intervals must be established based on the chain's operating conditions and the manufacturer's recommendations. Insufficient lubrication or over-lubrication can both lead to performance issues, such as increased friction, poor lubricant distribution, or accelerated contamination buildup.
It is crucial to follow the manufacturer's guidelines and recommendations regarding lubrication methods, lubricant types, and lubrication intervals for the specific drive chain. Regular inspection and maintenance should be conducted to monitor the lubrication effectiveness and ensure proper lubricant replenishment.
By selecting the appropriate lubrication method and maintaining proper lubrication, operators can optimize the performance, reliability, and lifespan of the drive chain, contributing to smoother operation, reduced wear, and improved overall efficiency.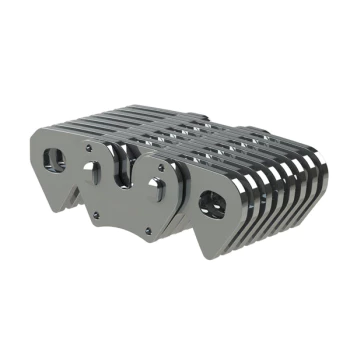 What are the benefits of using a corrosion-resistant drive chain?
Using a corrosion-resistant drive chain offers several benefits compared to standard chains when operating in corrosive environments. Here is a detailed explanation:
Corrosion-resistant drive chains are specifically designed and constructed to withstand the effects of corrosion, which can occur due to exposure to moisture, chemicals, saltwater, or other corrosive substances. The benefits of using such chains include:
Enhanced Durability: Corrosion-resistant drive chains are made from materials that have superior corrosion resistance, such as stainless steel or special coatings. These materials protect the chain from rust, oxidation, and other forms of corrosion, ensuring its durability and extending its service life.
Reliable Performance: In corrosive environments, standard chains can deteriorate quickly, leading to reduced performance, chain elongation, or even chain failure. Corrosion-resistant chains, on the other hand, maintain their structural integrity, allowing for reliable power transmission and consistent performance even in harsh conditions.
Reduced Downtime and Maintenance Costs: Using corrosion-resistant chains can reduce downtime and maintenance costs associated with chain replacement or repair. These chains are less prone to corrosion-related damage, reducing the frequency of maintenance tasks and the need for premature chain replacements.
Improved Safety: Corrosion-resistant chains provide increased safety in environments where standard chains might fail due to corrosion-related weaknesses. The risk of chain failure, sudden breakage, or accidents caused by chain-related issues is minimized, ensuring safer operation for both personnel and equipment.
Compatibility with Corrosive Environments: Corrosion-resistant chains are designed to withstand exposure to various corrosive substances and environments, including marine, chemical, or industrial settings. They are engineered to resist the damaging effects of moisture, chemicals, acids, or saltwater, making them suitable for applications where standard chains would be quickly compromised.
Application Versatility: Corrosion-resistant chains can be utilized in a wide range of industries and applications that require resistance to corrosion. These can include marine equipment, food processing machinery, chemical processing plants, wastewater treatment facilities, or outdoor equipment exposed to the elements.
It is important to note that while corrosion-resistant chains offer superior protection against corrosion, regular inspection and maintenance are still necessary to ensure optimal performance. Routine cleaning, lubrication, and monitoring for any signs of corrosion or damage are essential for maximizing the lifespan and performance of the chain.
By using corrosion-resistant drive chains, operators can benefit from increased durability, reliable performance, reduced maintenance costs, improved safety, and the ability to operate in corrosive environments without compromising the chain's integrity.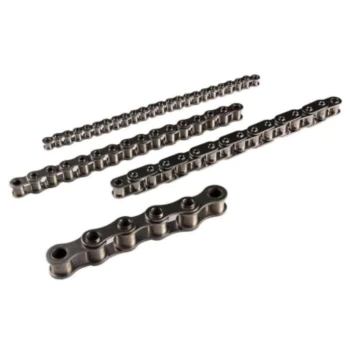 How do you inspect and maintain a drive chain?
To inspect and maintain a drive chain, follow these steps:
Regularly inspect the chain for signs of wear, damage, or elongation. Look for worn-out links, damaged rollers or plates, and signs of corrosion.
Clean the chain to remove dirt, debris, and any built-up lubricant. Use a suitable cleaning agent and a brush to carefully clean the chain, and ensure it is thoroughly dried before lubrication.
Check the tension of the chain to ensure it falls within the manufacturer's specified range. Adjust the tension if necessary, following the manufacturer's guidelines.
Inspect the alignment of the chain on the sprockets. Misalignment can cause uneven wear and decreased performance. Adjust the alignment if necessary, following the manufacturer's instructions.
Apply the recommended lubricant to the chain as per the manufacturer's guidelines. Proper lubrication reduces friction, minimizes wear, and prevents corrosion.
Periodically recheck the chain for any signs of wear, damage, or inadequate lubrication. Address any issues promptly through repairs or replacement of damaged components.
Monitor the chain's overall condition during operation. Pay attention to any unusual noise, vibrations, or changes in performance, as these can indicate potential issues with the chain.
Inspect the sprockets for signs of wear, such as worn teeth or excessive tooth profile deviation. Worn sprockets can accelerate chain wear and reduce overall performance.
Check the chain for proper lubrication. Ensure that the lubricant is evenly distributed along the entire length of the chain and that there are no dry or excessively lubricated areas.
Measure the chain's elongation using a chain wear gauge or by comparing its length to a new chain of the same pitch. Excessive elongation can lead to poor performance and should be addressed by replacing the chain.
Inspect the chain tensioners, guides, or tensioning systems (if applicable) for proper function and wear. These components help maintain proper tension and alignment of the chain.
Keep the chain free from dirt, debris, and contaminants that can accelerate wear and cause damage. Regularly clean the chain and its surrounding components using appropriate cleaning agents and methods.
Follow the manufacturer's recommended maintenance schedule for the specific chain type and application. This may include periodic lubrication, tension adjustment, and component replacement.
Keep accurate records of maintenance activities, including inspection dates, lubrication intervals, and any maintenance or repair actions taken. This helps track the chain's history and ensures proper maintenance over its lifespan.
Consult the manufacturer's guidelines and specifications for specific maintenance requirements and recommendations for the particular drive chain model and application.
By following these inspection and maintenance practices, you can ensure that the drive chain remains in good condition, performs optimally, and has an extended service life.



editor by CX 2023-08-03