Product Description
Drive Stainless Steel Double Pitch Conveyor Chains With Top Rollers
Stainless steel double-pitch conveyor chain with top roller
The double-pitch conveyor chain with a top roller is the chain transmission type most commonly used to transmit mechanical power on many domestic, industrial, and agricultural machinery (including conveyors, wire drawing machines and pipe drawing machines, printing machines, automobiles, motorcycles, and bicycles).
The product is made of high-quality alloy steel. The plate adopts precision technology to punch and extrude holes. The pins, bushings, and rollers are processed by high-efficiency automatic equipment and automatic grinding equipment, and then undergo carburizing heat treatment, carbon-nitrogen protection mesh belt furnace, surface sandblasting, etc. The performance of the whole chain is ensured by the assembly accuracy of the inner hole position and the pressure riveting.
At HZPT, we are proud to provide customers with the highest quality double-pitch conveyor chain with a top roller.
It consists of a series of short cylindrical rollers fixed together by side connecting rods. It is composed of a
Sprocket. It is a simple, reliable, and efficient power transmission mode. Carry out tooth hardening, stamping, and surface treatment according to customer requirements. All short-pitch chains in stock are subject to high-quality control to meet your requirements.
We specialize in the production of agricultural roller chains, flat-top chains, chains, hollow pin chains, beer filling and packaging line conveyor chains, paver chains, auxiliary sidebar lifting chains, bucket lifting chains (cement mill chains), forged scraper chains, automobile industry loading chains, metallurgical industry loading chains, mining machinery transport chains, trencher chains, sugar factory chains, double flexible chains, etc. Welcome to call and email for a consultation!
Related Products
We also supply sprockets to match your chains.
Contact us: We care about our valued buyers; if you have any questions, our Customer Service staff will gladly help you. We try our best to reply to your emails as soon as possible; however, due to the high volume of daily incoming emails and the time zone difference, we may not be able to reply immediately. Please allow 24 business hours for us to respond.
We are specialized in producing Agricultural Roller Chain, Flat Top Chain, Track Chain, Hollow Pin Chain, Conveyor Chain for Beer Filling and Packing Line, Paver Chain, Attachment Sidebar Elevator Chain, Bucket Elevator Chain (Cement Mill Chain), Forging Scraper Chains, Loading Chain for Automobile Industry, Loading Chain for Metallurgical Industry, Conveyor Chain for Mine Machinery, Trencher Chain, Sugar Mill Chain, Double Flex Chain, etc. Welcome calls and emails to inquiries!
Related Products
Company
| | |
| --- | --- |
| Usage: | Transmission Chain, Drag Chain, Conveyor Chain, Dedicated Special Chain |
| Material: | Iron |
| Surface Treatment: | Oil Blooming |
| Feature: | Oil Resistant |
| Chain Size: | 1/2"*3/32" |
| Structure: | Conveyor Chains |
Samples:

US$ 9999/Piece

1 Piece(Min.Order)

|
Request Sample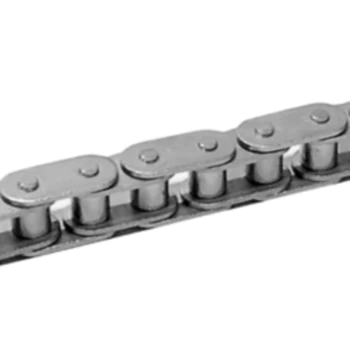 Can a drive chain be used in a glass or ceramics manufacturing application?
Yes, a drive chain can be used in glass or ceramics manufacturing applications where reliable and efficient power transmission is required. Here is a detailed explanation:
In glass or ceramics manufacturing, various types of equipment and machinery are utilized for processes such as mixing, molding, shaping, drying, and firing. Drive chains offer several advantages in these applications:
High Load Capacity: Drive chains are known for their high load-carrying capacity, making them suitable for handling heavy loads and transmitting power in glass or ceramics manufacturing equipment. They can effectively transmit power to drive mechanisms involved in mixing blades, conveyor systems, kilns, and other equipment.
Precision Power Transmission: Drive chains provide precise power transmission, ensuring accurate and synchronized movement of the machinery and equipment in glass or ceramics manufacturing. This allows for reliable and efficient production processes, precise positioning, and synchronized operation of the various components.
Robustness and Durability: Glass or ceramics manufacturing environments can be demanding, with high temperatures, abrasive materials, and heavy-duty operations. Drive chains are designed to withstand these harsh conditions, providing durability, resistance to wear, and long service life, even in high-demand applications.
Flexibility and Adaptability: Drive chains offer flexibility and adaptability in designing and configuring the machinery and equipment used in glass or ceramics manufacturing. They can be easily integrated into different types of conveyors, mixers, kilns, and other equipment, allowing for smooth and efficient material flow and process control.
Compatibility with Auxiliary Components: Drive chains can be easily combined with auxiliary components commonly used in glass or ceramics manufacturing, such as tensioners, guides, sprockets, and bearings. This ensures reliable and efficient power transmission throughout the entire system and facilitates easy maintenance and replacement when necessary.
Cost-Effectiveness: Drive chains offer a cost-effective solution for power transmission in glass or ceramics manufacturing applications. They have a long service life, reduced maintenance requirements, and lower replacement costs compared to some alternative power transmission systems.
It is important to consider the specific requirements of the glass or ceramics manufacturing application when selecting a drive chain. Factors such as load capacity, speed, environmental conditions, and maintenance considerations should be taken into account.
Regular maintenance, including inspection, lubrication, and tension adjustment, is crucial to ensure optimal performance and longevity of the drive chain in glass or ceramics manufacturing applications.
By utilizing drive chains in glass or ceramics manufacturing, operators can benefit from high load capacity, precise power transmission, durability, adaptability, and cost-effectiveness, contributing to efficient and reliable manufacturing processes.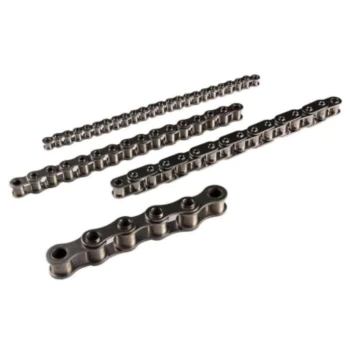 What are the benefits of using a silent drive chain?
Using a silent drive chain, also known as a noise-reduced or low-noise chain, offers several benefits compared to standard drive chains. Here is a detailed explanation of the benefits of using a silent drive chain:
Noise Reduction: The primary benefit of a silent drive chain is its ability to reduce noise during operation. Silent chains are designed with specialized features that minimize vibration and noise generation, resulting in quieter operation compared to standard chains. This is particularly advantageous in applications where noise reduction is critical, such as in residential areas, offices, or noise-sensitive environments.
Smooth Operation: Silent drive chains are engineered to provide smoother operation with reduced friction and vibration. This results in improved overall system performance, reduced wear on components, and enhanced efficiency.
Improved Performance: By reducing noise, vibration, and chain backlash, silent drive chains can help improve the performance and accuracy of the driven system. They minimize the risk of unwanted oscillations or inaccuracies, ensuring precise and reliable power transmission.
Extended Service Life: The reduced friction and vibration in a silent drive chain contribute to less wear and stress on the chain and associated components. This can result in an extended service life compared to standard chains, reducing the frequency of replacements and maintenance requirements.
High-Speed Capability: Silent drive chains are designed to operate at high speeds without compromising performance or generating excessive noise. This makes them suitable for applications that require high-speed power transmission, such as machinery, conveyors, or automation systems.
Reliability: Silent drive chains maintain the same reliability and durability as standard chains. They are designed to withstand demanding operating conditions, provide high load-carrying capacity, and resist wear, fatigue, and corrosion.
The use of silent drive chains is particularly beneficial in applications where noise reduction, smooth operation, precise control, and extended service life are important considerations. It is important to select the appropriate silent chain type, size, and material based on the specific application requirements for optimal performance and noise reduction.



editor by CX 2023-08-15