Product Description
1)Type
roller chain
2)Materials
Grade A steel 
3)Chain No.
420H
4)Warranty
30000KMs
5)Process
High speed impact, heat treatment, Pre-stretching and running
Four sides riveting, Lubricate with Grease
6)MOQ
500 Pcs
7)Supply Ability
1000000 Meter/Meters per year
8)Tensile Strength/Hardness
standard or above
9)Delivery Time
within 30 days after receiving your 30% deposits
10)Payment Terms
L/C,T/T
11)Packing
chains packing in standard export carton, also can packing as your requirement
Our Services
Pre-sales:
1. OEM &ODM service
2. Any of your kind inquiry would be replied within 24 hours.
3. Complete product information will be offered
4. Free sample will be sent if you need .
5. Any other reasonable requirements as per requested
 
During production ,we provide:
1. Schedule of production
2. Mass production picture will offered
3. Any other reasonable requirements as per requested
 
Finish production:
1. Courier tracking number
2. Documents you need 
3. Protection of your sales area, ideas of design and all your private information.
FAQ:
Q1: Do you inspect the finished products?
A: Yes, each step of production and finished products will be carried out inspection by QC departing before shipping.
Q2: What's the warranty of your products?
A: Usually we guarantee one year after delivery date, but depending on the specified product.
Q3: Are you manufacturer or Trade Company?
A: Both we are. We have been in motorcycle parts for nearly 20 years.
Q4: How to visit factory?
A: Leave us a message, and we will pick you up by car for free.
Q5: Can you do custom logo on the chain?
A: Yes,we can do custom logos by molding. Need your Authorization Letter.
| | |
| --- | --- |
| Type: | Chain |
| Material: | Steel |
| Certification: | ISO9001:2001 |
| Number of Row: | Single Row |
| Surface Treatment: | Sand Blasting, Oiling |
| Transport Package: | Polybag + Color Box + Carton |
Samples:

US$ 0/Piece

1 Piece(Min.Order)

|
Request Sample
Customization:

Available

|

Customized Request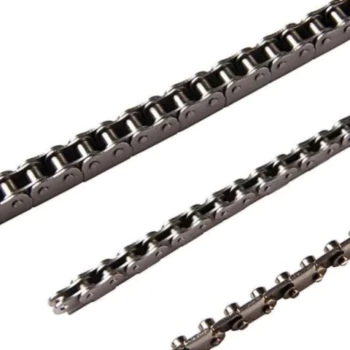 What are the advantages of using a lightweight drive chain?
Using a lightweight drive chain offers several advantages in certain applications where weight reduction is a critical factor. Here is a detailed explanation:
Lightweight drive chains are specifically designed to provide reliable power transmission while minimizing the overall weight of the system. The advantages of using such chains include:
Improved Energy Efficiency: Lightweight drive chains reduce the overall mass and inertia of the power transmission system. This results in improved energy efficiency, as less power is required to accelerate and decelerate the lighter components. Reduced energy consumption contributes to cost savings and promotes sustainability.
Enhanced System Performance: By reducing the weight of the drive chain, the overall system performance can be improved. The reduced mass allows for quicker response times, faster acceleration, and improved dynamic performance of the machinery or equipment. This can be particularly beneficial in applications that require rapid changes in speed or direction.
Increased Speed Capability: Lightweight drive chains enable higher speeds due to reduced inertia and decreased centrifugal forces. This allows for faster operation, quicker cycle times, and improved productivity in applications that demand high-speed power transmission.
Reduced Wear and Friction: The lighter weight of the drive chain can contribute to reduced wear and friction between the chain and the sprockets. With less weight bearing on the chain and sprocket teeth, there is reduced contact stress and improved lubrication distribution. This leads to lower frictional losses, decreased wear, and extended chain life.
Easier Installation and Maintenance: Lightweight drive chains are easier to handle and install compared to heavier chains, reducing the physical strain on operators during installation or maintenance tasks. The reduced weight simplifies handling and improves overall ergonomics, making it more convenient for operators to work with the chain.
Application Versatility: Lightweight drive chains can be used in a wide range of industries and applications where weight reduction is advantageous. They are commonly employed in sectors such as automotive, robotics, aerospace, and portable equipment, where lightweight components contribute to improved performance and fuel efficiency.
It is important to consider the specific requirements and constraints of the application when selecting a lightweight drive chain. Factors such as load capacity, speed capabilities, environmental conditions, and material selection should be taken into account.
While lightweight drive chains offer numerous benefits, it is crucial to ensure that their reduced weight does not compromise their load-carrying capacity or durability. Regular maintenance, including proper tensioning, lubrication, and periodic inspection, is essential to maintain the optimal performance and reliability of lightweight drive chains.
By utilizing lightweight drive chains in appropriate applications, operators can benefit from improved energy efficiency, enhanced system performance, increased speed capabilities, reduced wear and friction, easier installation and maintenance, and overall weight reduction, contributing to improved efficiency and performance of the power transmission system.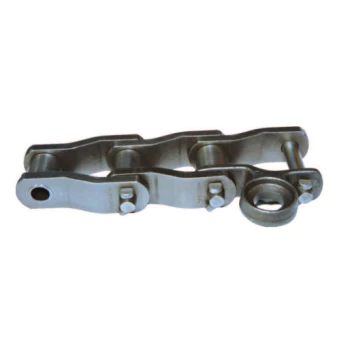 Can a drive chain be used in a mining or construction application?
Yes, a drive chain can be used in mining and construction applications, where reliable power transmission and durability are essential. Here is a detailed explanation:
In mining and construction, heavy machinery and equipment are commonly used to perform tasks such as excavating, hauling, and material handling. Drive chains offer several advantages in these demanding applications:
High Load Capacity: Drive chains are known for their high load-carrying capacity, making them suitable for heavy-duty applications commonly found in mining and construction. They can handle the significant forces and loads associated with excavators, cranes, bulldozers, and other machinery.
Durability and Reliability: Mining and construction environments are challenging, with conditions such as dust, dirt, vibrations, and extreme temperatures. Drive chains are designed to withstand these harsh conditions and provide reliable and durable power transmission even in rugged and demanding operating environments.
Resistance to Wear and Fatigue: Drive chains are manufactured from materials and coatings that offer excellent resistance to wear, fatigue, and corrosion. This ensures a longer service life, reducing the frequency of replacements and minimizing downtime for maintenance.
Flexibility and Adaptability: Drive chains can be customized to fit specific mining and construction applications. They are available in various sizes, pitches, and materials to accommodate different loads, speeds, and environmental conditions.
Suitable for Variable Speeds and Torques: Drive chains can handle variable speeds and torques, allowing them to adapt to different operational requirements in mining and construction equipment. They can efficiently transmit power and withstand sudden changes in loads and torque.
Compatibility with Attachments: Drive chains can be equipped with attachments or customized to accommodate specific attachments used in mining and construction machinery. These attachments, such as buckets, rippers, or lifting arms, can be securely connected to the chain, enabling efficient material handling or specialized tasks.
It is important to select the appropriate drive chain type, size, and material based on the specific requirements of the mining or construction application. Regular maintenance, including inspection, lubrication, and tension adjustment, is crucial to ensure optimal performance and longevity of the drive chain in these demanding environments.
By utilizing drive chains in mining and construction applications, operators can benefit from reliable power transmission, durability, and the ability to withstand the challenging conditions encountered in these industries.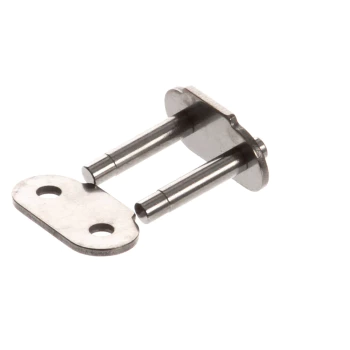 How does the wear life of a drive chain compare to other power transmission systems?
The wear life of a drive chain can vary depending on factors such as the application, operating conditions, maintenance practices, and the quality of the chain itself. Here's an explanation:
The wear life of a drive chain is influenced by several factors:
1. Load and Stress: The load capacity and stress placed on the drive chain affect its wear life. Higher loads and stress levels can lead to accelerated wear and reduced lifespan.
2. Lubrication and Maintenance: Proper lubrication and maintenance practices significantly impact the wear life of a drive chain. Regular lubrication, tension adjustment, and inspection help minimize wear and extend the chain's lifespan.
3. Operating Conditions: Environmental factors such as temperature, humidity, dust, and exposure to contaminants can influence the wear life of a drive chain. Harsh operating conditions may accelerate wear and reduce the chain's lifespan.
4. Chain Quality: The quality and construction of the drive chain play a vital role in its wear life. Chains made from high-quality materials and manufactured to precise specifications tend to have longer wear life compared to lower-quality chains.
When comparing the wear life of a drive chain to other power transmission systems, such as belts or gears, it is important to consider the specific application and operating conditions. In some cases, drive chains may offer longer wear life compared to belts, especially in heavy-load or high-torque applications. However, the wear life of gears can often surpass that of drive chains, particularly in applications with high-speed and high-load requirements.
It is essential to consult manufacturer specifications, consider the specific requirements of the application, and evaluate the wear life of different power transmission systems to determine the most suitable option for a given application.



editor by CX 2023-10-26