Product Description
Detailed Photos
Product Description
MODEL
UH-5075-S
 UH-5075-HH
UH-5075-HV
UH-5075-HA
ITEM
Standard chain
Heavy-duty chain
Heavy-duty chain
Heavy-duty chain
Suspension Spacing
150+(150× N)
150+(150× N)
150+(150 × N)
150+(150 × N)
(mm)
Chain's Weight
4.2
4.58
4.83
5.3
(kg/m)
Single-span Weight
35
40
45
50
(≤kg)
Chain's Allowed
3000
3000
3000
3000
Pull Force (≤kgf)
Chain's Catastrophic
5500
5500
5500
5500
Pull Force (≥kgf)
Working temperature
 
300
 300
400
(≤°C)
250
Applicable Equipment
General conditions
Large bending;
High temperature;
High temperature;
High temperature;
Heavy work piece; 
Heavy work piece; 
 
Frequently lifted;
Complicated route;
Material
16# Medium-carbon steel, Steel A3
Remark: The above technical data is for our usual hanging type conveyors: UH-5S, UH-5HH, VH-5HA type. We can customize design and manufacture the products based customers particular requirements.
The overhead conveyor components including drop forged rivetless chain, drop forged overhead trolley,   drive chain, trolley attachment, side link pusher dog, rollers turn roller, enclosed track chain, free carrier trolley and so on.
We can also supply other conveyor and transmission parts to fit our customer's specific needs, including conveyor chain, stainless steel chain, cast chain, drop forged scraper chain, forged loop chain, bi-planar conveyor chain, sprockets, bearings, forged gear, special shaft, outboard roller assembly, conveyor roller, special brass parts and so on.
Main sizes are P101.6 Chain, P101.6H Chain, P142 chain, P142H Chain, P200 chain, P260 Chain and so on.
Our drop forged rivetless chain are most competitive and are of high quality. There are many items available. Please feel free to contact us.
 
FAQ
Q1: Are you trading company or manufacturer ?
A: We are factory.
Q2: How long is your delivery time and shipment?
1.Sample Lead-times: generally 30 workdays.
2.Production Lead-times: 60 workdays after getting your deposit.
Q3. What is your terms of payment?
A: T/T 30% as deposit, and 70% before delivery.
We'll show you the photos of the products and packages before you pay the balance.
Q4: What is your advantages?
1. Manufacturer,the most competitive price and good quality.
2. Perfect technical engineers give you the best support.
3. OEM is available.
4. Rich stock and quick delivery.
Q5. If you can't find the product on our website,what do you next?
Please send us inquiry with product pictures and drawings by email or other ways and we'll check
 
| | |
| --- | --- |
| Material: | Alloy |
| Structure: | Roller Chain |
| Surface Treatment: | Polishing |
| Chain Size: | 1/2"*3/32" |
| Feature: | Fire Resistant, Oil Resistant, Heat Resistant |
| Fuction: | Long Using Life |
Customization:

Available

|

Customized Request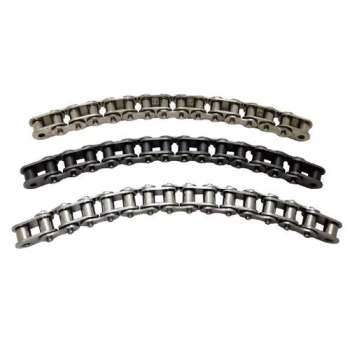 How does the lubricant selection affect the performance of a drive chain?
The selection of the proper lubricant plays a critical role in the performance and longevity of a drive chain. Here is a detailed explanation:
Lubrication is essential for maintaining the smooth operation and reducing the wear and friction between the chain's moving parts. The lubricant creates a protective film that reduces metal-to-metal contact and prevents excessive heat generation. The lubricant selection affects the drive chain's performance in the following ways:
Reduced Friction and Wear: The primary function of lubrication is to reduce friction between the chain's components. A well-chosen lubricant minimizes metal-to-metal contact, reducing wear and extending the chain's lifespan. It helps to prevent premature failure and ensures the efficient transfer of power throughout the chain.
Enhanced Load Capacity: Proper lubrication reduces the stress on the chain by creating a lubricating film that cushions the contact between the pins, bushings, and rollers. This improves the chain's load-carrying capacity, allowing it to handle heavier loads and resist elongation or deformation under high loads.
Corrosion Protection: Some lubricants are formulated with additives that provide corrosion protection. These lubricants create a barrier that shields the chain from moisture, chemicals, and environmental contaminants, reducing the risk of corrosion and extending the chain's life in harsh or corrosive environments.
Temperature Stability: Different lubricants have varying temperature ranges in which they can effectively perform. The lubricant selection should consider the operating temperatures of the application. High-temperature lubricants are designed to withstand elevated temperatures without breaking down or evaporating, ensuring proper lubrication even in hot environments.
Reduced Noise and Vibration: Proper lubrication contributes to smoother and quieter chain operation. It helps to minimize noise and vibration caused by metal-to-metal contact, resulting in a quieter working environment and improved operator comfort.
Contamination Control: Lubricants can also play a role in controlling contaminants that may enter the chain system. Some lubricants have properties that resist the accumulation of dust, dirt, or other particles, helping to keep the chain clean and preventing abrasive wear.
The lubricant selection should consider various factors, including the application's operating conditions, load requirements, temperature range, speed, and compatibility with the chain material. Manufacturers often provide lubrication recommendations based on these factors.
Regular lubrication maintenance is essential to ensure the continued performance of the drive chain. Lubrication intervals should be followed, and the lubricant should be replenished or replaced as recommended by the manufacturer or based on inspection and monitoring of the chain's condition.
By selecting the appropriate lubricant and implementing proper lubrication practices, operators can ensure optimal chain performance, reduce wear and friction, extend chain life, and minimize maintenance requirements in various industrial applications.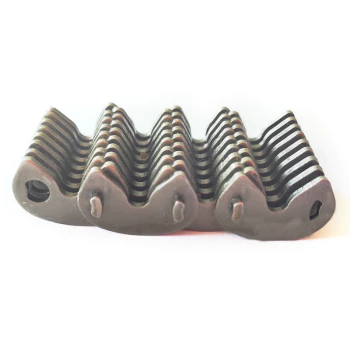 How does the elongation of a drive chain affect its performance?
The elongation of a drive chain can have a significant impact on its performance and overall operation. Here is a detailed explanation:
Drive chains are subject to wear and elongation over time due to factors such as load, speed, tension, lubrication, and maintenance. Elongation refers to the increase in the chain's pitch length, which can lead to several performance-related issues:
Loss of Tension: As a chain elongates, it loses tension and becomes slack. This results in a loss of power transmission efficiency and can lead to skipping or jumping of the chain on the sprockets. A slack chain may also cause a loss of accuracy and synchronization in driven systems.
Poor Performance: Elongation can affect the overall performance of the drive system. It can lead to increased backlash, reduced precision, and the potential for chain derailment or disengagement from the sprockets. These issues can result in decreased efficiency, unreliable operation, and increased risk of damage to the chain or other components.
Increased Wear: Elongation causes increased wear between the chain links, pins, and bushings. This wear can accelerate the elongation process and further decrease the chain's performance and service life. It can also lead to increased friction, heat generation, and the potential for chain failure if not addressed promptly.
Reduced Load-Carrying Capacity: Elongation reduces the effective pitch length of the chain, resulting in a decreased load-carrying capacity. This can limit the chain's ability to handle heavy loads, potentially leading to premature failure or inadequate performance in applications where high loads are involved.
Increased Noise and Vibration: Elongation can cause increased noise and vibration during chain operation. The slack chain may produce rattling or banging sounds, and the vibration can negatively affect the overall system performance and operator comfort.
Regular inspection and maintenance are essential to monitor chain elongation and address it promptly. Measuring elongation using specialized tools and following the manufacturer's recommended elongation limits can help determine when a chain requires replacement or adjustment.
Proper chain tension, lubrication, and regular maintenance practices, including periodic tension adjustment and lubrication replenishment, can help minimize elongation and ensure optimal chain performance. It is important to follow the manufacturer's guidelines and consult with experts or technicians to establish appropriate maintenance schedules and procedures for the specific drive chain and application.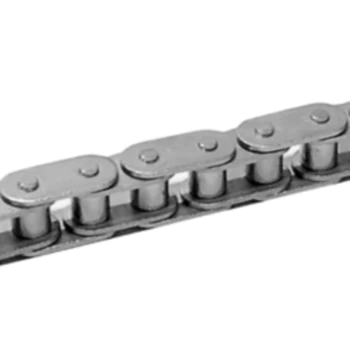 What are the benefits of using a roller drive chain?
A roller drive chain offers several benefits compared to other power transmission systems. Here is a detailed explanation:
High Load-Carrying Capacity: Roller chains are designed to handle high loads, making them suitable for applications that require the transmission of substantial power and torque.
Efficient Power Transmission: Roller chains provide efficient power transfer from the driver sprocket to the driven sprocket, minimizing energy loss during transmission.
Reliability and Durability: Roller chains are known for their reliability and durability. They are designed to withstand heavy loads, shock loads, and harsh operating conditions, making them suitable for a wide range of applications.
Ability to Handle Variable Speeds and Shock Loads: Roller chains can operate effectively at both high and low speeds, making them suitable for applications with variable speed requirements. They can also handle sudden changes in loads and shock loads without compromising performance.
Flexibility for Various Applications: Roller chains come in different sizes and configurations, allowing them to be adapted to various machinery and equipment setups. They offer flexibility in terms of design and customization.
Ease of Maintenance: Roller chains are relatively easy to maintain. They can be inspected, lubricated, and adjusted easily, and individual chain links or sections can be replaced if necessary.
Cost-Effective Solution: Roller chains are generally cost-effective compared to other power transmission systems, providing reliable performance at a competitive price point.
Overall, the benefits of using a roller drive chain include its high load-carrying capacity, efficient power transmission, reliability, flexibility, ease of maintenance, and cost-effectiveness. These advantages make roller chains a popular choice for a wide range of industrial and mechanical applications.



editor by CX 2023-10-19