Product Description
Product Description
Escalator Double Row Drive Chain 16A-2/16b-2 Escalator Handrail Belt Drive Chain
| | | | |
| --- | --- | --- | --- |
| Product Name | Brand | Type | Applicable |
| Escalator drive chain | General | 16A-2/16B-2 | General |
Company Profile
Certifications
FAQ
1. How to order ?
Please contact our sales manager, you will get better price and delivery, with warranty and after-sales services. 
2. What about the quality of your products ?
Only quality and original parts supplied by FUJI, each piece spare parts and lift from us  have reliable warranty . 
3. How about the price of products ?
Based on our bulk stock of products, we quoted with factory and reasonable price in the market. 
4. When you deliver products ?
There are over 8000 series of products available in stock, and work with DHL, FEDEX, TNT, airline , sea delivery with discount freight, will ensure you receive the goods within shortest time. 
5. What about payment way ?
Payment we accept TT,  Pay pal,online-payment,L/C,DP, Western Union.
6. Does the product or package support customization?
Support product or package OEM.
7. What is the product warranty period? How to carry out after-sales service of the product?
All of our products are guaranteed for 1 year; we have an after-sales technical team of more than 10 people, serving you 24 hours a day.
| | |
| --- | --- |
| After-sales Service: | Online Technical Support |
| Warranty: | 1 Year |
| Suitable for: | Elevator |
| MOQ: | 1 |
| Payment: | L/C, T/T, D/P, Western Union, Paypal, Money Gram |
| Warranty Time: | 1 Year |
Customization:

Available

|

Customized Request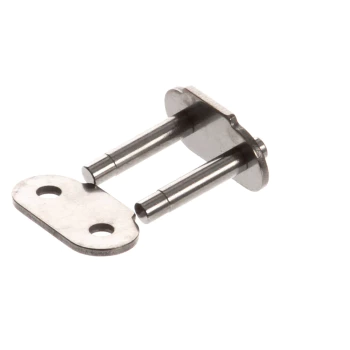 What are the benefits of using a drive chain with low maintenance requirements?
Using a drive chain with low maintenance requirements offers several benefits in industrial applications. Here is a detailed explanation:
Reduced Downtime: A drive chain with low maintenance requirements minimizes the need for frequent inspections, lubrication, and adjustments. This reduces the downtime associated with maintenance activities, allowing for longer periods of uninterrupted operation and increased productivity.
Cost Savings: With low maintenance requirements, there is a reduction in the labor, time, and cost associated with regular maintenance tasks such as lubrication, cleaning, and tension adjustments. Additionally, the longer intervals between maintenance cycles result in lower overall maintenance expenses.
Increased Reliability: Drive chains with low maintenance requirements are designed to be highly reliable and durable. They are engineered to withstand the demands of continuous operation without frequent maintenance interventions. This enhances the reliability of the chain, reducing the risk of unexpected failures or breakdowns that can disrupt production processes.
Extended Chain Life: Drive chains with low maintenance requirements often incorporate features such as self-lubricating capabilities, corrosion-resistant coatings, or sealed designs. These features help to protect the chain from wear, corrosion, and contaminants, extending its service life and reducing the frequency of chain replacements.
Improved Safety: Low maintenance drive chains contribute to improved safety in the workplace. With reduced maintenance requirements, there is a decreased need for personnel to access or interact with the chain system, minimizing the risk of accidents or injuries associated with maintenance activities. Additionally, reliable chain performance resulting from low maintenance helps ensure the safe operation of machinery and equipment.
Simplified Maintenance Routine: Drive chains with low maintenance requirements often have simplified maintenance routines. They may incorporate features such as easy-to-access lubrication points, quick-release pins, or self-adjusting mechanisms. These features simplify the maintenance process, making it more efficient and less time-consuming.
Enhanced Operational Efficiency: A drive chain with low maintenance requirements allows for continuous operation with minimal interruptions for maintenance. This enhances overall operational efficiency, as production processes can run for longer periods without the need for frequent stops or maintenance-related downtime.
It is important to note that even drive chains with low maintenance requirements still require periodic inspections to ensure proper functioning and detect any signs of wear or damage. However, the intervals between maintenance tasks are extended compared to traditional drive chains, resulting in improved operational efficiency and cost savings.
By utilizing drive chains with low maintenance requirements, industrial operators can benefit from reduced downtime, cost savings, increased reliability, extended chain life, improved safety, simplified maintenance routines, and enhanced operational efficiency in their applications.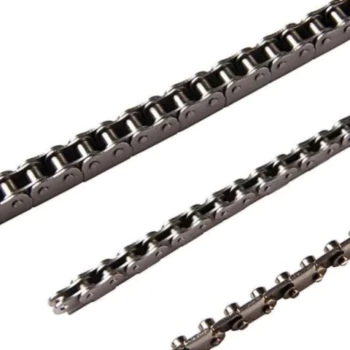 Can a drive chain be used in a power generation system?
Yes, a drive chain can be used in certain types of power generation systems as a method of power transmission. Here is a detailed explanation:
In power generation systems, the purpose is to convert a primary energy source into electrical power. While drive chains are not commonly used in large-scale power generation applications like turbines or generators, they can be employed in specific scenarios, such as:
Small-Scale Power Generation: In small-scale power generation systems, such as micro-hydropower or wind turbines, drive chains can be utilized to transmit rotational motion from the turbine or rotor to a generator. The chain connects the rotating components, ensuring efficient power transmission.
Linkage Mechanisms: Drive chains can be used in mechanical linkage mechanisms within power generation systems to transmit motion or force between various components. These mechanisms can be found in applications such as valve control systems, fuel feeders, or governor systems.
Ancillary Devices: Drive chains may also be employed in ancillary devices within power generation systems, such as tensioners, clutches, or braking mechanisms.
It's important to note that the selection and application of drive chains in power generation systems require careful consideration of factors such as load, speed, torque, and environmental conditions. Additionally, regular maintenance, including inspection, lubrication, and tension adjustment, is crucial to ensure optimal performance and longevity of the drive chain in these applications.
While drive chains have their applications in power generation systems, it is essential to consult with experts or manufacturers to determine the most suitable and efficient power transmission method for a specific power generation setup.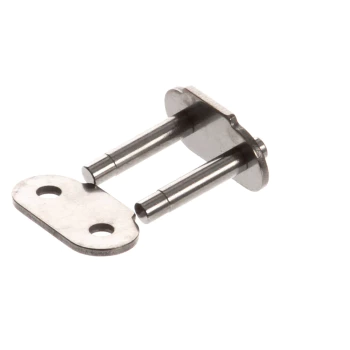 How does the wear life of a drive chain compare to other power transmission systems?
The wear life of a drive chain can vary depending on factors such as the application, operating conditions, maintenance practices, and the quality of the chain itself. Here's an explanation:
The wear life of a drive chain is influenced by several factors:
1. Load and Stress: The load capacity and stress placed on the drive chain affect its wear life. Higher loads and stress levels can lead to accelerated wear and reduced lifespan.
2. Lubrication and Maintenance: Proper lubrication and maintenance practices significantly impact the wear life of a drive chain. Regular lubrication, tension adjustment, and inspection help minimize wear and extend the chain's lifespan.
3. Operating Conditions: Environmental factors such as temperature, humidity, dust, and exposure to contaminants can influence the wear life of a drive chain. Harsh operating conditions may accelerate wear and reduce the chain's lifespan.
4. Chain Quality: The quality and construction of the drive chain play a vital role in its wear life. Chains made from high-quality materials and manufactured to precise specifications tend to have longer wear life compared to lower-quality chains.
When comparing the wear life of a drive chain to other power transmission systems, such as belts or gears, it is important to consider the specific application and operating conditions. In some cases, drive chains may offer longer wear life compared to belts, especially in heavy-load or high-torque applications. However, the wear life of gears can often surpass that of drive chains, particularly in applications with high-speed and high-load requirements.
It is essential to consult manufacturer specifications, consider the specific requirements of the application, and evaluate the wear life of different power transmission systems to determine the most suitable option for a given application.



editor by CX 2023-07-26