Product Description
Detailed Photos
Product Description
MODEL
UH-5075-S
 UH-5075-HH
UH-5075-HV
UH-5075-HA
ITEM
Standard chain
Heavy-duty chain
Heavy-duty chain
Heavy-duty chain
Suspension Spacing
150+(150× N)
150+(150× N)
150+(150 × N)
150+(150 × N)
(mm)
Chain's Weight
4.2
4.58
4.83
5.3
(kg/m)
Single-span Weight
35
40
45
50
(≤kg)
Chain's Allowed
3000
3000
3000
3000
Pull Force (≤kgf)
Chain's Catastrophic
5500
5500
5500
5500
Pull Force (≥kgf)
Working temperature
 
300
 300
400
(≤°C)
250
Applicable Equipment
General conditions
Large bending;
High temperature;
High temperature;
High temperature;
Heavy work piece; 
Heavy work piece; 
 
Frequently lifted;
Complicated route;
Material
16# Medium-carbon steel, Steel A3
Remark: The above technical data is for our usual hanging type conveyors: UH-5S, UH-5HH, VH-5HA type. We can customize design and manufacture the products based customers particular requirements.
The overhead conveyor components including drop forged rivetless chain, drop forged overhead trolley,   drive chain, trolley attachment, side link pusher dog, rollers turn roller, enclosed track chain, free carrier trolley and so on.
We can also supply other conveyor and transmission parts to fit our customer's specific needs, including conveyor chain, stainless steel chain, cast chain, drop forged scraper chain, forged loop chain, bi-planar conveyor chain, sprockets, bearings, forged gear, special shaft, outboard roller assembly, conveyor roller, special brass parts and so on.
Main sizes are P101.6 Chain, P101.6H Chain, P142 chain, P142H Chain, P200 chain, P260 Chain and so on.
Our drop forged rivetless chain are most competitive and are of high quality. There are many items available. Please feel free to contact us.
 
FAQ
Q1: Are you trading company or manufacturer ?
A: We are factory.
Q2: How long is your delivery time and shipment?
1.Sample Lead-times: generally 30 workdays.
2.Production Lead-times: 60 workdays after getting your deposit.
Q3. What is your terms of payment?
A: T/T 30% as deposit, and 70% before delivery.
We'll show you the photos of the products and packages before you pay the balance.
Q4: What is your advantages?
1. Manufacturer,the most competitive price and good quality.
2. Perfect technical engineers give you the best support.
3. OEM is available.
4. Rich stock and quick delivery.
Q5. If you can't find the product on our website,what do you next?
Please send us inquiry with product pictures and drawings by email or other ways and we'll check
 
| | |
| --- | --- |
| Material: | Alloy |
| Structure: | Roller Chain |
| Surface Treatment: | Polishing |
| Chain Size: | 1/2"*3/32" |
| Feature: | Fire Resistant, Oil Resistant, Heat Resistant |
| Fuction: | Long Using Life |
Customization:

Available

|

Customized Request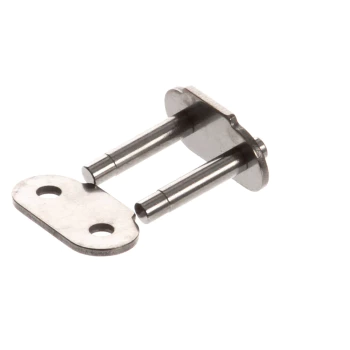 What are the benefits of using a drive chain with low maintenance requirements?
Using a drive chain with low maintenance requirements offers several benefits in industrial applications. Here is a detailed explanation:
Reduced Downtime: A drive chain with low maintenance requirements minimizes the need for frequent inspections, lubrication, and adjustments. This reduces the downtime associated with maintenance activities, allowing for longer periods of uninterrupted operation and increased productivity.
Cost Savings: With low maintenance requirements, there is a reduction in the labor, time, and cost associated with regular maintenance tasks such as lubrication, cleaning, and tension adjustments. Additionally, the longer intervals between maintenance cycles result in lower overall maintenance expenses.
Increased Reliability: Drive chains with low maintenance requirements are designed to be highly reliable and durable. They are engineered to withstand the demands of continuous operation without frequent maintenance interventions. This enhances the reliability of the chain, reducing the risk of unexpected failures or breakdowns that can disrupt production processes.
Extended Chain Life: Drive chains with low maintenance requirements often incorporate features such as self-lubricating capabilities, corrosion-resistant coatings, or sealed designs. These features help to protect the chain from wear, corrosion, and contaminants, extending its service life and reducing the frequency of chain replacements.
Improved Safety: Low maintenance drive chains contribute to improved safety in the workplace. With reduced maintenance requirements, there is a decreased need for personnel to access or interact with the chain system, minimizing the risk of accidents or injuries associated with maintenance activities. Additionally, reliable chain performance resulting from low maintenance helps ensure the safe operation of machinery and equipment.
Simplified Maintenance Routine: Drive chains with low maintenance requirements often have simplified maintenance routines. They may incorporate features such as easy-to-access lubrication points, quick-release pins, or self-adjusting mechanisms. These features simplify the maintenance process, making it more efficient and less time-consuming.
Enhanced Operational Efficiency: A drive chain with low maintenance requirements allows for continuous operation with minimal interruptions for maintenance. This enhances overall operational efficiency, as production processes can run for longer periods without the need for frequent stops or maintenance-related downtime.
It is important to note that even drive chains with low maintenance requirements still require periodic inspections to ensure proper functioning and detect any signs of wear or damage. However, the intervals between maintenance tasks are extended compared to traditional drive chains, resulting in improved operational efficiency and cost savings.
By utilizing drive chains with low maintenance requirements, industrial operators can benefit from reduced downtime, cost savings, increased reliability, extended chain life, improved safety, simplified maintenance routines, and enhanced operational efficiency in their applications.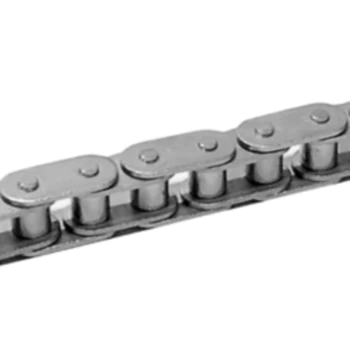 How does a drive chain handle shock loads and sudden changes in torque?
A drive chain is designed to handle shock loads and sudden changes in torque to ensure reliable power transmission. Here is a detailed explanation:
Drive chains are built to withstand varying operating conditions and handle dynamic forces effectively. When subjected to shock loads or sudden changes in torque, several factors contribute to the chain's ability to handle these situations:
Chain Strength: Drive chains are designed to have high tensile strength and load-carrying capacity. This enables them to withstand sudden increases in torque or shock loads without experiencing failure or elongation.
Material and Construction: The material and construction of the chain play a crucial role in its ability to handle shock loads. Chains made from high-quality alloy steels or specialty materials are capable of absorbing and distributing the forces generated during sudden torque changes or shock events.
Design Features: Drive chains incorporate design features that enhance their ability to handle shock loads. These features include specially shaped link plates, precision manufacturing tolerances, and surface treatments to improve fatigue resistance and reduce stress concentrations.
Tensioning and Slack Elimination: Proper tensioning of the drive chain is important to minimize the potential for slack and excessive movement during shock loads. Tensioners or tensioning systems are commonly employed to maintain proper tension and prevent chain slack, ensuring smooth power transmission.
System Damping: The overall system design and components can contribute to damping the effects of shock loads. By incorporating shock-absorbing elements, such as dampers, couplings, or flexible mounts, the impact of sudden torque changes can be mitigated, reducing the stress on the drive chain.
Regular Maintenance: Regular inspection, lubrication, and maintenance of the drive chain are crucial to identify any signs of wear, fatigue, or damage that may compromise its ability to handle shock loads. Prompt replacement of worn or damaged components is necessary to maintain the chain's performance and prevent unexpected failures.
While drive chains are designed to handle shock loads and sudden changes in torque, it is important to consider the specific application requirements and consult with experts or manufacturers to ensure proper chain selection and installation. Adhering to recommended maintenance practices will help maximize the chain's ability to handle shock loads and ensure reliable and durable power transmission.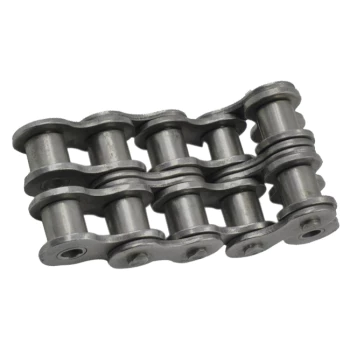 How does a drive chain differ from a timing belt?
A drive chain and a timing belt are both components used in power transmission, but they differ in their construction, operation, and application. Here are the key differences between a drive chain and a timing belt:
Construction: A drive chain consists of interconnected links or rollers, typically made of steel, that form a flexible mechanism. In contrast, a timing belt is a toothed belt made of a reinforced rubber material with teeth on the inner surface.
Power Transmission: Drive chains are commonly used for transmitting power in applications where flexibility and high-load capacity are required, such as in vehicles, machinery, and industrial equipment. Timing belts, on the other hand, are primarily used for precise synchronization of engine components, such as camshafts and crankshafts, in internal combustion engines.
Motion and Operation: Drive chains transfer power through rotational motion. The engagement of the chain links with sprockets allows for the transfer of rotational force. Timing belts, on the other hand, rely on the meshing of teeth on the belt with grooves or pulleys to ensure precise timing and synchronization of the engine's internal components.
Maintenance and Tension: Drive chains require periodic lubrication and tension adjustment to ensure proper operation and minimize wear. Timing belts, on the other hand, are typically maintenance-free and do not require lubrication or frequent tension adjustments.
Noise and Vibration: Drive chains, especially roller chains, can generate more noise and vibration during operation compared to timing belts, which are designed to operate with reduced noise and vibration.
Replacement: In case of damage or wear, drive chains can be repaired by replacing individual links or sections. Timing belts, on the other hand, usually require complete replacement as they are not easily repairable.
Ultimately, the choice between a drive chain and a timing belt depends on the specific application requirements, such as the need for power transmission, precision timing, load capacity, maintenance preferences, and operational conditions.



editor by CX 2023-09-08