Product Description
Wholesale Price C2042 C2052 C2062 Drive Chain Stainless Steel Conveyor Roller Chain from China
Product Description
Roller chains conforms to ISO, ANSI, DIN, JIS and other standards. It adopts high-quality materials and advanced processing technology. The roller chains has the characteristics of high tensile strength and high fatigue strength. The roller chain is widely used in construction machinery, agricultural machinery, motorcycles, and automobile transmission. , food conveying machinery, logistics conveying machinery, packaging machinery and other fields, to transmit power for various mechanical facilities
1. Material: Stainless Steel 304 & 316 / Alloy Carbon Steel
2. Surface Treatment: Shot peening / Zinc-plated / Nickel-plated / Dacromet-plated
3. Chain No:
35SS-1, 40SS-1, 50SS-1, 60SS-1, 80SS-1, 100SS-1, 120SS-1, 140SS-1;
35SS-2, 40SS-2, 50SS-2, 60SS-2, 80SS-2, 100SS-2, 120SS-2, 140SS-2;
35SS-3, 40SS-3, 50SS-3, 60SS-3, 80SS-3, 100SS-3, 120SS-3, 140SS-3;
4. Application: Stainless Steel Chains are used in so many industries, such as machine manufacturing, food machine, etc. Also are suitable for high and low temperature conditions.
5. Characteristic:
1. The chain can be used on the both sides of multi-axle transmission.
2. Easy installation and replacement.
3. It can obtain larger reduction ratio.
4. The roller chain has good elasticity, high strength and each hinge part has lubricating oil, so it can be stored easliy. Thus, compared with the rigid contact tooth, it has good cushioning and vibration absorbing ability.
| | |
| --- | --- |
| Product Name | Wholesale Price C2042 C2052 C2062 Drive Chain Stainless Steel Conveyor Roller Chain from China |
| Material | carbon steel,SS304, SS316, etc |
| Standard | DIN GB ISO JIS  |
| DIN/ISO chain No. | C2050 C2052 C2060 C2062 C2080 C2082,ect |
| Key Words | Roller Chains  |
| Application Area | Food processing, pharmaceutical and chemical industries, electronics, household appliances, automotive manufacturing, metallurgy, sewage treatment |
| Delivery time | 3-10 days depends on quantity needed |
Product Parameters
Company Profile
HangZhouTerry Machinery Co.,Ltd is a leading internatioal Machinery Manufacturer. The growing economics and convenient transportation of HangZhou benefits the development of Terry Machinery. Our products are utilized in commercial, industrial and custom application. Terry Machinery is specialized in engineering machinery bearing and vehicle industrial bearing. Our products have been exported over 53 countries.The goal of Terry Machinery is to provide out customers with widest range of products at lowest price, high quality with the best service.
Certifications
Our Advantages

1. World-Class Roller Chains
We provide our customers with all types of indigenous chains with world-class quality.
2. Free Samples:
We can provide free 1-10 meters,but you need bear shipping cost.
3. Genuine products With Excellent Quality:
 The company has always proved the 100% quality products it provides with genuine intent.
4. Many Cheap International Forwarders: 
 We have many International forwarders partner and all kinds of shipping channel,keep sure your goods arrived yourside safe and fast.
5. Quick Delivery:
 The company provides just-in-time delivery with its streamlined supply chain.
Packaging & Shipping
FAQ
1.What is the minimum order quantity for this product?
Depending on the size of the bearing, the MOQ is variable, if you are interested, you can contact me for a quote.
2.What is your latest delivery time?
Most orders will be shipped within 3-10 days of payment being received.
3.What are the advantages of your company's services compared to other companies?
Answer questions online 24 hours a day, reply in a timely manner, and provide various documents required by customers for customs clearance or sales. 100% after-sales service.
4.Which payment method does your company support?
Do our best to meet customer needs, negotiable.
5.Do you accept OEM or customized service?
In addition to standard products, we also supply non-standard and modified standard products for special application. Meanwhile, we provide OEM service.
                         Please feel free to contact us, if you have any other question
| | |
| --- | --- |
| Standard or Nonstandard: | Standard |
| Application: | Textile Machinery, Garment Machinery, Conveyer Equipment, Packaging Machinery, Electric Cars, Motorcycle, Food Machinery, Marine, Mining Equipment, Agricultural Machinery, Car |
| Surface Treatment: | Polishing |
| Structure: | Roller Chain |
| Material: | Carbon Steel |
| Type: | Double Pitch Chain |
Samples:

US$ 2/Meter

1 Meter(Min.Order)

|
Request Sample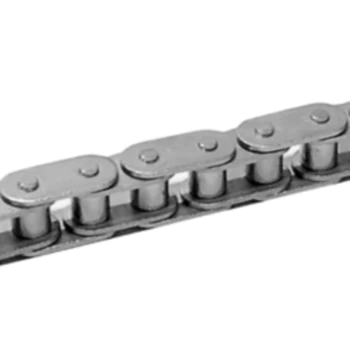 Can a drive chain be used in a glass or ceramics manufacturing application?
Yes, a drive chain can be used in glass or ceramics manufacturing applications where reliable and efficient power transmission is required. Here is a detailed explanation:
In glass or ceramics manufacturing, various types of equipment and machinery are utilized for processes such as mixing, molding, shaping, drying, and firing. Drive chains offer several advantages in these applications:
High Load Capacity: Drive chains are known for their high load-carrying capacity, making them suitable for handling heavy loads and transmitting power in glass or ceramics manufacturing equipment. They can effectively transmit power to drive mechanisms involved in mixing blades, conveyor systems, kilns, and other equipment.
Precision Power Transmission: Drive chains provide precise power transmission, ensuring accurate and synchronized movement of the machinery and equipment in glass or ceramics manufacturing. This allows for reliable and efficient production processes, precise positioning, and synchronized operation of the various components.
Robustness and Durability: Glass or ceramics manufacturing environments can be demanding, with high temperatures, abrasive materials, and heavy-duty operations. Drive chains are designed to withstand these harsh conditions, providing durability, resistance to wear, and long service life, even in high-demand applications.
Flexibility and Adaptability: Drive chains offer flexibility and adaptability in designing and configuring the machinery and equipment used in glass or ceramics manufacturing. They can be easily integrated into different types of conveyors, mixers, kilns, and other equipment, allowing for smooth and efficient material flow and process control.
Compatibility with Auxiliary Components: Drive chains can be easily combined with auxiliary components commonly used in glass or ceramics manufacturing, such as tensioners, guides, sprockets, and bearings. This ensures reliable and efficient power transmission throughout the entire system and facilitates easy maintenance and replacement when necessary.
Cost-Effectiveness: Drive chains offer a cost-effective solution for power transmission in glass or ceramics manufacturing applications. They have a long service life, reduced maintenance requirements, and lower replacement costs compared to some alternative power transmission systems.
It is important to consider the specific requirements of the glass or ceramics manufacturing application when selecting a drive chain. Factors such as load capacity, speed, environmental conditions, and maintenance considerations should be taken into account.
Regular maintenance, including inspection, lubrication, and tension adjustment, is crucial to ensure optimal performance and longevity of the drive chain in glass or ceramics manufacturing applications.
By utilizing drive chains in glass or ceramics manufacturing, operators can benefit from high load capacity, precise power transmission, durability, adaptability, and cost-effectiveness, contributing to efficient and reliable manufacturing processes.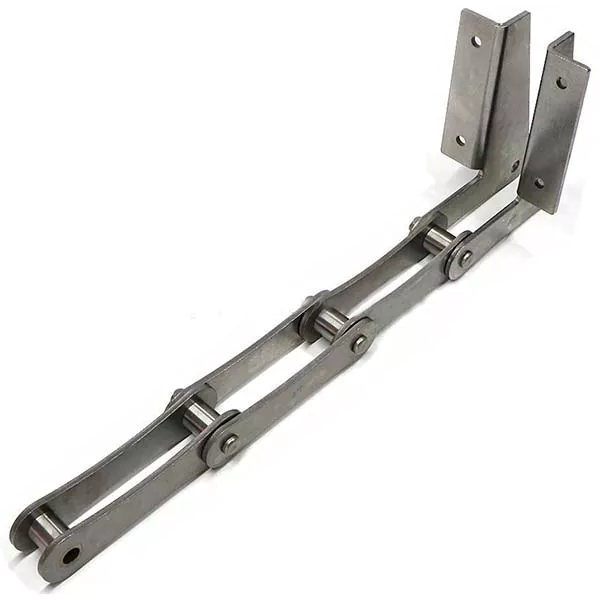 Can a drive chain be used in a food processing or packaging application?
Yes, a drive chain can be used in food processing and packaging applications, provided that certain considerations are taken into account. Here is a detailed explanation:
In food processing and packaging applications, where hygiene, cleanliness, and compliance with food safety regulations are crucial, drive chains offer several benefits:
Reliable Power Transmission: Drive chains provide efficient and reliable power transmission, making them suitable for various applications in food processing and packaging machinery, such as conveyors, mixers, filling machines, and labeling equipment.
Corrosion Resistance: To ensure compliance with hygiene standards, it is essential to select drive chains made from materials that are resistant to corrosion, such as stainless steel or food-grade plastic. These materials can withstand frequent cleaning, exposure to water, and the corrosive effects of certain food products or cleaning agents.
Easy Cleaning and Maintenance: Drive chains designed for food applications often feature smooth surfaces and easy-to-clean designs, minimizing the risk of food buildup or contamination. They can be cleaned using standard cleaning methods and equipment, allowing for efficient sanitation and reducing the chances of foodborne contamination.
Compliance with Food Safety Regulations: When using drive chains in food processing or packaging applications, it is essential to ensure compliance with food safety regulations, such as FDA (Food and Drug Administration) guidelines or other relevant standards specific to the industry or region. This includes selecting materials that are approved for food contact and implementing proper cleaning and maintenance procedures.
Product Handling: Drive chains can handle various types of food products, including dry goods, packaged items, or even delicate food items, depending on the specific chain design and application requirements. Specialized chains with attachments or gripper systems can be used to securely transport and manipulate food products during processing or packaging.
It is important to work with reputable chain manufacturers or suppliers who offer drive chains specifically designed for food processing and packaging applications. They can provide guidance on chain selection, material compatibility, compliance with food safety regulations, and maintenance practices.
By considering these factors and implementing proper chain selection, installation, cleaning, and maintenance procedures, drive chains can be safely and effectively utilized in food processing and packaging applications while ensuring product quality, hygiene, and compliance with food safety standards.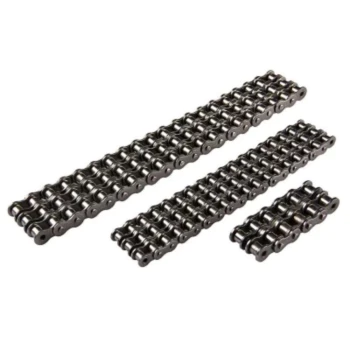 What are the noise and vibration levels associated with a drive chain?
The noise and vibration levels associated with a drive chain can vary depending on several factors, including the type of chain, operating conditions, and maintenance practices. Here's an explanation:
Noise Levels:
Drive chains, especially roller chains, can generate noise during operation. The noise level depends on various factors, such as the chain's design, speed, tension, lubrication, and the condition of the sprockets.
Proper lubrication helps reduce friction and noise generation, while inadequate or dry lubrication can increase noise levels.
Other factors, such as misalignment, worn-out components, or loose fittings, can contribute to increased noise levels. Regular inspections and maintenance help identify and address sources of excessive noise.
Vibration Levels:
Drive chains can produce vibrations during operation, especially if there are issues such as misalignment, improper tension, or worn-out components.
Proper tensioning, alignment, and maintenance practices help minimize vibrations and ensure smooth operation.
Excessive vibrations can lead to accelerated wear, reduced chain life, and potential damage to other components.
It's worth noting that advancements in chain design and manufacturing techniques have resulted in quieter and smoother-running chains. Manufacturers may also offer specialized low-noise or low-vibration chains for applications where noise or vibration reduction is a priority.
To maintain acceptable noise and vibration levels associated with a drive chain, it is important to follow proper maintenance practices, including regular lubrication, tension adjustment, and alignment checks. Additionally, addressing any sources of excessive noise or vibration promptly can help ensure the smooth and efficient operation of the drive chain.



editor by CX 2023-08-09