Product Description
| | |
| --- | --- |
| 1)Type | roller chain |
| 2)Materials | steel: 40Mn(Plate) 30CrMnTi(Pin) 20Mn(Bush) Mn10(Roller) 65Mn(Clip) |
| 3)Chain No. | 420h/428h/520h/525h/530h |
| 4)Lifetime | 30000 KMs |
| 5)Function | transmission chain |
| 6)MOQ | 100meters |
| 7)Supply Ability | 100000 Meter/Meters per year |
| 8)Tensile Strength | standard |
| 9)Delivery Time | within 30 days after receiving your 30% deposits |
| 10)Payment Terms | 30%deposit and balanced by L/C,T/T |
| 11)Packing | chains packing in polybag and color box, also can packing as your requirement |
Our Services
Pre-sales:
1. OEM &ODM service
2. Any of your kind inquiry would be replied within 24 hours.
3. Complete product information will be offered
4. Free sample will be sent if you need .
5. Any other reasonable requirements as per requested
 
During production ,we provide:
1. Schedule of production
2. Mass production picture will offered
3. Any other reasonable requirements as per requested
 
Finish production:
1. Courier tracking number
2. Documents you need 
3. Protection of your sales area, ideas of design and all your private information.
FAQ:
Q1: Do you inspect the finished products?
A: Yes, each step of production and finished products will be carried out inspection by QC departing before shipping.
Q2: What's the warranty of your products?
A: Usually we guarantee one year after delivery date, but depending on the specified product.
Q3: Are you manufacturer or Trade Company?
A: Both we are. We have been in motorcycle parts for nearly 20 years.
Q4: How to visit factory?
A: Leave us a message, and we will pick you up by car for free.
Q5: Can you do custom logo on the chain?
A: Yes,we can do custom logos by molding. Need your Authorization Letter.
| | |
| --- | --- |
| Type: | Chain |
| Material: | Steel |
| Certification: | ISO9001:2001 |
| Number of Row: | Single Row |
| Surface Treatment: | Sand Blasting, Oiling |
| Transport Package: | Polybag + Color Box + Carton |
Samples:

US$ 0/Piece

1 Piece(Min.Order)

|
Request Sample
Customization:

Available

|

Customized Request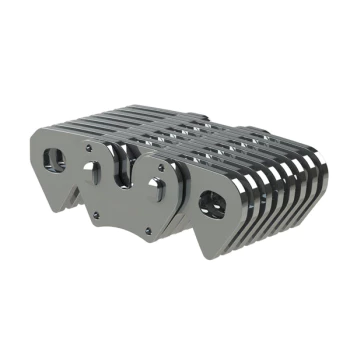 Can a drive chain be used in a HVAC or ventilation system?
Yes, a drive chain can be used in HVAC (Heating, Ventilation, and Air Conditioning) or ventilation systems where reliable and efficient power transmission is required. Here is a detailed explanation:
HVAC and ventilation systems utilize various components such as fans, blowers, dampers, and louvers to control air flow, temperature, and humidity in residential, commercial, and industrial buildings. Drive chains offer several advantages in these applications:
Reliable Power Transmission: Drive chains provide reliable power transmission for HVAC and ventilation systems. They are capable of transmitting power over long distances, accommodating various speeds and torque requirements, and operating in different directions of rotation.
Flexible System Design: Drive chains offer flexibility in system design and layout. They can be easily configured to connect and drive multiple components, such as fans, motors, and dampers, allowing for efficient control and adjustment of air flow and system performance.
Accurate Speed Control: Drive chains allow for precise speed control in HVAC systems. By using sprockets of different sizes or incorporating variable speed drives, the rotational speed of fans or blowers can be adjusted to achieve the desired air flow rates and maintain optimal environmental conditions.
High Load Capacity: HVAC and ventilation systems often require components to handle significant air volumes and pressure differentials. Drive chains are designed to handle high loads and transmit power effectively, ensuring reliable operation of fans, blowers, and other equipment.
Durability and Longevity: Drive chains are engineered to withstand the demanding conditions of HVAC and ventilation systems. They are designed to resist wear, corrosion, and fatigue, ensuring durability and long service life even in continuous or high-cycle operations.
Quiet Operation: Drive chains, when properly lubricated and maintained, can operate quietly in HVAC systems, minimizing noise and vibration levels. This is crucial for maintaining a comfortable and noise-free environment in residential, commercial, or institutional settings.
When selecting a drive chain for HVAC or ventilation applications, factors such as load capacity, speed requirements, environmental conditions (such as temperature and humidity), and maintenance considerations should be taken into account.
Regular inspection, lubrication, and tension adjustment are important for ensuring the optimal performance and longevity of the drive chain in HVAC and ventilation systems.
By utilizing drive chains in HVAC and ventilation systems, operators can benefit from reliable power transmission, flexible system design, accurate speed control, high load capacity, durability, longevity, and quiet operation, contributing to efficient and effective air conditioning and ventilation in various building environments.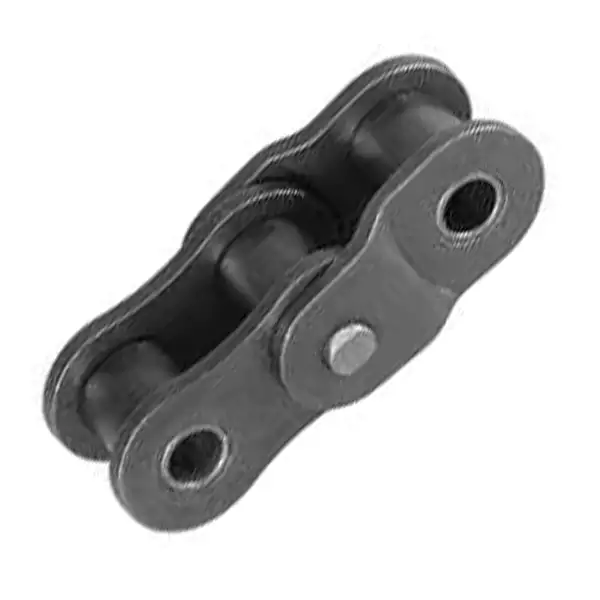 Can a drive chain be used in an escalator or elevator system?
Yes, a drive chain can be used in certain types of escalator or elevator systems as a method of power transmission. Here is a detailed explanation:
In escalator and elevator systems, the purpose of the drive chain is to transmit power from the motor to the moving steps or elevator car. While other power transmission methods, such as belts or gears, are commonly used in modern escalators and elevators, drive chains can still be found in certain applications:
Escalator Systems: In older or traditional escalator systems, drive chains are commonly used to transmit power from the main drive motor to the step chains. The step chains engage with the steps, causing them to move in a continuous loop. The drive chain ensures synchronized movement and reliable power transmission.
Elevator Systems: In some elevator systems, particularly older hydraulic or traction types, drive chains can be used as part of the power transmission mechanism. These chains transmit power from the motor to the elevator car or counterweight, enabling vertical movement.
It is important to note that the design and configuration of escalators and elevators can vary depending on factors such as capacity, speed, height, and building regulations. Modern escalators and elevators often employ more advanced and efficient power transmission methods, such as belts or gears, which offer advantages in terms of noise, efficiency, and maintenance. However, in certain cases, drive chains may still be used, especially in older systems or specific applications.
It is essential to consult with escalator or elevator manufacturers, experts, or maintenance technicians to determine the appropriate power transmission method for a particular escalator or elevator system. They can provide guidance on chain selection, maintenance requirements, and compliance with safety standards to ensure optimal performance and reliability.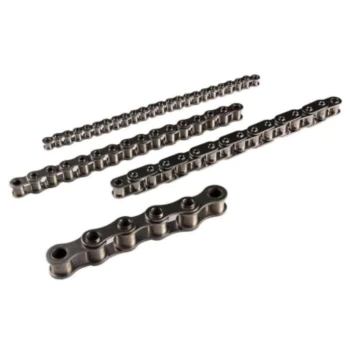 How do you inspect and maintain a drive chain?
To inspect and maintain a drive chain, follow these steps:
Regularly inspect the chain for signs of wear, damage, or elongation. Look for worn-out links, damaged rollers or plates, and signs of corrosion.
Clean the chain to remove dirt, debris, and any built-up lubricant. Use a suitable cleaning agent and a brush to carefully clean the chain, and ensure it is thoroughly dried before lubrication.
Check the tension of the chain to ensure it falls within the manufacturer's specified range. Adjust the tension if necessary, following the manufacturer's guidelines.
Inspect the alignment of the chain on the sprockets. Misalignment can cause uneven wear and decreased performance. Adjust the alignment if necessary, following the manufacturer's instructions.
Apply the recommended lubricant to the chain as per the manufacturer's guidelines. Proper lubrication reduces friction, minimizes wear, and prevents corrosion.
Periodically recheck the chain for any signs of wear, damage, or inadequate lubrication. Address any issues promptly through repairs or replacement of damaged components.
Monitor the chain's overall condition during operation. Pay attention to any unusual noise, vibrations, or changes in performance, as these can indicate potential issues with the chain.
Inspect the sprockets for signs of wear, such as worn teeth or excessive tooth profile deviation. Worn sprockets can accelerate chain wear and reduce overall performance.
Check the chain for proper lubrication. Ensure that the lubricant is evenly distributed along the entire length of the chain and that there are no dry or excessively lubricated areas.
Measure the chain's elongation using a chain wear gauge or by comparing its length to a new chain of the same pitch. Excessive elongation can lead to poor performance and should be addressed by replacing the chain.
Inspect the chain tensioners, guides, or tensioning systems (if applicable) for proper function and wear. These components help maintain proper tension and alignment of the chain.
Keep the chain free from dirt, debris, and contaminants that can accelerate wear and cause damage. Regularly clean the chain and its surrounding components using appropriate cleaning agents and methods.
Follow the manufacturer's recommended maintenance schedule for the specific chain type and application. This may include periodic lubrication, tension adjustment, and component replacement.
Keep accurate records of maintenance activities, including inspection dates, lubrication intervals, and any maintenance or repair actions taken. This helps track the chain's history and ensures proper maintenance over its lifespan.
Consult the manufacturer's guidelines and specifications for specific maintenance requirements and recommendations for the particular drive chain model and application.
By following these inspection and maintenance practices, you can ensure that the drive chain remains in good condition, performs optimally, and has an extended service life.



editor by CX 2023-08-07