Product Description
Product Description
Product Parameters
Standard
GB, ISO, ANSI, DIN
Type
Standard A and standard B precision roller chain, conveyor chain;
special chain with accessories, welding chain, leaf chain and sprocket
ANSI chain No.
40,50,60,80,100,120,140,160,180,200,240;
C40,C50,C60,C80,C100,C120,C140,C160;
DIN/ISO chain No.
08A,10A,12A,16A,20A,24A,28A,32A,36A,40A,48A;
C08A,C10A,C12A,C16A,C20A,C24A,C28A,C32A;
Application
Food processing, pharmaceutical and chemical industries, electronics, machinery;
household appliances, automotive manufacturing, metallurgy, sewage treatment
Series
A series,B series
More Products
Advantage
Certifications
DETAILS ABOUT CZPT CHAIN 
Exhibition
Workshop
Application
Packaging Details
Shipping
FAQ      
1. Are you a manufacturer or trade Company?
We are a factory founded in 1997 with a trade team for international service.
2. What terms of payment do you usually use?
T/T 30% deposit and 70% against document, Western Union, L/C at sight
3. What is your lead time for your goods?
Normally 35 days after confirmed order. 30 days could be available in the low season for some items (during May to July), and 45 days during the new year and hot season ( Jan to March).
4. Samples
For customers who need sample confirmation before ordering, please bear in mind that the following policy will be adopted:
1) All samples are free of charge with a maximum value not exceeding USD 100.
2) The courier cost for the first-time sample sending will be charged by the consignee. We will send the samples with freight to be collected. So please inform your account with FedEx, UPS, DHL, or TNT so that we can proceed promptly.
3) The first-time courier cost will be totally deducted from the contract value of the trial cooperation.
4) OEM/ODM are both available.
| | |
| --- | --- |
| Standard or Nonstandard: | Nonstandard |
| Application: | Textile Machinery, Garment Machinery, Conveyer Equipment, Packaging Machinery, Electric Cars, Motorcycle, Food Machinery, Marine, Mining Equipment, Agricultural Machinery, Car |
| Surface Treatment: | Polishing |
| Structure: | Roller Chain |
| Material: | Stainless Steel |
| Type: | Double Pitch Chain |
Samples:

US$ 0/Meter

1 Meter(Min.Order)

|
Request Sample
Customization:

Available

|

Customized Request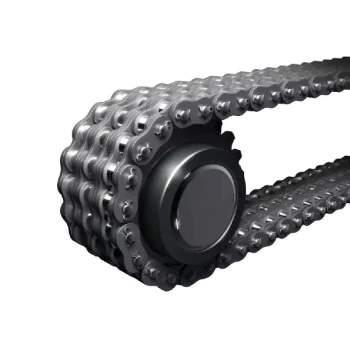 How does the material hardness of a drive chain affect its durability?
The material hardness of a drive chain plays a significant role in determining its durability and resistance to wear. Here is a detailed explanation:
Material hardness refers to the ability of a material to resist indentation, abrasion, and penetration by external forces. In the context of drive chains, the hardness of the chain's components, such as pins, bushings, and rollers, directly affects the chain's durability and lifespan.
When it comes to drive chain durability, the following factors come into play:
Resistance to Wear: A higher material hardness typically results in better resistance to wear. Drive chains with harder materials can withstand the friction and contact forces encountered during operation, minimizing the wear on critical components. This translates to extended chain life and reduced maintenance requirements.
Impact Resistance: The material hardness of a drive chain also affects its ability to resist impact forces. Chains operating in environments with frequent impacts or shock loads, such as in mining or heavy-duty applications, require high hardness materials to withstand the sudden stresses without deformation or failure.
Resistance to Deformation: Harder materials exhibit greater resistance to deformation under load. This is particularly important in drive chains where precise interlocking of chain components is necessary for efficient power transmission. Chains with higher material hardness maintain their shape and dimensional integrity, ensuring consistent performance and minimizing the risk of chain elongation or misalignment.
Corrosion Resistance: While material hardness primarily affects wear resistance, it can indirectly impact the chain's resistance to corrosion. Certain high-hardness materials, such as stainless steel or specific alloys, offer improved corrosion resistance compared to softer materials. This is especially relevant in applications where the chain is exposed to corrosive environments, such as marine or chemical industries.
It is important to note that while higher hardness generally leads to improved durability, excessive hardness can also result in brittleness and reduced impact resistance. Therefore, a balance must be struck between hardness and other mechanical properties to ensure optimal performance and durability of the drive chain.
Manufacturers typically specify the appropriate hardness level for drive chain components based on the specific application requirements. These specifications take into account factors such as load capacity, operating conditions, anticipated wear rates, and desired service life.
Regular maintenance practices, such as proper lubrication, periodic inspection, and tension adjustment, are essential for maximizing the durability and performance of the drive chain, regardless of its material hardness.
By selecting a drive chain with the appropriate material hardness and implementing proper maintenance practices, operators can ensure optimal durability, extended chain life, and reliable power transmission in various industrial applications.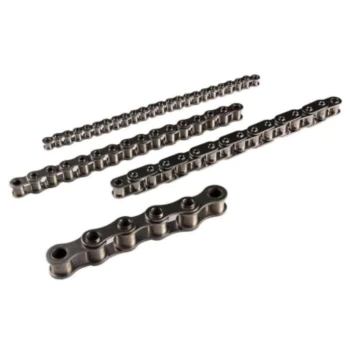 What are the benefits of using a silent drive chain?
Using a silent drive chain, also known as a noise-reduced or low-noise chain, offers several benefits compared to standard drive chains. Here is a detailed explanation of the benefits of using a silent drive chain:
Noise Reduction: The primary benefit of a silent drive chain is its ability to reduce noise during operation. Silent chains are designed with specialized features that minimize vibration and noise generation, resulting in quieter operation compared to standard chains. This is particularly advantageous in applications where noise reduction is critical, such as in residential areas, offices, or noise-sensitive environments.
Smooth Operation: Silent drive chains are engineered to provide smoother operation with reduced friction and vibration. This results in improved overall system performance, reduced wear on components, and enhanced efficiency.
Improved Performance: By reducing noise, vibration, and chain backlash, silent drive chains can help improve the performance and accuracy of the driven system. They minimize the risk of unwanted oscillations or inaccuracies, ensuring precise and reliable power transmission.
Extended Service Life: The reduced friction and vibration in a silent drive chain contribute to less wear and stress on the chain and associated components. This can result in an extended service life compared to standard chains, reducing the frequency of replacements and maintenance requirements.
High-Speed Capability: Silent drive chains are designed to operate at high speeds without compromising performance or generating excessive noise. This makes them suitable for applications that require high-speed power transmission, such as machinery, conveyors, or automation systems.
Reliability: Silent drive chains maintain the same reliability and durability as standard chains. They are designed to withstand demanding operating conditions, provide high load-carrying capacity, and resist wear, fatigue, and corrosion.
The use of silent drive chains is particularly beneficial in applications where noise reduction, smooth operation, precise control, and extended service life are important considerations. It is important to select the appropriate silent chain type, size, and material based on the specific application requirements for optimal performance and noise reduction.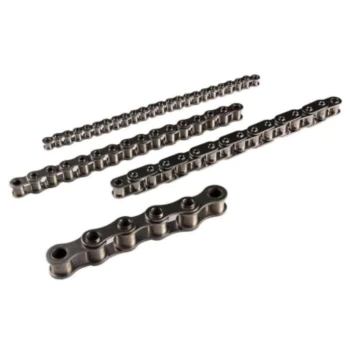 How do you inspect and maintain a drive chain?
To inspect and maintain a drive chain, follow these steps:
Regularly inspect the chain for signs of wear, damage, or elongation. Look for worn-out links, damaged rollers or plates, and signs of corrosion.
Clean the chain to remove dirt, debris, and any built-up lubricant. Use a suitable cleaning agent and a brush to carefully clean the chain, and ensure it is thoroughly dried before lubrication.
Check the tension of the chain to ensure it falls within the manufacturer's specified range. Adjust the tension if necessary, following the manufacturer's guidelines.
Inspect the alignment of the chain on the sprockets. Misalignment can cause uneven wear and decreased performance. Adjust the alignment if necessary, following the manufacturer's instructions.
Apply the recommended lubricant to the chain as per the manufacturer's guidelines. Proper lubrication reduces friction, minimizes wear, and prevents corrosion.
Periodically recheck the chain for any signs of wear, damage, or inadequate lubrication. Address any issues promptly through repairs or replacement of damaged components.
Monitor the chain's overall condition during operation. Pay attention to any unusual noise, vibrations, or changes in performance, as these can indicate potential issues with the chain.
Inspect the sprockets for signs of wear, such as worn teeth or excessive tooth profile deviation. Worn sprockets can accelerate chain wear and reduce overall performance.
Check the chain for proper lubrication. Ensure that the lubricant is evenly distributed along the entire length of the chain and that there are no dry or excessively lubricated areas.
Measure the chain's elongation using a chain wear gauge or by comparing its length to a new chain of the same pitch. Excessive elongation can lead to poor performance and should be addressed by replacing the chain.
Inspect the chain tensioners, guides, or tensioning systems (if applicable) for proper function and wear. These components help maintain proper tension and alignment of the chain.
Keep the chain free from dirt, debris, and contaminants that can accelerate wear and cause damage. Regularly clean the chain and its surrounding components using appropriate cleaning agents and methods.
Follow the manufacturer's recommended maintenance schedule for the specific chain type and application. This may include periodic lubrication, tension adjustment, and component replacement.
Keep accurate records of maintenance activities, including inspection dates, lubrication intervals, and any maintenance or repair actions taken. This helps track the chain's history and ensures proper maintenance over its lifespan.
Consult the manufacturer's guidelines and specifications for specific maintenance requirements and recommendations for the particular drive chain model and application.
By following these inspection and maintenance practices, you can ensure that the drive chain remains in good condition, performs optimally, and has an extended service life.



editor by CX 2023-09-11